Partnering the best
A recognised manufacturer of brake and suspension systems, BWI Group has nearly 100 years of experience and continues to challenge itself by integrating the latest Industry 4.0 practices into its production process General Motors, BMW, Audi, Ford, Honda, Jaguar Land Rover, Ferrari, Lamborghini, PSA…the list goes on. There is at least one thing that these prominent car manufacturers have in common – they are all clients of BWI Group, a premier chassis supplier, whose specialism lies in the design and manufacture of brake and suspension systems for the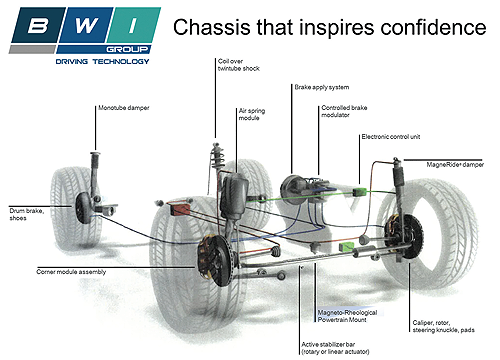 global transportation market.
BWI Group is seen as the newest chapter of a rich automotive heritage, which began as Dayton Engineering Laboratory Company (Delco) in the early 1900s. The business created the first electric starter for the global automotive market and went on to also introduce innovations in automotive lighting, ignition, and other products. Later on, as part of General Motors, Delco Products and Delco Moraine were formed as sister divisions of the corporation.
The early 1990s saw the merger of Delco Products and Delco Moraine to create Delco Chassis. Following the formation of Delphi by General Motors in 1999, Delco Chassis became Delphi Chassis. It was then on November 1, 2009 that BWI Group became the owner of Delphi's suspension and brake businesses.
"We are a 'vehicles systems' company so we know passenger vehicles inside out and how to execute passenger vehicle programs," begins Craig Diem, Global Director, Manufacturing Operations. "Over time, we have gained a lot of experience in almost every area related to developing products and bringing them to the market. Our history of producing braking and suspension systems is nearly century-old and today, passive damper production still makes up a large percentage of our total overall sales, due in large part to great turnability, repeatability, and product support," he adds.
Going on with his account of the company's most popular solutions, Craig points out BWI's brake system control technologies, which have helped the business make a name for itself in the Chinese market. "Furthermore, our Magneto-Rheological Powertrain Mount technology is making inroads, particularly in North America and Europe, and our MagneRide active suspension system is a very powerful and well-known ride and handling tool.
"The Magneto-Rheological Powertrain Mounts build upon our MagneRide experience and are a very exciting ride and handling technology unique to BWI Group. It is one of our latest technological innovations where magnetorheological fluid is utilized inside the engine and/or transmission mounts to offer an expanded range of comfort and control. We have also recently introduced some new hydraulic tuning features for passive shocks and struts, as well as started offering electric park brake systems in the China market," Craig finishes his overview of BWI Group's most recent developments on the innovation front.
It was established earlier on that the business boasts an impressive clientele and, given the nature of BWI Group's products and their huge impact on both ride quality and handling capability, the company enjoys a very close working relationship with all of its customers. "It is certainly exciting to be associated with so many innovative companies that are also some of the biggest names in the automotive industry and we are happy to be involved in their projects from the very beginning right through to production and beyond," Craig comments.
As a global company, BWI Group runs multiple facilities around the world where it works its magic. The company operates several manufacturing sites in Europe – in the UK, Poland, and the Czech Republic; a few more in China, including Shanghai and Beijing; and two in North America – in Chihuahua (Mexico) and its newest location in Greenfield, Indiana. Together with these, the organization has a number of technical centres in these areas.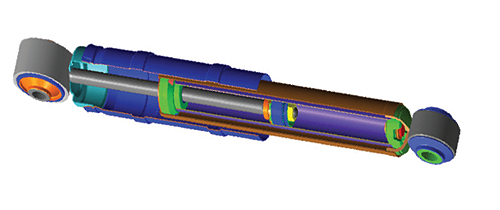 "We deliver the same quality and performance from each and every one of our sites. In fact, we are now launching two customer programs where we will be manufacturing the same designs from multiple locations. Like any world-class component manufacturer, we have set up lean production processes and we are striving to continuously improve these, as well as eliminate waste," Craig sheds light on the manufacturing practices adopted by BWI Group.
He then turns his attention to the $80 million production facility in Greenfield, which has become the company's most automated site. "The development entails the use of more robotics, the better use of one piece flow, and the more efficient utilization of Industry 4.0 techniques," he discloses. "Our goal for this and for all of our locations is to continue to introduce more digitization and Industry 4.0 principles, in order to remain competitive and deliver products of the highest quality to our customers.
"The Greenfield facility not only expands our footprint in North America, but also brings us closer to our customers on the continent. With two facilities there, we can better serve them from a logistics standpoint and improve our efficiencies. When we chose to build in the US, we focused precisely on achieving better efficiencies and adding extra 21automation," Craig explains.
"From a manufacturing perspective, our plate for 2019 is quite full," he imparts the company's intentions for the coming months. "Every one of our sites is launching new customer programs, which we must execute flawlessly from a customer, as well as BWI perspective. The new Indiana facility is getting ready for our first damper program very soon and shortly after, we are planning to start a second customer program in Q4 of this year. All in all, the outlook for 2019 is very bright and sets us up well for our continued success and future growth."
BWI Group
Products: Brake and suspension systems