Byrne Dairy has come a long way since 1933, when founder Matthew V. Byrne bottled and delivered high-quality milk to homes and stores in central New York by horse-drawn wagons. Dedication to quality and never-ending commitment to its customers have led the Syracuse, N.Y., firm to become one of the leading dairy producers and dealers in the industry today.
Being family owned has taught Byrne Dairy the importance of maintaining strong relationships and solving customers' challenges. Senior Vice President and COO Nick Marsella credits the company's philosophy for its longevity. "We are nimble," he states. "We are able to respond to our customers much quicker and make decisions faster. I think the reason for our longevity is the culture of trust of really caring for our customers and the people on our team that drive positive results. The Byrne family has always had a vested interest in the community. It has taken us a long time to build that trust."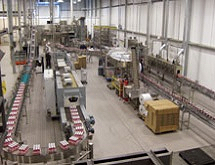 Byrne Dairy gets its supply of raw milk from 250 farmers located within a 60-mile radius of its facility. The company uses its own fleet to pick up the milk to better control logistics, Marsella notes. This use of local suppliers is a very sustainable model that reduces costs and reduces the company's environmental footprint.
Byrne Dairy carries approximately 650 different SKUs, 90 percent of which are dairy-based. The remaining 10 percent consists of juices and other non-dairy products. The company's diversified customer base consists of supermarkets, stores, schools institutional markets and restaurants. It also owns convenience stores located throughout central New York. In addition to Byrne label products, the manufacturing facilities co-pack for major brands.
Innovation is Key
Constant innovation is another reason why Byrne Dairy is successful. In fact, Marsella advises companies to take advantage of the economic downturn to explore new technologies. "Innovation is so important," he stresses. "With the tight economy many companies have trimmed their R&D budget and trimmed back their talent base. That's a big problem [in the United States'] industry. Innovation may be a challenge for some companies, but that is often our key to success."
For example, in 2004, Byrne Dairy opened its Ultra Dairy plant, an ultra-pasteurization manufacturing facility in Dewitt, N.Y. The facility is one of the few independent; family owned and managed dairy companies to put in an ultra-high temperature (UHT) plant. It also includes the extended shelf life (ESL) technology. These innovations allow for the production of aseptic milk and other long-life dairy products.
New Products
Earlier this year, Byrne Dairy launched a PET single-serve product line, which includes existing milk and newly formulated flavored milks processed at the UHT facility. Nine new non-dairy creamer flavors were developed by the R&D team for a second quarter product launch. A newly installed Sidel Predis uses a Combi machine that operates using a single piece of equipment for blow molding, filling and capping. This guarantees total food safety and helps to enhance the quality and shelf life of products, the company explains.
This equipment has the capability to produce up to 300 bottles of dairy and non-dairy products per minute and is the first of its kind in the United States.
"The Predis platform is a more sustainable line than what has been previously available," Marsella notes. "It reduces the use of water, energy and chemicals while making sterile containers for products because it is all done in a closed-coupled system. We are able to make products with up to 120-day shelf life in it."
To help drive innovation, Carl Byrne, CEO and president, championed the installation of a pilot plant where customers would be able to work with the R&D team to develop products to meet their objectives. The pilot plant can process different formulas in a small scale until it is refined for commercial production.
"It is what the customers really want," Marsella explains. "We bring in our key customers to test their ideas, and when they finish development they know it will meet the functional needs as well as the desired flavor profile. We can take their thoughts from a dream-to- manufactured goods."
Ways to Save
A state-of-the-art plant wouldn't be successful without a well-trained, loyal group of employees. "We have a holistic program," Marsella says. "We have a lot of internal compensation-based programs. Each person goes through our baseline training program then is offered continuous improvement, skill training opportunities. For example, a person working in processing also needs basic GMPs and a tool box of other skills. To encourage this, we provide monetary incentives and status to encourage training as a result we always have someone ready to step up."
In addition, because Byrne Dairy's operations typically use a lot of energy, the company ensures it does all it can to remain an efficient operation. "We get a lot of ideas internally and we bring in outside engineering firms to perform energy audits of our current systems and for new equipment," Marsella explains.
"For example, we installed condensate heat generators to recapture waste heat from boilers to preheat the water systems, which reduce the need for treatment and energy.
"A new automation platform and Viperdrive was installed on our refrigeration systems," Marsella continues. "This year we implemented a Rockwell International OEE (outstanding equipment efficiency) software program and initiative to drive plant productivity. We are always looking at opportunities like that."
Making Great Products
Marsella says he has learned a lot at Byrne Dairy. "It's all about the customers," he states. "What I've learned is if you put out an excellent quality product that is cost competitive and you continue to evolve with your customer, you will be OK.
"You can't be afraid to change,"?Marsella continues. "You can make a good product but if it doesn't meet all of your customers' needs, it's not a great product."
In the future, the company is planning to add capacity to its ESL platform. Marsella adds that Byrne Dairy will continue to invest in its people. "We want to continue to develop our people to improve the competencies of our team," he states. "With the job market, we found that we are able to find key, talented people."