Glass half full
For more than five decades Bystronic glass has contributed to its customers' success by providing industry leading, tailor-made systems and services for glass processing
The story behind the Bystronic glass Group is one that is steeped in both tradition and change, and one that can be traced back to 1964 when its founders, Messrs Byland, Schneider and Troesch, established a company by the name of Bystronic Maschinen AG in Bützberg, Switzerland.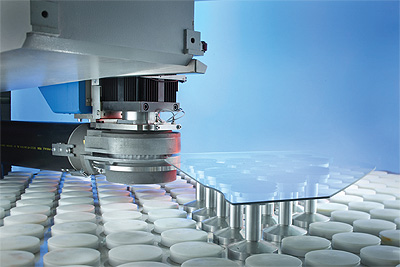 The objective of the company was to manufacture machines for the flat glass industry, a task that it soon built a prized reputation for, specialising in cutting machines for flat glass in the 1970s and being responsible for developing the first machine for automotive glass preprocessing in 1981. The company would also embark on a programme of targeted acquisitions, including the incorporation of Lenhardt Maschinenbau, Germany, in 1990, eight years after said business had presented the first fully-automated insulating glass line. Four years later, in 1994, Bystronic glass became a part of Conzzeta AG, a renowned Swiss industrial holding company that boasts over 100 years of tradition.
In the decades that have followed, Bystronic glass has come to symbolise innovation with machinery, systems and services, for the processing of architectural and automotive glass focused on tomorrow's market. From basic requirements through to entire, tailor- made, customised installations, the group provides pioneering solutions, all to the highest of quality standards.
As the group proudly declares: "We use our technical expertise to develop products that are better in terms of performance and quality than those of our competitors. We have developed a passion for holistic economic solutions, and when it comes to performance and quality, we set ambitious objectives that repeatedly challenge us, and constantly motivate ourselves to make changes and improvements."
The group's products typically fall into two categories; architectural glass and automotive glass. In the former it provides innovative solutions for architectural glass processing, whether that be individual machines or modular units through to the complete manufacture of insulating glass (IG). Bystronic glass is the inventor of the TPS® IG production technology. It differs from conventional IG production systems thanks to the direct application of the thermoplastic spacer TPS® onto the glass plate. Products offered within the architectural glass business include efficient handling systems for all sectors of flat glass and plate processing, and complete solutions for efficient flat glass cutting. The last of these is carried out in co-operation with its partner HEGLA.
Just as impressive is Bystronic glass' offering of complete, individually developed turnkey system solutions for the efficient pre-processing of automotive glass. Its tailor-made production lines are consistently designed to meet its customer's unique needs, and are characterised by their productivity. In the group's opinion, the ideal solution for the pre-processing of automotive glass is its champ'speed technology, specifically its champ'speed 2in1 version. Combining a high degree of automation with short changeover times, the champ'speed 2in1 enables the quick and precise cutting, breaking, grinding and drilling of automotive glass. Arguably the most unique feature of this version is its outstanding flexibility with regard to the premium edge break, making it the first machine in the world that can break glass with or without a template.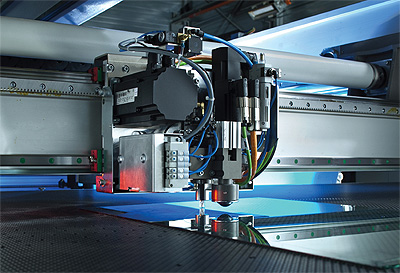 In its never-ending drive to redefine profitability in automotive glass pre-processing, the group has also devised a new generation of machines under the B'CHAMP brand name. By optimising the key components for the glass processing in a linear manner, these machines dramatically improve changeover times. B'CHAMP has been created to provide users with an edge over their competition by greatly enhancing efficiencies when it comes to daily production. For said users this means a yield that is greater than 98 per cent, minimised glass transportation times, shorter cycle times, excellent cost-per-unit ratios and proven thin glass capabilities down to a 0.4mm glass thickness.
Adding to the group's product line is its service and support offering. Right from the original point of contact with its customers, Bystronic glass is on hand to assist with facility planning, with its customer service teams available to call upon anywhere in the world to facilitate the delivery of spare parts and on-site support. Individual training, planning and consultancy sessions are also provided to both new and existing customers. 2017 was a highly prosperous year for the group, summarised by the announcement in June that it had received one of the largest orders of automotive glass pre-processing equipment ever made. The order involves the delivery of a considerable number of Bystronic glass champ'speed cells, a programme which continues into 2018, to several production plants owned by a world-renowned, but otherwise anonymous, glass manufacturer.
Having celebrated its 50th anniversary in 2014, the focus of Bystronic glass has turned to what the next half a century holds for itself and the wider industry. It is accepted almost universally that in the future every aspect of manufacturing will be more closely connected, from machines and applications to data and processes. It is this belief that encouraged a new way of thinking that the group has christened 'Bystronic glass 4.0'. With this thought process in mind the group has implemented an integrated data management system to enable it to connect the entire process chain within glass processing, including the upstream and downstream processes to provide considerable competitive advantages.
All of the group's measures, services, products and business models aim to guarantee the quality of its customers' final products. Bystronic glass 4.0 is just the latest in a long spacersline of initiatives designed to provide these customers with improved production output, shortened process times, reduced costs and increased revenues
Bystronic glass
Product: Architectural and automotive glass