C&A Tool: experience is everything at this stalwart of Midwest manufacturing
Five decades in the making
It was in 1969 that C&A Tool first opened its doors in a garage in Churubusco, Indiana, beginning a journey of dynamic leadership, unparalleled expertise, and major investments. The company purchased its first building in 1971, before expanding its facilities in 1977. C&A Tool then purchased its first CNC machine, a Mori Seiki Lathe, just seven years later, adding a B-axis Kellenberger, and its first Voumard Grinder in 1994, marking its then-25th anniversary. In 1999, the company moved to its present 110,000-square-foot headquarters, where it has continued to cement its place as a leader in the high-precision contract manufacturing industry.
Turnkey precision
Today, C&A Tool boasts three locations, including more than 750,000 square feet of manufacturing space, 600 plus employees, and more than $100 million in annual revenue. As of 2017, the company operates as a member of the MinebeaMitsumi family of companies, a world leader in precision components manufacturing. C&A Tool retains its history and identity, however, thanks to over five decades' experience in precision manufacturing – and nearly two decades in additive manufacturing alone.
Thanks to this experience, C&A Tool is able to deliver custom, turnkey precision like few others in the industry. At its core, the company's offering spans a range of services, including applied engineering expertise, advanced equipment, and dedicated in-house production capabilities. Metal sintering, turning, grinding, milling, and machining all fall within C&A Tool's specific on-site capabilities. The company also boasts some of the most advanced metal 3D printing capabilities in the industry, capable of printing and finishing parts in a range of varieties of titanium, stainless steel, and nickel alloy. Each of the company's machines is also validated to strict ASTM standards, ensuring that each printed piece adheres to the strictest quality and precision standards. All in all, this package enables the company's clients to innovate faster, overcome challenges, shorten production schedules, and increase speed-to-market.
Market segments
The bulk of C&A Tool's work falls into one of three markets: aerospace, medical, and industrial. The former, which includes defense and commercial aviation, is a dynamic and rapidly advancing market. C&A Tool specializes in the manufacture of a number of mission-critical components with extremely tight tolerances, such as blades, blisks, control surface components, curvic couplings, impellers, IBRs, motion controls, turbine disks, and vanes. To better serve customers, C&A Tool invested in a Liechti G-mill 1000 in late 2021. As only one of seven in the United States, C&A Tool can provide the only for contract G-mill 1000.
By contrast, C&A Tool's medical market caters to surgical and orthopedic device production. The company has delivered more than one million spin, hip, and knee implants to date, together with a wide range of instrumentation and other devices, including spinal implants, navigated and robotic surgical instruments, trauma implants, and disposable instruments.
Meanwhile, the final of C&A Tool's markets is industrial, a segment that spans automotive, energy and fuel systems, trucking, construction, marine, and alternative energy. Here, C&A Tool's capabilities include armature assembly, spool, inlet body, poppet valves, and dual-fuel nozzle assembly. The company also manufactures housings, deep hole components, fuel valve, and racing assemblies.
Security and quality
Somewhat unsurprisingly, a pillar of C&A Tool's work is a vigorous commitment to quality. By using dedicated equipment, in dedicated rooms, for each metal printed, the company greatly reduces the chance of cross-contamination, while also allowing for faster delivery of parts. Added to that, the company's clean room, turnkey production, and multiple in-house metrology labs help to deliver unmatched security and quality for aerospace and medical device manufacturing.
Covid contribution
It's been a tumultuous few years for manufacturing. The sector not only had to grapple with the impact of the Covid-19 pandemic, but that in turn gave way to months of supply chain disruption and component shortages. Amid the difficulty, C&A Tool didn't stand still.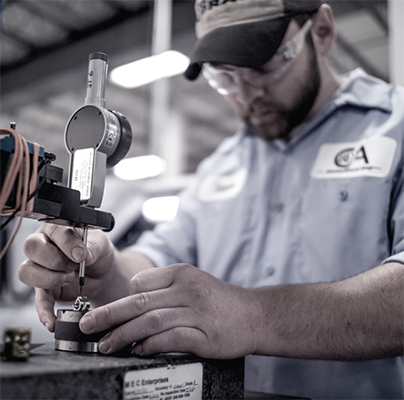 Rather, in what is a clear statement of the company's adaptability and resilience, C&A Tool made the decision to repurpose a portion of its factory in Auburn, Indiana, for the manufacture of disposable face masks. In doing so, it was supported by MinebeaMitsumi, which has been manufacturing face masks for its worldwide employees and the general public since the beginning of the pandemic.
Each of C&A Tool's masks is fabricated in an ISO Class 7 cleanroom using imported materials. The product itself features exceptionally soft, thin, non-woven fabric, which draws away moisture and provides breathable comfort all day long, as well as a melt blown filter and 3-ply construction, designed to stop the spread of various air particles and droplets, and filter out dust, pollen, and other environmental irritants.
Employer of choice
In September of this year, C&A Tool had more cause for celebration, following its acquisition of its ninth EOS industrial 3D Printer – an AMCM M 450. The purchase was heralded as a significant milestone for the company, which has committed to acquiring 20 AM systems within the next decade, as it looks to expand its aerospace production capabilities. It's the latest development in C&A Tool's longstanding relationship with EOS, which dates back to 2007, with the former's acquisition of an EOS M 270 – a forerunner to the current EOS M290 midframe metal printer.
Moving forward, the emphasis throughout C&A Tool is to continue advancing its technological capabilities, thereby allowing its customers to 'push the limits of what is possible'. Underpinning all of C&A Tool's work, however, both within the pandemic, and throughout the company's five-decade history, are its people. As a quality-focused company, C&A Tool prides itself on challenging its employees to achieve excellence every day, offering advancement through merit. This is crucial. Manufacturing, like countless other industries across the US, is currently in the grip of a labor shortage. For C&A Tool to attract a new generation of engaged and motivated professionals, it's key to stand apart from the crowd.
To that end, the company offers all of its employees a comprehensive compensation and benefits package. This, together with a dynamic working environment and an emphasis on individual growth, has cemented the company's place as an employer of choice within Indiana.
www.catool.com/home