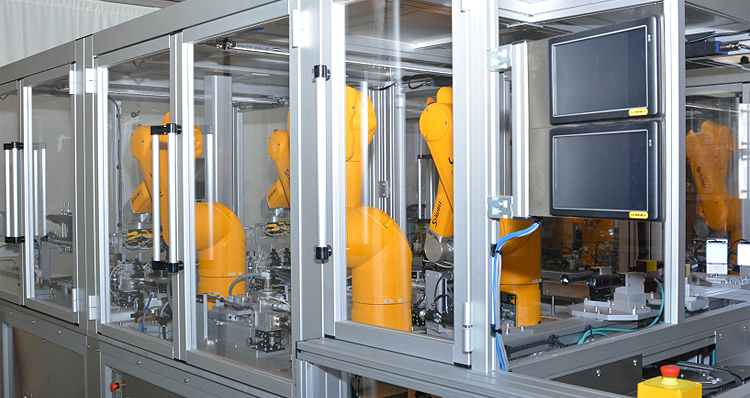 CAID Industries/CAID Automation
CAID Automation helps manufacturers solve complex problems with automated robotic systems.
When it comes to innovative solutions for challenging manufacturing processes, CAID Automation has mastered the art of designing and building automated robotic systems.
Tucson, Ariz.-based CAID Automation, a division of CAID Industries, solves complex manufacturing problems for a wide variety of industries that include medical, aerospace and defense and energy and renewables.
"When was the last time you did something that you've never done before?" asks says Juan Cardenas, VP of sales and applications engineering at CAID Automation. "Here, we do that every day."
CAID Automation helps manufacturers facing problems and challenges with new product introduction, poor cycle time, low yield and operator safety. Its solutions include custom equipment for automated assembly, testing, material handling, vision inspection, web handling and packaging.
"You can say that we sell automation," Cardenas says. "But in reality, we sell manufacturing solutions and the applications are endless. Everything we do is custom-made so we build things that have never been built before."
Although all of its products are custom-made, CAID Automation is looking at the possibility of developing a standard product for one of its core markets.
"Our goal would be to have one or two standard products," Cardenas adds. "One that we have in mind is for the medical industry and we have already applied for a patent."
More investments into research and development could be on the horizon since CAID Industries was acquired by Toronto-based Samuel, Son & Co. in May of last year. The acquisition has moved Samuel into new market segments and added advanced capabilities within its manufacturing group of companies.
"We have generally been growing by 5 percent every year," Cardenas says. "But since our acquisition, I think we are in a good position to increase that. Our goal is to increase our revenue by 10 percent."
Vertically Integrated
CAID Industries has been a profitable business since its inception 70 years ago. Its acquisition by Samuel has allowed the company to grow even further. Samuel is a family-owned and operated, integrated network of metal manufacturing, processing and distribution divisions. All in all, Samuel has more than 5,200 employees and 100 facilities and supports more than 40,000 customers.
Aside from CAID Automation, which was formed roughly six years ago and is the newest division of CAID Industries, the company has a CAID Industry division and a CAID Mining division.
"We rely on each other for success," Cardenas says. "The fact that we have these three divisions makes us vertically integrated. Not many companies in the market have this."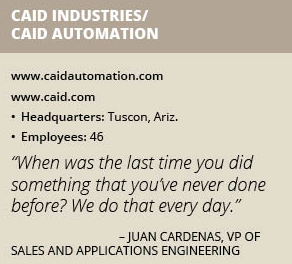 CAID Industries' in-house staff includes registered engineers, project managers and design detailers that oversee all projects. The company has been known to manage the design, detailing, fabrication and installation of projects in excess of $15 million.
Also, because the company operates in a multitude of various markets, it can weather a storm if one of its markets suffers do to an economic slump. "For our customers, that's important," Cardenas adds. "They want to know that the company they are dealing with won't go bankrupt in a bad economy."
Level of Integrity
CAID Automation prides itself on developing custom equipment that provides its customers with the highest possible value while addressing their corresponding value drivers.
Its philosophy is to approach every solution with integrity, transparency, engineering acumen and innovation. CAID Automation always conducts a full diagnosis to understand its customers' problems before prescribing a solution. Occasionally, that solution means recommending another supplier to the customer, even it means losing the business. "The success of the customer comes first," Cardenas says.
The company offers assistance with a variety of different project phases such as R&D, Proof-of-Principle, pilot lines, full production and volume increase.
"One thing that differentiates us is our level of integrity," Cardenas says. "At some point, every project is going to have issues, but we always tell the customer the truth. Bad news is not good, but surprises are worse. Our customers often praise us for being honest with them."
CAID Automation is also known for refusing to compromise the quality of its products, delivering them on time and offering a fair price, he adds.
"Another important consideration from our customers is the cycle time of the machine," Cardenas says. "Our flexibility allows us to design systems that produce 60 parts per minute or machines for just one part per hour for a more complex part."
Project Management
CAID Automation has also developed a well-oiled project management system that is designed to meet on-time deliveries, keep track of the status of every project, deal with change orders, ensure that all customer requirements and specifications are met and react quickly and decisively when problems arise.
"We have a very strong project management system," Cardenas says. "When we have a new project, we assign a project manager that becomes the main point of contact for the customer. Not many companies follow a project management system to the degree that we do."
Upon triggering an automation project, CAID Automation first develops a Functional Specification (FSD) that not only interprets the user requirements, but also communicates the specific design approach to meet the requirement.
Some risk mitigation activities in the early stage of the project may include the execution of proof of principles, functional prototypes and engineering studies. In addition, motion and process simulations are often conducted using assembly process data to confirm the solutions meet specified cycle times.
During the automation solution development phase, CAID Automation works closely with the customer project team to assure complete transparency and co-development of the final solution with a focus on Design for Manufacturability (DFM), Design for Assembly (DFA) and improving component and design choices while optimizing the system serviceability.
The company's systems are fully validated for mechanical fit and functionality by CAID Automation's experienced machine builders before the controls engineering team conducts electrical and controls integration protocols. Where possible, sub-assemblies are bench assembled and tested to reduce the debug and troubleshooting effort.
"I'm very proud of the passion of our people," Cardenas says. "They don't hesitate to put in long hours to deliver on time and with world-class quality."