This is a very good time to be a contract manufacturing organization (CMO) serving the pharmaceutical industry. Several trends have produced robust growth in the industry, including a dramatic return of contract manufacturing to the United States from the Far East, owing to higher quality standards and regulations. Furthermore, the world's growing and aging population has fuelled large growth in the consumption of medicine and the increase in the number of drugs in development.
Also factoring in this equation is that large- and mid-size pharmaceutical companies still don't want to invest in their own manufacturing facilities, opting instead to focus their resources on research and development. Simon Edwards, vice president of global sales and business development for Cambrex, notes how valuable CMOs such as Cambrex have become. "Really, companies like ours, specialize in manufacturing, so that pharmaceutical companies can focus on managing their R&D pipeline," Edwards says.
Cambrex stands out as a CMO that specializes in small molecule active pharmaceutical ingredients, or APIs. The number of small molecule APIs in development and being launched on the market has grown in recent years, as they can be engineered to deliver a strong therapeutic effect in solid oral doses.
"Due to the high number of products and processes we see every year from multiple customers, our employees become experts at what they do and we are seeing an increasingly high demand," Edwards says. "
How Much and When
All of this means that Cambrex's expertise is in demand now more than ever. And while that can be very good in terms of revenue, it presents unique challenges. Being a contract manufacturer, it can be extremely difficult to predict what products will be in demand, and how much of a certain product needs to be produced. Investing in the right capacities and at scale is the real trick.
"That's exactly what we do," Edwards says. "You always have the challenge of being too early, or worse—too late with expanding capacity. We rely heavily on our own market intelligence."
To meet growing demand, Cambrex is constantly upgrading and improving its manufacturing facilities. Currently it has four: Charles City Iowa; Karlskoga, Sweden; and Milan, Italy. It also acquired an early stage (development) facility in High Point, N.C. in October 2016.
The Iowa facility, in particular, was upgraded in 2016 with a $50 million production and warehousing expansion. This included a new 7,500-square-foot manufacturing facility that compliments three existing large-scale facilities on the 45-acre site. There was also the addition of a 36,000-square-foot warehouse that provides storage for 2,720 pallets and refrigerated storage for another 360 pallet spaces. As Edwards notes, with all of its facilities, the focus at Cambrex remains on quality.
"We put a high focus on quality," Edwards says. "We have to have the highest of the high."
In addition to rigorous demands for quality, Cambrex also has to meet very strict schedules set by the drug companies it serves. Between receiving an order to manufacturing a new product, Cambrex may have as little as three months to assign resources or adjust its equipment and technology capabilities, and potentially within six months needs to be up and running completely.
"Flexibility is a huge key to our success," Edwards explains. "You have to have capacity on very short notice."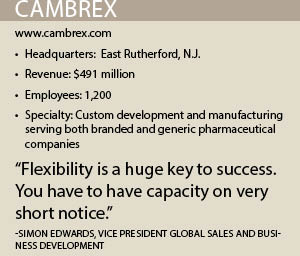 Edwards notes that having a total of four manufacturing sites across the world gives Cambrex some flexibility as well as a leg up on its CMO peers. And being able to deliver a high-quality product in a timely fashion remains the benchmark of success. "Pharmaceutical companies are ultimately innovators that want to get their product to market fast," Edwards explains. "And the same goes for companies that make generic versions. They want to be the first to market and you have to deliver value and speed."
Measuring Quality
Many manufacturers in North America subscribe to lean processes, or the practice of eliminating wasteful methods. Cambrex does as well, and has a very active  "Operational Excellence," or "OE" program and is working to engrain this into the culture of the company.
"Ultimately our goal is 'best in class' efficiency and reliability," Edward states. "To deliver on time and with minimal problems."
The proof is revealed through extensive customer surveys that Cambrex distributes to its broad client base. The surveys are designed to measure performance and quality, and though the results are not published, customer feedback is carefully recorded so improvements are constantly made on processes. Edwards notes that the focus on quality comes from a strong culture that exists from the manufacturing floor straight up to senior management.
"Everybody walks and talks quality and OE," Edwards notes. In fact, as part of his sales and business development process, Edwards encourages customers to visit the various Cambrex facilities. "If I can get customers to visit, they can feel that commitment from the moment they walk in," he says. "There is that great sense of ownership of quality work."
Early-Stage Development
While Cambrex has clearly mastered late-stage development of pharmaceutical products, or the stage closest to completion, it also realized that there was more business to be had in the early stages as well. Known as the development stage, Cambrex can now partner with companies much earlier in the process. To capture this market, in 2016 Cambrex acquired a development facility in High Point, N.C., that currently employs 60 people.
"We use this site to supply products for early phase clinical trials," Edwards notes. "And eventually should they prove successful, the processes then get transferred to one of our manufacturing facilities."
In essence, this widens Cambrex's funnel of possible products that can be fed into its product pipeline, and it can be easier in transferring processes internally than starting from scratch. Though having been acquired just a year ago, the facility is already proving successful. "We have already begun expanding the business, personnel and footprint," Edwards says.
Numerous Awards
With its ability to produce high-quality products at quick turnaround speeds, Cambrex has been recognized with numerous awards in recent years. In fact, it was successful in 14 categories at the annual CMO Leadership Awards in New York in March 2017.
Overall, Cambrex received 24 awards across multiple categories, including development, expertise, quality and reliability, a testament to the dedication and sense of ownership its workers believe in. "It only works if it's real and authentic," Edwards says.