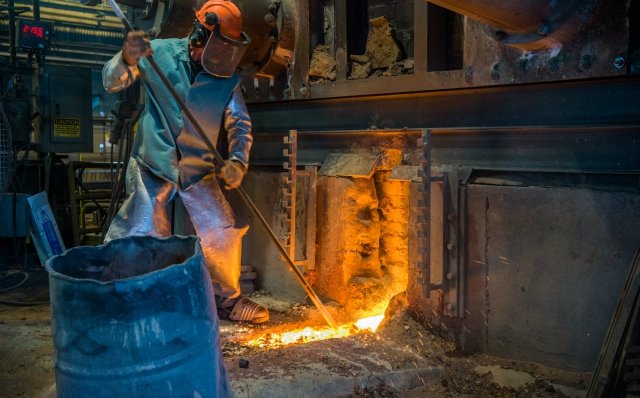 Cambridge-Lee Industries LLC
In an era where the average life of a Fortune 500 company is 15 years, Cambridge-Lee Industries LLC is proudly celebrating its 75th anniversary of manufacturing copper tubing in Reading, Pa. The company has grown to become one of the world's leaders in the manufacturing of copper tubing for water supply, air conditioning, refrigeration and a variety of commercial applications. It is at the forefront of the distribution of copper-focused products, as well.
"We strive to be the easiest company to work with and the best company to work for," CEO Andrea Funk says. "Our employees are our greatest assets and we put the highest value on them. Our employees work together to deliver optimal customer satisfaction. We believe in a win-win partnership with all stakeholders."
Cambridge-Lee is the global leader in manufacturing copper tubing in the U.S. plumbing tube market with 25 percent of the overall marketshare. "Because the markets we compete in are heavily commodity-based, it's critical we help customers solve problems and deliver flawless customer service," Funk says. "We make it as easy as possible to do business with us and that's what differentiates us."
Cambridge-Lee offers prompt and reliable delivery terms through its three sales divisions: plumbing tube, industrial metals and industrial OEM.
Plumbing tube is the largest division of Cambridge-Lee, capturing about 60 percent of the company's total business. The company's copper tube is produced with pride in the United States at its five plants all co-located on its manufacturing campus in Reading. Cambridge-Lee benefits from a dedicated and experienced workforce, with many second and even third generation employees. Tubing is primarily sold to plumbing wholesalers for use in water, gas, waste and lineset applications.
Thirty percent comes from its industrial metals division (IMD). "IMD distributes copper and copper alloy products that are not manufactured by Cambridge-Lee," Funk explains. "We have long-term relationships with manufacturers and long relationships with our customers because we get to understand their needs and help them find solutions.
About half of IMD's products are sourced from Cambridge-Lee's parent company's manufacturing facility in Mexico, which differentiates IMD from other distributors that are not linked with a mill.
The remaining 10 percent of the business is its industrial OEM division in which the company manufactures and distributes level wound copper tube to manufacturers in the HVAC industry. "Everything is made-to-order in our new state-of-the-art cast-and-roll manufacturing facility to very exacting customer specifications," Funk notes. "We help OEMs find ways to be more efficient."
Capital Improvements
Its manufacturing operations are a regular area of investment for the company. In 2013, Cambridge-Lee completed work on a 200,000-square-foot addition to its manufacturing operations in Reading.
The $65 million addition called the Eagle facility houses cast-and-roll processes and an annealing furnace. This technology allows the company to produce copper tubes that can be drawn down to significantly thinner wall thicknesses with much more precise concentricity. These tubes are used in the production of evaporator and condenser coils within HVAC systems.
The Eagle facility allowed the company to penetrate the commercial HVAC market and add 60 million pounds to its annual manufacturing capacity. Its other production facilities include a refinery that processes scrap copper; two finishing facilities that produce straight length, coiled and large outside-diameter tubes from an extrusion press; and an assembly operation where linesets are produced.
"The Eagle plant is a melting facility where we buy copper cathode from mines, melt it and cast directly into a tube form," Funk says. "This process enables us to get almost complete uniformity of the wall thickness with pure material that has no contaminants."
Fundamental Improvements
Cambridge-Lee's equipment operators are accountable for a number of key metrics including safety, delivery, cost, quality and innovation. In addition to continuous improvement walks where operators report their progress and needs, the company has implemented additional lean methodologies such as skip-level meetings, standard work, visual controls and root cause analyses.
"One of the things we have implemented is the Cambridge-Lee Way, which describes 33 fundamental behaviors we support and encourage," Funk says. "Every week we focus on one of those fundamentals and start every meeting with more than two employees with a brief discussion on that week's fundamental. Employees share personal stories about each fundamental. It's a way for us to be truly intentional about the kind of company we want to be and focus on the behaviors we believe make us unique."
Cambridge-Lee Industries has seen dramatic improvements in safety by involving all employees in making safety their top priority, displaying metrics at the plants and hosting celebrations when the company achieves certain milestones. "If we hit 100 days without an accident, the leadership team serves pizza," Funk says. "At 250 days we grill burgers and dogs and at 365 days the leadership cooks and serves a steak dinner. We cover all shifts, including flipping dogs at 2 a.m. for the third shift to show we appreciate them. We will never be satisfied with our safety performance until there are zero injuries. The most important thing we can do, and our obligation, is to send each employee home the same way he or she came in to work."
Seizing Opportunity
About one year ago, Cambridge-Lee Industries rolled out a new product and processes committee tasked with highlighting problems customers face and developing ideas on how the company can alleviate those pain points. "That's where a lot of development starts," Funk notes. "This year alone, Cambridge-Lee has already developed eight new products and one additional alloy in our migration to becoming a solutions-based company."
Cambridge-Lee also rolled out a business development team with cross-functional representation. This team is hunting and screening new acquisition and strategic ventures, including bolt-on and new platform opportunities. Since January, the team has screened 45 business targets, continuously asking whether this move would make sense for the company. The team is charged with looking at Cambridge-Lee's internal strengths, weaknesses, opportunities and threats, and acting on synergistic and complementary opportunities.
"Modesty is one of our core values," Funk says. "We are upfront about what we know and don't know. We don't want to enter into an opportunity with arrogance. Rather, how can we capitalize on our combined value or is this a company that complements us because they do something well we don't? We don't want to destroy that. We try to learn from each other and add our skills synergistically. That's the business development and acquisition focus. We take our time to find the right opportunity."
In the spirit of seizing opportunity and improving its operations, the company recently conducted an employee survey to put a list of action items together for the leadership. "We are holding ourselves accountable to report to our employees how we are doing," Funk says. "Areas to improve include bolstering our training programs, enhancing our communication cadence and upgrading areas of our facilities."
Cambridge-Lee will continue to invest $5 million to $7 million annually in its operations to ensure it upgrades operations, automates and makes improvements where needed, Funk says. "Our manufacturing score cards list about 30 different projects with outcome measurements in yield, throughput and uptime that are underway or planned," she explains. "We are working on seven projects now and once one is completed another one gets picked up."
Cambridge-Lee plans to continue to focus on growth through its new product and processes committee and its business development team. "We have a culture of continuous improvement in terms of our customers, expanding our business and product offering, improving our employees' experience and driving operational excellence," Funk says.
Community Commitments
Cambridge-Lee's employees have a strong commitment to their communities. In September, an employee asked to take leave to help his family in Houston after Hurricane Harvey hit. "I think all of our employees were motivated to stand behind him," CEO Andrea Funk says. "We started a collection effort and before long the entire community pulled together with donations from individuals, companies, schools and non-profit agencies.
Cambridge-Lee ended up delivering two-and-a-half tractor-trailers full of donations to Texas, adopting the town his family lives in. "It was a grassroots, heartfelt initiative our employees undertook on their own and the company supported," Funk adds. "Fundamental No. 30 is 'Always Remember We Are More Than Co-Workers and fundamental No. 32 is 'Make a difference.' It's in our DNA. This is just one example of the generosity and commitment of our employees to each other and the communities our employees, retirees and customers and their families live in."
The company also supports the United Way of Berks County and volunteers as a team for numerous community programs, such as helping a senior center and volunteering to run a local soup kitchen. According to Funk, "We do events like these because it builds teamwork and bonds employees in addition to being the right thing to do for the community."