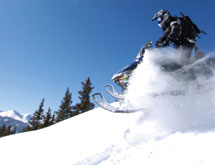 Camoplast Solideal Inc. is all about gaining traction, and that's why the company refuses to stand still as the market changes around it. Since 1958, Camoplast has been manufacturing rubber tracks for snowmobiles, but over time the company has expanded its offerings to reach into the on- and off-road vehicle, agriculture, construction, defense and industrial markets. In the powersports market, which includes snowmobiles and ATVs, Camoplast holds a dominant position but never stops working to improve, according to Powersports Sales & Marketing Director Bruce Dashnaw. With the needs of customers and OEMs continually evolving and adapting, Camoplast must adapt and evolve itself.
Based in Sherbrooke, Quebec, Canada, Camoplast has manufacturing plants in the United States and around the world serving the powersports market. Dashnaw says the company specializes in manufacturing tracks for snowmobiles and conversion kits for ATVs. Dashnaw notes the two sides of Camoplast's powersports business are vastly different in terms of the level of competition, but in both it stands above the crowd.
"On the snowmobile side, we enjoy a pretty good position in the market," he says. "We have good recognition in our brand."
On the ATV side, Camoplast enjoys a substantial share of the market, supplying to industry giants including John Deere and Yamaha. Competition in the ATV market is intense, Dashnaw says, but on the snowmobile side many of the company's main competitors have pulled out of the market. He attributes this to snowmobiles becoming more of a niche market as manufacturers have broadened their operations to a global scale. Because snowmobiles cannot be used in every part of the world, many manufacturers have scaled back production over the last 20 years. However, Dashnaw says this has given Camoplast the opportunity to invest in R&D to improve its products and take the lead position in the market.
Pioneering the Industry
The core of Camoplast's success in powersports has been and continues to be the quality of its products. Dashnaw says the brand recognition the company enjoys is rooted in the quality and performance it offers end-users and OEMs. "Snowmobiles [and ATVs] are very performance-oriented, and if you're providing a product that is not meeting a need, you're not going to be competitive," he says.
Camoplast has established a name for itself as a pioneer in developing rubber tracks for the powersports market and has found numerous ways to improve on its products. According to Dashnaw, the company was the first to develop products specifically for deep snow applications, including tracks with lugs exceeding 2 inches for better traction in deep snow.
The company also has developed snowmobile tracks with metal studs for improved grip on ice and snow. Another Camoplast innovation was the development of longer tracks. Although 121 inches was the industry standard, Camoplast introduced tracks as large as 174 inches for greater performance.
Dashnaw says a big part of the company's R&D efforts involves sticking close to its customers and finding out exactly what they need. At the consumer level, the company invests a lot of time and resources in going to trade shows and interacting with customers face-to-face. On the distribution level, Camoplast engages in focus groups with dealers and end-users to determine how it can improve its products and better serve their needs.
Rough Terrain
The company's R&D efforts have helped Camoplast diversify its product line in recent years, and Dashnaw says market changes are spurring further developments. For example, volatility in the commodities markets is affecting raw material prices, and in turn that is making it harder for Camoplast to offer track conversion systems at lower prices. "That's been all over the map, and in most cases, it's increasing," Dashnaw says.
Additionally, the last few years have seen less snowfall in most parts of the world. This has moved Camoplast to increase its efforts in finding markets that are not dependent on snow. Dashnaw says track conversions for ATVs offer better traction and floatation in extremely soft and muddy conditions, such as in swampy territory. Camoplast is working to bolster its marketing efforts to reach customers in need of such products. So long as the company continues to keep its ear to the ground, Dashnaw says, Camoplast expects to continue to gain greater traction in the powersports industry.