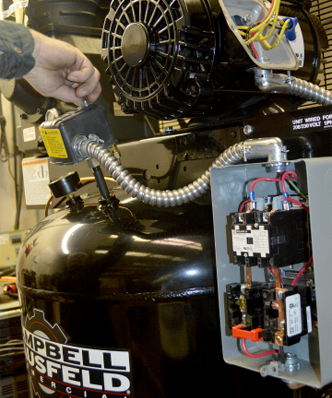 After 180 years, Campbell Hausfeld has established a name in the marketplace for its air compressor, tool and accessory products. "Those are by far our bread and butter," President Josh Stiever says.
Harrison, Ohio-based Campbell Hausfeld is one of the oldest companies in its home state. It started operations in 1836, manufacturing horse-drawn wagons and agricultural equipment.
In 1940, the company entered the air compressor business when it purchased all the patterns, tools, dies and fixtures to manufacture the Pressure King Air Compressor. Today, Campbell Hausfeld is a subsidiary of Marmon Holdings Inc., an industrial organization that consists of four autonomous companies in 15 business sectors.
"We are certainly one of the leaders in the industry," Stiever says. Campbell Hausfeld largely serves the do-it-yourself (DIY) market through retailers such as Lowe's, Walmart and The Home Depot. "We also manufacture products for some industrial companies in the pneumatic industry as well."
Back to Basics
Stiever joined Campbell Hausfeld last year after spending close to 10 years with Illinois Tool Works Inc. Under his leadership, Campbell Hausfeld has started to refocus its operations.
"This organization, over the years, extended itself beyond the compressor space," he explains. Campbell Hausfeld is getting back to focusing on its core products of compressors, tools and accessories.
The company also wants to increase its level of innovation, Stiever says. "In the next 12 to 24 months, I would expect more new product development out of Campbell," he says. "In the last five to 10 years, the industry has not seen a lot of innovation.
"Most companies have taken their focus of pneumatics in favor of cordless battery technology," he says. "We feel pneumatics still play a large role in DIY products and so our goal is to get close to our customers so we can bring them meaningful innovation that helps them do their projects."
Stiever also wants to build more brand awareness. "In 2016, you'll see a totally redone Campbell Hausfeld website," he says. And a digital campaign that focuses on various social media elements. "We're just making sure we're up to speed on what goes on in the digital space," Stiever says.
This could include Facebook, Instagram or Pinterest, he says. "If our customers are on there, then we want to interact with them," he says.
Focused on Value
Campbell Hausfeld's manufacturing operations are located at two buildings in Leitchfield, Ky., that cover more than 300,000 square feet. "We have a long-tenured staff," Stiever says, adding that each of its welders has earned ASME certification. "There's a rigorous process on the welding side of things."
The entire company, including its manufacturing operations, operates under the 80/20 principle, he says. "Basically, 80/20 says the bulk of the value you get comes from a small amount of items," Stiever explains. "It's important to separate the 80 from the 20 and ensure you have an unwavering focus those core items that bring the most value.
"Only 20 of those are going to be true value items," he continues. "So it's about focusing on the most critical items in everything we do."
Campbell Hausfeld has applied this philosophy to its suppliers. Stiever explains that the company makes sure it spends most of its time finding strategic suppliers that align with the 80/20 philosophy.
"We ask, 'Are we finding strategic suppliers for the critical components?'" he explains. "That's something we've been working on over the past year – assessing suppliers and making sure they understand our operating philosophy."
Keeping It Simple
Campbell Hausfeld strives to avoid complications in its work. "There's always a complexity that creeps into the business," Stiever says. "Our goal is to keep it simple and focus on what's important to our key customers."
He predicts a strong future for the company as it regains its core focus. "I see us revitalizing our brand," he says. "We're also going to get closer to our customers in the future, so we can bring them meaningful innovation.
"Our goal is to help them grow with us," Stiever declares. "We'll also be getting that Campbell name out there again. Re-building some awareness is going to be critical for us."
The company is excited about continuing to serve the DIY market. "The industrial market is soft and most likely going to be soft for the majority of 2016," he predicts. "Our focus will primarily be on that DIY space."