We've got you covered
Following a relocation to premises at the North Black Vein Industrial Estate, Wattsville, Capital Coated Steel anticipates a turnover of more than £40 million in 2016 as it seeks to diversify its broad customer base
As Europe's largest independent specialist distributor of pre-coated steel, Capital Coated Steel processes more than 70,000 tonnes of steel annually to all pre-coated steel markets in Europe and further afield and boasts a strong reputation as a leading expert in its field. "Capital Coated Steel was set up in 1972 by my father John Hunt, when the market for pre-coated steel was in its infancy, mainly supplying the roofing and cladding market. The company has grown with the boom in the product's usage over the decades and now reports a turnover of nearly £40 million," begins Gary Hunt, Managing Director at Capital Coated Steel. "Our core markets are very broad and include automotive, domestic appliances, building exteriors and interiors, ceilings, lighting, office furniture, electronic enclosures, office furniture, doors and garages, food panel industries and manufacturers, air conditioning and the refrigeration industry. Effectively, if you need a steel box, large or small, it can be made from pre-coated ste l."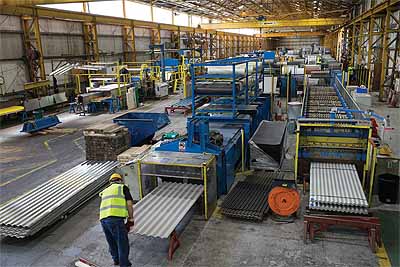 Products within the group's portfolio include Laminates for interior or exterior application, Co-Laminates for surface critical applications, Polyester for internal or external use, Tata Colorcoat Prisma, a range of technically superior building products; Tata Colorcoat HPS200 Ultra, reliable, durable, building envelope products, Tata Colorcoat LG, affordable, high performance building products, and PVDF with exceptional UV resistance.
Elaborating on the advantages of pre-coated steel in comparison to post powder coating steel, Gary continues: "There are huge environmental and cost benefits as our customers do not need to invest in a powder-coating plant or face the energy, time, resources and costs involved in running one. It also allows for better quality control as our pre-coated steel is delivered to the highest standards from the best mills. Purchasing pre-coated steel from Capital Coated Steel also means that we handle the whole supply chain on behalf of our customer, reducing the pressure on resources and space internally."
Meanwhile, the group's services include corrugating and profiling, multi blanking and decoiling, warehousing and distribution, slitting and shearing. For corrugating and profiling, the group offers four types of roll formed strip; box profiled sheets that are available in 32 mm or 26 mm deep, 16 mm liner panel and 19 mm corrugated sheet that conforms with the requirements of BS 3083:1988. If condensation is an issue, anti-condensation felt can be offered on both 32 mm and 26 mm box profiles. Meanwhile, for multi blanking & decoiling, the group has over 40 years of experience in decoiling, edge trimming, centre-slitting, multi-stranding and filming. Decoiled sheets can range from as small as 100 mm to more than 6000 mm, with a gauge range from 0.2 to 2.0 mm. It now has slitting capacity from 0.15 mm to 1.6 mm thick and from 6mm wide up to 1600 mm.
Complementing the group's long-term expertise is its commitment to continuous improvement, with millions invested in new equipment and facilities to ensure it operates with enough capacity and efficiencies to not only meet the demands of global players, but also niche firms. This way of operating has resulted in an enviable reputation for putting the customer first.
The most notable investment in recent years for the group took place in 2015, with almost four million pounds spent on the purchase and refurbishment of the former Tata Steel plant in Wattsville, South Wales. Acquired to create new headquarters and a production base for all companies within the group under one roof, the relocation has enabled all 110 employees within the group, including those at Brunel Steel Services, a supplier of non-prime, pre-finished steels, Forall decoiling and shearing services, Macward Steel Slitting Services and Odoni-Elwell, cycle storage consultants to work in a more collaborative environment and also take advantage of a more efficient and cutting edge plant.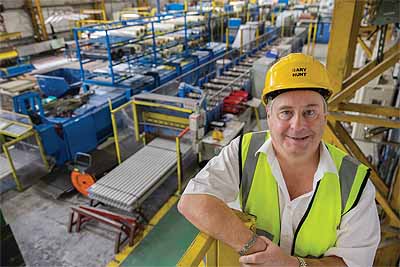 The new site has also provided Capital Coated Steel with significantly increased capacity, which enables it to meet the growing worldwide demand for its products. In line with this increased capacity, the investment also naturally included the acquisition of new equipment, as Gary highlights: "In 2015, Capital Coated Steel invested £3.5 million in a new 130,000 square foot premises and the very latest equipment including a two million dollar light gauge slitting line. Manufactured by Red Bud Industries of Illinois, US, which also assisted in the installation of the new line, the machine is capable of slitting 300 metres of coated steel a minute and over 500 tonnes a day. The new slitting machine is in addition to the company's three other slitting machines, three cut-to-length lines, two guillotines and three roll formers for roofing and cladding."
With up to 20 per cent of its turnover being exported to Europe, Capital Coated Steel is faced with a challenging market due to the strength of the pound over the Euro; however, as a group that remained profitable during the recession, it is quietly confident about its future. As demand increases for its products, the group plans a period of consolidation.
"In the last two years we have invested a lot of money in getting the right processes and facilities in place. We are now returning to full production, having made the biggest move in the company's history with minimal disruption for our customers, so the next 12 months will be spent using that investment to the fullest and continuing to build and maintain relationships with our customers. We are also continually looking at new markets, especially niche markets, and making the most of our recent investments to further expand across Europe with the goal of further cementing our position as Europe's largest independent specialist distributor of pre-coated steel. We have a philosophy of being easy to deal with. Call us and we'll do our best to fulfill all your pre-coated steel needs," concludes Gary.
Capital Coated Steel
Products/Services: Pre-coated steel