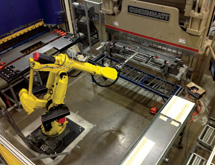 These days, clients are looking for extra value when they hire a metal stamping company. Often, they turn to Capitol Stampings Corp. because of the extra value it provides, President Gary Wenzel says.
For instance, the company was one of the first to deploy robotic technology in its operations. "We've been able to reduce labor considerably by using robots to feed a brake press," he says. "We think out of the box a little bit more than some manufacturers."
Milwaukee-based Capitol Stamp­ings specializes in custom metal stamping and tooling, robotic welding, resistance welding and split steel pulley technology. The company started operations in 1945, manufacturing pulleys and sprockets for the lawn and garden industry.
In 2005, Capitol Stampings fell into bankruptcy, and Wendorff Bros. Co. Inc. purchased it soon afterward. According to Wenzel, the firm thought Capitol Stampings was a good complement to its two other related firms: Steel Craft Corp., a contract manufacturer, and Hartford Finishing Inc., a powder coating shop.
"It brought certain capabilities we didn't have as a corporation," he says, noting that it also enabled Wendorff's firms to branch into the lawn and garden industry.
"We also recognized with [Capitol's] punch/press capacity that we could exploit that a little bit into other markets," he adds.
Since then, Capitol Stampings has doubled the size of its business, with a state-of-the-art, 181,000-square-foot facility in Milwaukee and 95 employees. "We have done a really good job of going out to the customer and [showing] we can provide more value," he says.
Under its umbrella of companies, he notes, Capitol Stampings can offer powder coat and e-coat services. The firm also has fabricating capabilities to offer for clients needing low-volume production. This gives the customer another option until the volume requires more expensive progressive tooling, he says.
Business Veteran
Wenzel is a partner in Wendorff's investment in Capitol Stampings, but this is not his first time in the stamping industry. Previously, he worked at Luitink Manufacturing Co., a stamping firm in Menomonee Falls, Wis.
"I've been in this business about 30 years," he says, noting Capitol Stampings is operating with the same type of strategy that it used in 2009. "That was a tough time for manufacturing."
That year, Capitol Stampings bolstered its marketing and sales efforts, and it plans to do the same in 2013, Wenzel says. "We're going to continue our efforts with developing our web sites," he says, adding that the firm also recently hired a new sales associate.
"We're not holding anything back," Wenzel says, adding that the company expects to continue enjoying 10 percent annual growth. "I'm real pleased about that."
Understanding Quality
Capitol Stampings maintains a "robust" quality system, Wenzel says. When Wendorff acquired the company, it had a parts-per-million (PPM) rate of approximately 7,000.
"We're under 500 PPM," he says, noting that it has emphasized a workplace culture focused on quality. "Productivity is important, and our numbers are important. But our people understand if we can provide outstanding quality, it makes it less difficult to sell."
To ensure quality, Capitol Stampings has not only employed traditional training, but also lean initiatives, including work cells. Wenzel says he is very proud of his employees, as they serve clients that include Fortune 500 companies.
"They understand we're not going to grow together unless we really start providing outstanding products and services," he says.
Strong Enough
Wenzel hopes to continue growing Capitol Stampings. In the next 12 years, he predicts that the company will utilize more automation. "Because of the competitive nature of the business, we recognize that technology is going to be so much more important," he predicts.
But Capitol Stampings will need more people, and Wenzel says it will need to balance the two. "We're a strong enough company to make those investments," he says.