Investing in success
Having undergone a period of consolidation in 2018, Caps Cases is today reaping the benefits of this, as well as its latest investment strategy which will see it taking delivery of game-changing equipment
When Manufacturing Today Europe caught up with Trevor Bissett, Managing Director of Caps Cases, in early March 2019, the topic at the top of the agenda was to see how the previous 12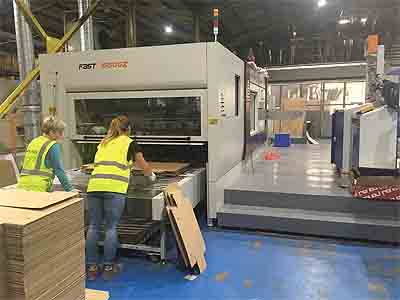 months had treated one of the largest independent manufacturers of corrugated cardboard packaging in the UK. The feedback he provided was very positive indeed. "2018 was a good year for the business, with solid sales figures that held up well throughout," he says.
"It was also a year that marked a significant period of restructuring for Caps Cases, with the amalgamation of all of our activities into our facilities in Newmarket and Glasgow," Trevor continues. "This decision has allowed us to take an even greater degree of control over our entire operation, as well as creating some economies of scale in terms of things such as transport and logistics. It has also contributed to big improvements in our sustainability efforts, reducing the number of outbound trips we make by 2.5 per cent, even in the face of growing sales. With this period of streamlining and restructuring starting to come to an end, we can now look forward to reaping the benefits of the work we completed in 2018 over the next five-to-ten years."
What started, in 1982, as a company designed to target niche markets in the world of packaging, such as the production of cardboard partitions and divisions (like those found within the average box of wine or spirits), has since developed a wealth of specialisms. These include multipoint gluing, pads, cases, POS displays and die-cut cases. As Trevor goes on to detail, 2018 also marked the first year that the company made a truly concerted push into the manufacture of high end gift style packaging solutions.
"This was a real growth area for Caps Cases in 2018, and one that presented a whole host of new opportunities for us to capitalise upon," he states. "When we began expanding our presence in this field we envisaged that we would be primarily dealing with a lot more point-of-sale stands, however what actually happened is that were able to help our customers bring different marketing ideas to fruition cost effectively and quickly. Prior to this these good ideas were often beset by complications, with long-lead times and high minimum order quantities, which are challenges that we, as a UK manufacturer, can respond positively too.
"The result is that we have been responsible for all manner of different packaging solutions. For instance, in the latter months of 2018, we worked on at short notice on a project for a well-known craft brewery business, which entailed Caps Cases making some 40,000 advent calendar beer packs at relatively short notice using advanced digital printing techniques. This was a big success for us, and that product even went on to be listed for a Star-pack Industry Award."
Turning to the topic of the investments made in the business over the last few years – during which Caps Cases has been in the midst of its latest five-year investment strategy – Trevor is keen to stress that self-improvement never ends, and that the culmination of this particular programme will only usher in the next phase of the company's development. "Over the course of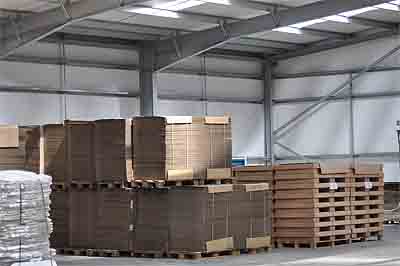 the last couple of years we have purchased several key pieces of equipment, including a fantastic new digital printer, a new flatbed die cutting machine to assist with our finishing processes, and an in-line tape applicator, which will help us in producing higher volumes of e-commerce packaging," he explains.
The final piece of this particular investment jigsaw puzzle will fall into place in April 2019, when the company takes delivery of a new, state-of-the-art, five-colour flexo casemaker, which not only offers five-colour flexo print, but also an in-line rotary die-cutter delivering premium quality print and precision at high speed. Dubbed a 'game changer' for Caps Cases, this £1.5 million investment, will see it possessing a piece of equipment capable of running 8000 large format cases per hour and with a print tolerance of 0.3mm print registration. This new investment will also see the company being able to better compete with those competitors using lithographic printers, but in a more cost-effective manner and using water-based inks, as opposed to UV inks.
Recent times have clearly been good for Caps Cases, and Trevor is confident about what it needs to do to maintain its level of performance in 2019 and beyond. "For me, the key is to maintain a high level of service to our customers, while providing them with a quality product at a commercially viable price," he declares.
"I think the real barometer of our optimism for 2019 can be seen in the level of investment we have made in recent times. We have been fortunate to be involved in a marketplace that is consistently growing year-on-year, with a product that is sustainable, a supply chain that is solid, and an ever-expanding customer base. We now want to continue to develop all of these interconnected elements and ensure that we hold onto our reputation as a reliable and valued manufacturer as we grow organically into the future," Trevor concludes.
Caps Cases
Products: Corrugated cardboard packaging