The perfect package
Having reaped the rewards of a five-year investment strategy during 2019, Caps Cases intends to spend 2020 building upon its recent successes, while continuing to target fresh growth opportunities both internally and externally
As detailed previously by Manufacturing Today Europe, for Caps Cases – one of the largest independent manufacturers of corrugated cardboard packaging in the UK – 2018 was very much a
year of consolidation for the company. During this time, an amalgamation of its manufacturing activities into its facilities in Glasgow and Newmarket, helped to significantly streamline operations, setting the stage for what Managing Director Trevor Bissett anticipated would be a healthy 2019.
Catching up with Trevor in March 2020, it is heartening to hear that his prediction for the preceding 12 months proved accurate. "Last year was a good one for business, with a healthy growth rate of approximately four per cent being recorded and a good return on investment being made," he says. "Much of this growth was driven by the fact that our existing customer base also enjoyed strong levels of performance, and the most important thing from my perspective was that Caps Cases continued to keep all of its customers happy and did not let a single one down in their pursuit of better packaging solutions."
In fact, Caps Cases has been keeping its customers more than happy since 1982, when it was founded by Chairman Charlie Bissett and Peter Bush. Since then, it has constantly aimed to deliver quality cardboard packaging at competitive prices by utilising a mix of state-of-the-art production technology, high-quality customer service and advice, and access to an unmatched range of products and services. "In more recent times, we have found particular success in our ability to aid brand owners that wish to use there packaging as a way of communicating with consumers," Trevor details. "This tends to coincide with a greater requirement for higher standards of printed graphics. This has always been a strength of ours and therefore it seemed a logical one for is to push forwards with as a business, we now feel well placed to meet this demand head on due to the investments we have made in both digital and flexographic equipment and the skills we possess within the business."
Said equipment makes up one element of a dedicated five-year investment strategy that the company successfully concluded in 2019. "As discussed in our previous conversations, investment during this time period has included the purchase of additional high-quality digital and flexo post printing equipment, and more recently in the machinery and tools necessary to deliver self-adhesive, self-sealed packaging to our growing portfolio of e-commerce customers," Trevor states.
"The final phase of this particular programme, which took place in 2019, saw us concentrate our efforts on further improving our employee facilities so as to better their welfare at work. This included building an entirely new canteen unit, refurbishing the existing one, and modernising all of the communal washrooms and associated spaces. I am happy say that all of the above has had a very positive impact on morale, however it does not represent the end of our investment plans. We are constantly looking at ways to improve parts of the business, so to that extent it's fair to say that we are not resting on our laurels."
An example of where the next cycle of investment will be heading can be seen in the company's present-day efforts in devising an improved means of printing of both sides of its materials in one pass. "This is a process that we have already found to be extremely beneficial – producing printed, double-sided materials with just a single touchpoint – therefore it makes sense to be examining the possibility of investing in new, specialist machinery to make our capabilities in this field ever-more efficient," Trevor adds. "We are currently having positive conversations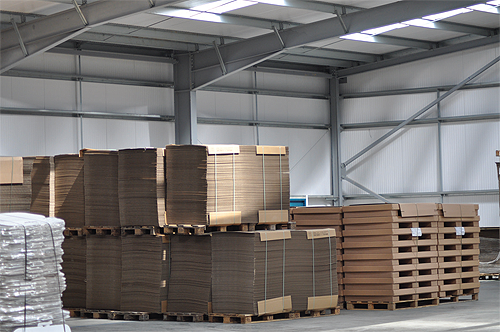 with our trusted suppliers and contacts about this issue, and look forward to adding new equipment to our roster in the coming months."
As has been the case for several years now, Caps Cases – with its use of water-based inks and paper-based end products – has found itself at the forefront of meeting its customers' increasing need to address the sustainability and environmental credentials of their packaging. More recently, however, with a high percentage of its existing customers having addressed these concerns, their attention has turned more towards issues surrounding wastage and efficiency. "An area of concern for a growing number of our customers lies in making sure that they are not sending out unnecessary packaging space through their respective courier networks," Trevor continues. "By focusing in on factors like pack size and the rationalisation of our range of products, we are helping to address the evolving needs of said customers."
For 2020, Caps Cases has designs on achieving similar growth rates to those achieved in 2019, while at the same time retaining the impetus it has when it comes to continuous self-improvement. "As is the case at all times, we remain fully focused on our 'on-time-in-full' performance and on providing the very best levels of service possible in all that we do," Trevor concludes. "We are also constantly measuring key KPI's around responding to enquiries within a certain timescale and attracting new business, to name just two. Most importantly of all, our people continue to display their collective ability to pull in the same direction, leading the business forward, and so long as this remains the case Caps Cases will be well placed to meet our targets and goals."
Caps Cases
Products: Corrugated cardboard packaging