A pro-active approach from Capsugel
'Our vision is to be the leading provider of innovative dosage forms and solutions to healthcare customers around the world,' Jan Vertommen, director for Capsugel's pharmaceutical research and development centre comments.
This vision is being put into practice every day within the company as it strives to continually meet and exceed its customers' unique demands. Capsugel's dedicated team of worldwide employees is able to identify new opportunities, overcome challenges and achieve superior results. Furthermore, drawing on years of experience and successful outcomes, the business is adept at offering its customers custom-made solutions that precisely address their specific needs.
With over 100 years of experience, Capsugel has emerged as a global leader creating innovative dosage forms for the pharmaceutical and dietary supplement industries. Today, the organisation operates on a worldwide basis, with its main sites located in the US, Belgium, France, Japan, Thailand, China, India, Indonesia and Mexico. Companies look to its leadership to help them formulate drug delivery systems for the most challenging products, enhance existing product lines, bring new products to the market faster, and ensure their clinical trial manufacturing is conducted at high efficiency.
Capsugel's broad range of products includes, amongst many others, hard gelatin capsules, liquid-filled two-piece capsules, softgel, nonanimal and fish gelatin capsules. The company is also at the forefront of developing the highest quality polymers, each designed and tailored for specific applications. Combined with its innovative research and development machines, such as the CFS 1200 liquid filling and sealing machine and the Xcelodose S Precision Powder Micro-dosing System, customers count on Capsugel support from formulation to final production.
Olivier Van Hoorebeke, director of Capsugel's Bornem plant in Belgium, comments: "We are not just providing a standard line of products to our clients – we are offering a wide range of services to compliment them. This is one factor, which clearly differentiates us from other competitors on the market. For example, we provide our customers with recommendations about their capsule trade dress, based on consumer insight and regulatory situation. At the manufacturing stage, a number of our technical service engineers assist our customers with filling their products in Caspugel's capsules, whilst also helping them to improve their productivity by ten to 30 per cent."
Over the last few years the demand for encapsulated liquid products in the dietary supplement and pharmaceutical industries has grown rapidly. Responding to this demand, Capsugel developed the unique Licaps® Drug Delivery System. This solution is an innovative compilation of services and products that utilise lipid-based and semi-solid formulations to overcome development challenges and deliver cost-effective prescription drugs. The Licaps® Drug Delivery System is extremely flexible and can be precisely tailored to achieve each client's specific objectives.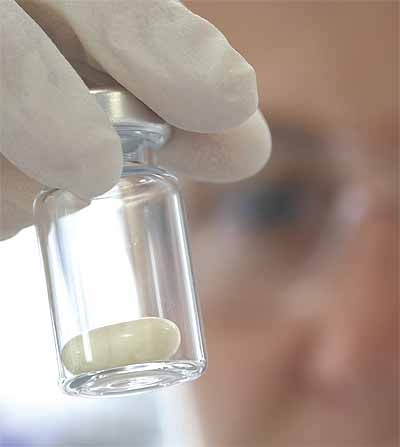 Introduced in 1998, the Licaps® Drug Delivery System helps, thanks to innovative lipid based formulations to increase bioavailability and preserve stability of the liquid fills because of unique protection from oxidation that can degrade the formulas. This is achieved by filling the capsule with the liquid formulation and then flushing with nitrogen to minimise oxygen in the final product, evidenced by the nitrogen bubble visible through the transparent capsule. Secondly, through the fusion process, the capsule itself provides an effective barrier to oxygen – a robust seal is created by fusing the outer shells, using a precision microspray process (LEMS), resulting in no need for banding and no leakage.
Using the Licaps® Drug Delivery System brings many benefits both for consumers and on a commercial basis. For consumers, the liquid of the Licaps capsule is clearly visible.
Jan comments: "We have worked with some selected pharmaceutical customers to bring this solution to the market. We are currently working with one customer to develop a Licaps® Drug Delivery System as a solution for his new pharmaceutical compound, and we are now reaching the commercial manufacturing stage with the goal to launch the product on the US market in 2010."
Olivier adds: "We are now focusing on encouraging more customers to use this concept. The most unique factor of the system is its openness and flexibility – the customer can be as involved as much as they want in the development of the capsules. For example, if they would like to produce the products in-house, they can purchase all the equipment and the capsules from us and carry out their own production. In addition, if they only want to receive formulation services from us, we can provide that as well. We can also carry out the whole process – from formulation through to manufacture. We believe this open-minded approach is one of Capsugel's key strengths."
Discovering viable and profitable pharmaceutical products today often requires working with new chemical entities (NCE) that are poorly watersoluble. These NCEs may require time-consuming experimentation and analysis in order to achieve satisfactory drug absorption from a traditional solid oral dosage form – a challenge that can sometimes seem insurmountable. However, using the Licaps® Drug Delivery System, by formulating in liquid or semi-solid lipid formats, bioavailability may be significantly improved and API content uniformity can be improved, particularly at low dosage levels.
New developments around HPMC
Another of Capsugel's innovative products is the Vcaps capsule – this is a two-piece capsule made from cellulosic raw materials that satisfy vegetarian and cultural needs. These non-animal capsules represent the optimal container for moisture sensitive compounds. Vcaps capsules fit also the requirement of the consumer in the area of product with 'clean labeling', as they are also starch-free, gluten-free and preservative-free, and meet the strict dietary needs of customers that choose a vegetarian lifestyle. They are also Kosher and Halal certified. Formulated with HPMC (Hydroxypropyl Methylcellulose), Vcaps capsules are also available with natural printing inks that can uniquely brand and identify a client's product. In addition, Vcaps vegetable capsules run smoothly on all high-speed and semi-automatic filling machines.
The main aim for that Caspugel business over the next few years is to continue researching new ways to develop its already impressive product range. This will be done through a number of R&D centres, which each focus on different areas of the business. Jan explains: "Using the development of the Licaps Drug Delivery System as an example, we have a chemical R&D department located in Colmar in France, which develops the capsules, including the compositions and any alternatives to gelatin, such as HPMC. This department also works on the mechanical design of the capsule to ensure it works perfectly on the filling machines. Then we have a mechanical R&D centre located in Bornem in Belgium, which takes care of producing the machines to make and fill the capsules. Lastly, we have a pharmaceutical R&D department, also located in France, which develops the formulations to be used in the capsules. As these departments are located within either the France or Belgian plants, it is significantly easier to pilot new designs or innovations."
With this extensive research and development process in place, Capsugel is looking to grow the company, both with regards to its market presence and product range. Olivier comments: "We have strong plan to increase our market share, especially in the emerging markets in the EMEA region, especially in Eastern Europe. We also want to increase our presence in existing markets by introducing new products and solutions."
Looking at the Licaps® Drug Delivery System and new development around HPMC capsules, it can be seen that Capsugel's pro-active approach to new product development has put the business at the forefront of the pharmaceutical industry. By continually striving to meet the aims set out in the company's vision, Capsugel is developing products and solutions, which not only meet customers' needs today, but also look at what their needs will be tomorrow. By doing this, the Capsugel name has become renowned for quality, innovation and excellence.
Capsugel
Products: Hard gelatin, soft gel, non-animal, and fish gelatin capsules, Drug Delivery Systems
Sites: Ten manufacturing sites worldwide
Employees: 2900
www.capsugel.com