An uplifting experience from Carl Stahl
As it is a year on since Manufacturing Today Europe spoke to Carl Stahl, we decided it was the perfect opportunity to speak to Oliver Hommel, Carl Stahl's marketing director, to find out more about the company's progress.
"We've recently built a new office building at our headquarters in Süßen, in the southern part of Germany," he comments. "We have our store located on the ground floor where customers and visitors are able to purchase our wide variety of products. We also have other departments like our sales, controlling and accounts located on this floor.
"On the second floor, we have the general management team and our brand new Carl Stahl Academy. Offering seminar facilities, the Academy has four rooms, the biggest of which has the capacity for 120 people. All of the seminar rooms are fully equipped with state-of-the-art technology of data projection and audio. What's different and exciting is also the fact that we offer our facilities to external companies to hold their seminars. Our seminars for managers and employees are held in co-operation with SchmidtColleg."
Founded in 1880, Carl Stahl has gained unrivalled knowledge in the field of rope and lifting equipment. The early beginnings of Carl Stahl date back to the 1880s when the company started as a small rope-making workshop, serving only local customers. The following years were characterised by constant growth and diversification.
When its current CEO, Willy Schwenger joined the company in 1966, he began to form an international group of companies by establishing new subsidiaries and offering a complete product range for rope and lifting technology. Today, Carl Stahl consists mainly of the Lifting Equipment, TechnoCables and Architectural divisions but the company has also expanded into alternative fields of activity, such as factory and office equipment, medical devices, training and even jewellery. Carl Stahl now offers a comprehensive range of high quality products in all these fields together with a reliable after-sales service.
Although the company is highly successful, it is always planning to achieve more. Last year Carl Stahl had over 25 international and 20 German subsidiaries, some of which have their own production facilities for wire ropes or lifting equipment. Oliver states: "During the autumn of last year, we established a new subsidiary with a company called Ventzki located in Eislingen in Germany, and more recently, in May this year, we added a new subsidiary based in Regensburg, Germany to our portfolio. Due to our wide product range we serve many different customers in almost all industrial sectors."
Carl Stahl's employees develop, produce, sell, discuss and communicate – in short they do everything to satisfy their clients' requirements. Consequently, the professional know-how and the motivation of the company's employees are its major strengths. Furthermore, all of Carl Stahl's activities are focused on providing customers with real benefits through the products and services it supplies.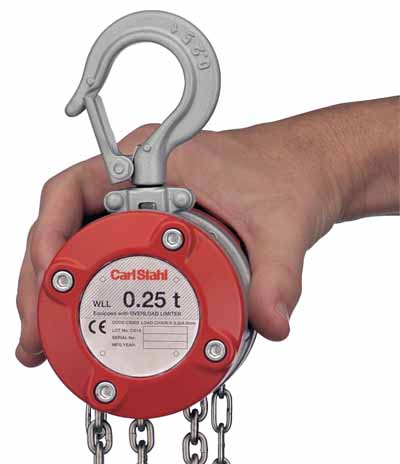 One of the main challenges the company is currently facing is increasingly complicated buying markets, which is leading to a concentration on fewer but more efficient suppliers. Carl Stahl has reacted to this development by offering a complete range of high quality products complimented by fast delivery and excellent customer services.
Oliver explains: "We do not only sell products, we also sell solutions. Our catalogue features many products from well-known European manufacturers who are market leaders in their domains. We also offer after-sales services and a wide choice of training and seminars. Last year we invested significantly in the launch of our new marketing campaign in co-operation with boxing professional Firat Arslan (WBA cruiserweight world champion), who is promoting our new Carl Stahl brand 'Condor'."
Commenting on this latest addition to the company's product range, he adds: "This new premium range of products, named Condor, includes the CondorLift, CondorGrip, CondorLash and the CondorMove. It was developed in order to supply superior quality products at a reasonable price to our customers. For many years the Carl Stahl brand has stood for quality in lifting so it was logical to create our own brand. Our products stand out because they are predominantly in two significant colours – red and grey – which not only represent Carl Stahl's colour but are also synonymous with exceptional quality."
He continues: "Most of the products in this range are unique, such as our specially designed ramshorn hook. This range gives us a great advantage for the future and in the next few years the Condor brand will be continuously expanded. The new ramshorn hook is like no other on the market. The welded hook has been specially designed for customers handling heavy loads with textile slings. The ramshorn is inserted in the crane hook and therefore duplicates the load bearing points. Manufactured from high strength steel, this hook offers an increased load capacity at a reduced weight. In addition, the product also provides welded safety latches and improved wear resistance."
For Carl Stahl, high quality, innovation and a comprehensive product range from a customeroriented organisation is the ideal combination to overcome any future challenge. Looking ahead, Oliver concludes: "Our main goal is to be the world market leader in the field of rope and lifting equipment. Our strategy is aimed at becoming a system provider. We want the Carl Stahl name to not only be popular in Europe but all over the world, which is why we're currently working on a strategy to penetrate the Indian and Malaysian markets. With our levels of determination, commitment and ambition, we are optimistic of achieving the status of a trusted global player in the not so distant future."
Carl Stahl
Products: Rope and lifting equipment
Sites: HQ in Germany with over 50 subsidiaries worldwide
Employees: 1050
www.carlstahl.com