Head for heights
Working high above the ground, the global enterprise of Carl Stahl offers a full range of premium quality products for safe lifting and a wide range of rope, lifting, safety and lashing equipment
An outstanding expertise in the field of rope and lifting technology has made Carl Stahl one of the world's leading and most recognised experts. With 135 years of international experience the business provides an excellent after-sales services such as stationary and mobile inspection and repair services and a broad range of specialist courses from the Carl Stahl Academy.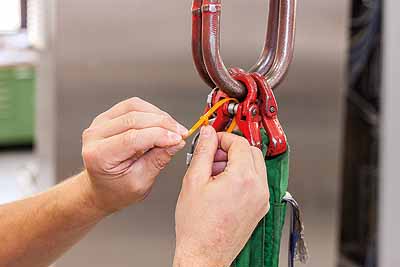 Carl Stahl started out in 1880 as a small rope maker specialising in agricultural products serving only local customers. Today the business has become a global enterprise as one of the world market leaders in the lifting equipment section with 1520 employees operating from 59 subsidiaries in Europe, the US, Asia and the Middle East with a turnover of 274 million euros in 2013. The divisions within the family-owned company are lifting equipment, architecture, technocables, and personal protective equipment for the prevention of falls. Its products help users to safely transport, grip, move or lift goods weighing several tonnes during manufacturing or processing.
"We offer a wide range of high-quality lifting products for the safe transport of goods such as crane systems, powered hoists, manual lifting equipment, load suspension equipment from own production, wire rope slings, chain slings, textile slings, wire ropes for many applications, hydraulic lifting and transport devices and cargo lashing, just to name a few," says Oliver Hommel, marketing director and head of Carl Stahl advertising department. "We stock all current crane and industrial wire rope types in different diameters, available in OEM quality and high grade alternatives from leading European manufacturers, with many other items stocked and available for customers immediately. Being able to react quickly to clients needs with our experience and knowledge about all kinds of lifting problems reflect the advantages that customers enjoy when using our service. Our main catalogue 'Carl Stahl Direct', which was first published in 1990 is the reference for lifting equipment products, containing more than 10,000 items," he adds.
Although Carl Stahl is predominantly a wholesaler, some products are actually manufactured in-house such as its load suspension equipment, chain and wire rope slings and small diameter wire ropes. In growing that capability, the company has invested in a new swaging press from Talurit/Sahm. Commenting on the investment, which was handed over at the WIRE show in 2014, Oliver says: "The new 4000 tonne swaging press for wire ropes up to the diameter of 90 mm was the biggest one our partner Talurit/Sahm had ever built. The press was for our subsidiary in Norway where they manufacture wire ropes in one workflow for the offshore industry according to the current standards."
As it continues to drive forward with innovative concepts, the business recently launched a new cable tie into the market incorporating an RFID-chip. 'Chipster – the smart RFID solution', was developed for unique product identification, possible through the use of a passive transponder (13.56 MHz) within the product. The high quality ETFE material guarantees a high flexibility, ageing resistance and a quick and simple attachment to many products outside the lifting equipment sector. The 'Chipster' is also resistant against vibration, UV radiation, most chemicals and temperatures up to 150° Celsius (302° F). "Even if heavily soiled the transponder remains readable," highlights Oliver.
Around the globe, the Carl Stahl Group is committed to fall protection in all industrial sectors and the most diverse work environments. This commitment requires a close co-operation with specialised suppliers, offering state-of-the-art-technology and finding custom-made solutions for all safety standards. The combined performance of the international Group and the co-operation with the most recognised manufacturers of safety technology results in a comprehensive range of fall protection and personal protective equipment. "Apart from the equipment and fall protection systems, we also have a 'Personal Safety Equipment Division', which offers technical advice, assembly of fall protection systems, expert inspections and special training," points out Oliver. Placing a high focus on training and education of its employees ensures the permanent high quality of its technical advice, evident through its ISO9001 certification. "Through our own academy we provide seminars that focus on all topical subjects of rope and  lifting equipment, delivered by either our own trainers or by trainers of our suppliers," he adds.
After many years of expansion, the businesses main focus today concentrates on serving all its customers with the full product range. "Besides the wide range of products, we are initiating a new service solution called 'Integrated Services'. This is not just a regular test service but a comprehensive work flow, which allows customers, and us, to save time and money by simplifying many processes regarding inspections and supply chain management. By means of the Chipster, our testing staff have access to information about the products much more rapidly and quickly. In combination with a checklist we are able to inspect every product the same way and according to all applicable regulations. These are only a few of the benefits that Carl Stahl Integrated Services can offer," he concludes.
Carl Stahl
Products: Lifting equipment
Sites: Global presence
Employees: 1520 worldwide