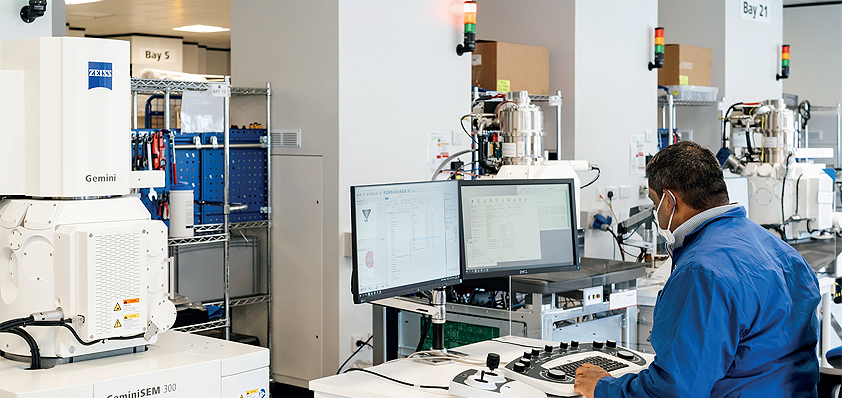 Carl Zeiss Microscopy Ltd
Seeing beyond
Recognized for both its contributions to the world of science and its beautiful and historical universities, the city of Cambridge is perhaps the ideal location for Carl Zeiss Microscopy Ltd, a company that personifies state-of-the-art technology and a renowned pedigree of technological progress
Forming part of the international ZEISS Group, a company with a strong global sales and service network, which was founded in 1846, Carl Zeiss Microscopy Ltd operates from the ZEISS House facility in Cambourne, Cambridge. This has responsibility for the majority of the company's electron microscopes (EM), which are used in a wide variety of applications in scientific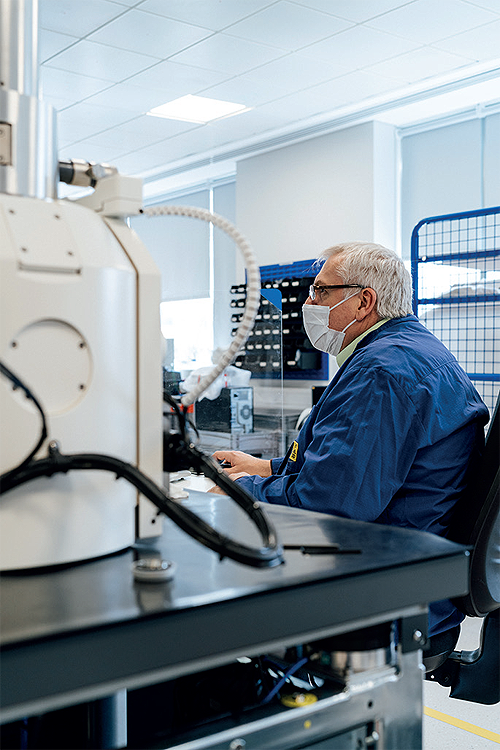 research, industrial research and quality control.
Daniel Aldridge is Managing Director of this particular business unit, and he explained that the international ZEISS Group consists of four segments: Semiconductor Manufacturing Technology, Industrial Quality & Research, Medical Technology, and Consumer Markets. Falling under the Industrial Quality & Research segment, Carl Zeiss Microscopy Ltd focuses in particular on Research Microscopy Solutions and Industrial Quality Solutions.
To continue to manufacture its electron microscopy devices at the rate and standard that its global client base is demanding, the company has recently completed and moved into a new facility, which incorporates innovative machinery and state-of-the-art equipment. Daniel gave the readers of Manufacturing Today an update on this and more exciting developments that the business has seen since it was last featured in the magazine in 2018.
"To support the growing manufacturing business and to further consolidate its UK operations, the company relocated to the outskirts of Cambridge on the Cambourne Business Park," he began. "The Cambourne facility is now the UK home of the Research Microscopy Solutions team (which includes EM manufacturing), co-located with ZEISS Sales & Service in the UK for Meditec, Microscopy & Consumer Optics solutions.
"The relocation of any factory is inevitably a major undertaking and we faced the double-challenge of only having a relatively short time to plan the project at the same time as a significant increase in demand for our products. The whole team responded to this incredibly well and with a lot of hard work, flexibility, and determination, we managed to successfully relocate and fulfil the increased order demand."
The new facility was created to provide an open plan, collaborative and flexible working environment for all team members, and the finished building has excellent meeting and conferencing facilities throughout its three open-plan floors. In the Customer Centre, there are demo rooms that are used to showcase products to customers and to demonstrate workflow solutions for specific applications. For example, ZEISS has correlative microscopy solutions, which can be used to seamlessly integrate different imaging techniques and analytics for a single sample.
"The Customer Centre also provides a unique experience with viewing windows into the production halls, where visitors can see the EMs being assembled and tested in front of them. It is a special experience to have a product demonstration and then walk a few steps to see the instruments being manufactured," added Daniel.
"In planning the factory, we were able to set-up the manufacturing processes and layout in a much more effective way than the old site, building on the strong lean flow principles we had developed in the previous facility. This gave us the opportunity to achieve a more natural flow of material and work processes through the complete end-to-end process from Goods-In to Goods-Out. These improvements have contributed directly to an increase in productivity and importantly, a far superior working environment for the team."
With Daniel referring to the needs of the staff during his description of the new premises, it is clear that the people side of the business is a high priority. He noted that one of the goals of the relocation was to retain as many team members as possible, and was pleased when this was overwhelmingly achieved. "This was vitally important for us, as the success of the company over many years has been directly attributable to our people," he agreed. "Any business always faces challenges and it is the culture of the company that determines how people respond. We empower people to make decisions in a lean, agile environment – to quickly learn and adapt – and this is built on the confidence of many years of experience in facing challenges and finding solutions. This fast-moving, can-do attitude is complemented with ZEISS' over-arching strong focus on quality and process-orientation, which in many respects is the perfect blend for a successful manufacturing operation.
"The most important factor for a successful company culture though, is trust. Providing platforms for meaningful dialogue and encouraging each other to give honest, open feedback is really important, and we are continuously developing ways to improve this."
The winning formula that Carl Zeiss has created at Cambourne has created a solid platform for growth, and this has been a foundation upon which it can rely – much needed during the upheaval that Brexit has wrought. The long-term view that parent company ZEISS takes into its investment strategy has also been an essential component of the site's success, and despite the political challenges, and the pandemic, it has remained committed to investing in Cambridge.
This latter observation directed the conversation to the coronavirus and Daniel pointed out that as a company with a 175-year long history, ZEISS has inevitably faced many challenges, and it has developed a strong resilience and agility in the face of difficulties. When it came to addressing Covid-19, the Group was quick in setting up a task force with clear priorities for the whole business. "Of course, the UK Government's guidance has shaped our local response but having the support of the centralized task force when required has been a great help. Having consistent messaging to the whole team was also very important, and having a single, shared set of priorities ensured that we were all working on the same objectives to alleviate the impact of the crisis. The principle objective was Safety, to protect the health and safety of all employees; this was followed by business Continuity, Stability and Recovery."
He continued: "At the Cambourne site, we adapted very fast to the emerging risks of the pandemic in early 2020, with remote working for those that could work from home and new shift patterns and procedures in production. This enabled us to maintain production during the whole of 2020 and into 2021, and although the pandemic did impact business, in general we have had a reasonable and healthy order intake throughout. The production team have been fantastic during this period, especially early in the first wave, when naturally there was a high level of anxiety and it was new territory for everyone to be suddenly thrown into.
"As our customers and suppliers are located all around the world, we felt the business effects of different regions going through the waves of the pandemic and lockdowns at different times. Our EM instruments require trained service engineers to install them at the customer site, so that brought challenges early on, although most regions have been able to adapt to this in subsequent lockdowns."
The continued perseverance of ZEISS to adhere to its focused investment strategy even during the pandemic, means that there is a pipeline of innovation feeding through into series production, and this results in frequent new product launches and releases from the Cambourne site. "Recently we launched our new generation of field emission scanning electron microscope (FESEM) – the GeminiSEM x60 range, of which the GeminiSEM 560 has introduced the ZEISS Gemini 3 column to the market for the first time," revealed Daniel. "This range has been very well received in the markets and the volume manufacturing (VM) facility in Cambourne is proud to play a crucial role in the production of such class-leading technology, which will enable our customers to take their workflows, applications, innovation and R&D to new levels."
Manufacturing this kind of extremely sophisticated solution is where the new factory really comes into its own – but as Daniel noted earlier, its success has been built on the strong principles of lean manufacturing for many years, which have been recognized in the past via national awards. "One of our strengths has been excellence in visual management in the factory and using this within our daily meeting and management structure to rapidly visualize problems for containment and prevention. With the rapid advancement of digital tools over the last years, we are now able to capture and share data rapidly, which has proved to be essential during the pandemic with dispersed team members.
"While digitalization offers many benefits, we also recognize that the physical, tactile visual management we developed previously still has a place and it is the blend of these ideas that we are now working on as we go forward. Looking ahead, we are now focused on 'digital lean', which means using digital tools to capture the right data and metrics in our processes to identify waste that can be reduced. We see this as an evolution of our lean manufacturing journey rather than a dramatic shift in direction and 'digital lean' will be an essential part of our operation for future continuous improvements.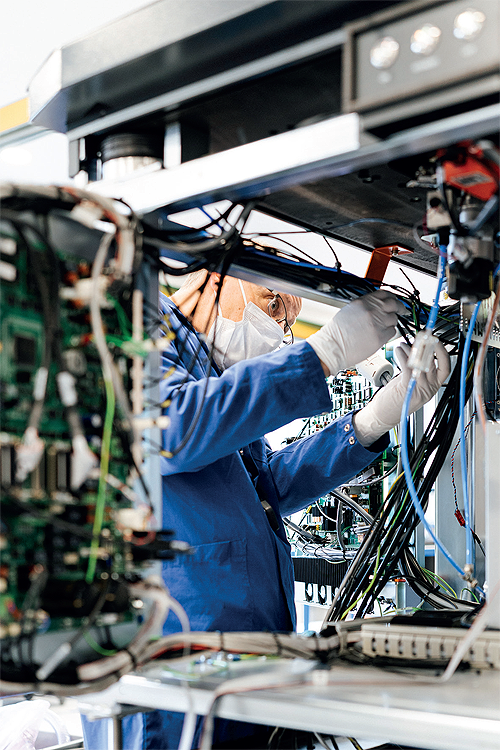 "Electron microscopes are complex instruments, requiring highly trained technicians and engineers in the assembly, calibration, and quality assurance processes. We have developed an automation strategy with support from the Institute of Manufacturing (IfM) at the University of Cambridge. Current automation projects that we are working on are to better utilize the lights-out (overnight) period, and to automate material logistics processes within the factory."
From Daniel's insights into the operations of the factory, one word that springs to mind is innovation. The company's willingness to adopt new ways of working and market-leading technology combine with its reputation for extremely high quality – when you are working with solutions as complex and technical as electron microscopes, there is no room for error. Daniel credits this extreme dedication to excellence as setting Carl Zeiss apart from the competition. "ZEISS is famous for the high standard of quality and innovation that it has accrued over many years. Our electron microscopy customers recognize the value that ZEISS provides with the broadest portfolio of products and solutions on the market and the seamless ability to connect and share data across its portfolio," he emphasized.
"Electron microscopes are complex instruments and operate close to theoretical limits in terms of the physical and electronic design of the electron beam generation and signal detection for sample imaging and analytics. To consistently manufacture instruments that produce the beautiful visual images and the incredible analytical data sets at the push of a button, requires an integrated design approach with manufacturing embedded into the development teams. This coupled with our relentless focus on quality and continuous improvement means that our customers can concentrate their efforts on pushing back the boundaries of their research and innovation for many years to come."
Having referred to the customers and clients that utilize the products from Carl Zeiss, Daniel went on to highlight that its electron microscopes are used in a broad spectrum of applications in materials analysis and research, life sciences and quality control. "Products that we take for granted in everyday life have often used electron microscopy to invent and perfect them," he said. "For example, electron microscopes are used to optimize ingredients in ice cream to precisely control the formation of ice crystals; they are used in battery development to research how to improve power density; they are used by scientists to build 3D digital reconstructions of the synapses in the brain to develop treatments for diseases associated with old age. With so many applications, there is a strong global demand for our products.
"ZEISS is an international company with a strong global sales and service network, and we recognized the growth potential in Asia Pacific very early on, and took a strategic approach to this business development, which included designing specific products for the requirements of the market. This enabled us to build an enduring export business and, as customers continue to develop their applications, we already have the strong relationships and understanding of the market to fulfil their future needs."
Given the world is still on the path to recovery from Covid-19, Daniel and his team expect a relatively high level of uncertainty to remain in some regions, and that will require a degree of flexibility to meet its customers' needs. Already planning for this, the business is implementing new technology and approaches across the production line. "The digital tools that are now available give us better visibility of market trends and the order pipeline, and we are developing new analytical tools for demand planning to increase our flexibility and productivity in the factory," he confirmed. "In VM, we will continue our program of digitalization of the factory and our supply chain. We have also launched major EM product updates recently and others are planned in the coming months, which means that we are continuously developing the capability in manufacturing in terms of skills and growth."
The past two years have seen both opportunities and challenges presented to Carl Zeiss, and the company has reacted to both with an admirable zest for success and a willingness to go the extra mile. With a pipeline of innovation and ZEISS' strategic partnerships and acquisitions agenda, the future looks strong for the company and Daniel expects a growing manufacturing business in the coming years at the UK site. With ambitious plans always underway, he highlighted digital solutions, strengthening the team and a focus on sustainability as areas of focus for the next few years, and he ended with some wise words about the last 12 months and what they have taught us. "The pandemic has once again put the spotlight onto the importance of manufacturing and the UK's response has been incredible. To many of us in the manufacturing world, it will have come as no surprise that there is a breadth and depth of capability and excellence in the UK. Now is the time to build on that for our future, especially in our new trading relationships on the international stage, and taking this as a launch pad for the UK to build its strength and confidence as a great place to invest in as a manufacturing-base for global markets."
Carl Zeiss Microscopy Ltd
Products: Research microscopy solutions and industrial quality solutions
www.zeiss.com