Carl Zeiss Microscopy Ltd
Seeing is believing
From its facilities in Cambridge, Carl Zeiss Microscopy Ltd spearheads the global production of electron microscopy systems for the ZEISS Group, whose solutions have helped to advance the world of optics and shape technological progress
Born on 11th September 1816, Carl Zeiss grew up to become a renowned German scientific instrument maker, optician and businessman. It was at the age of 30 that Zeiss brought together a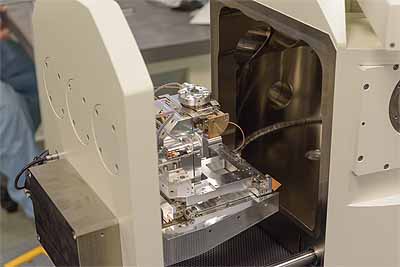 group of gifted practical and theoretical opticians and glass makers, including Ernst Abbe, to revolutionise optical theory, optical instrument production and the practical design of microscopes. From these early efforts, the business that is now known as Carl Zeiss AG began life and would go on to become one of the oldest existing optics manufacturers in the world.
Today, Carl Zeiss AG manages a portfolio of six business groups and various strategic business units that make up the globally active ZEISS Group. The core activities of the group are broken down into four segments; Research and Quality Technology, Medical Technology, Semiconductor Manufacturing Technology and Vision Care/Consumer Products. These segments encompass the development, production and distribution of optical systems such as lithography systems, industrial measuring technology, microscopes, eyeglass lenses, and ophthalmic diagnostic and therapy systems.
"In all of the above-mentioned fields, ZEISS is universally considered as a market leader and an industry innovator, which has contributed greatly to its many years of success," begins Carl Zeiss Ltd Managing Director, Paul Adderley. Carl Zeiss Ltd operates out of ZEISS UK's Campus in Cambridge. From its Cambridge facilities, the company provides marketing, sales and customer support to the Sport Optics, Photo, Meditec and Microscopy businesses, and houses a state-of-the-art customer interaction centre, provides on-site repairs and a customer demonstration area.
"Cambridge also acts as the global production centre for ZEISS' electron microscopy products," adds Bob Taylor, Managing Director of Carl Zeiss Microscopy Ltd. As a leading manufacturer of microscopes, ZEISS offers solutions in the field of life sciences and materials research, and its microscope systems are used for medical research, as well as quality assurance and control in high tech industries worldwide. Systems produced by the company include laser scanning, scanning electron and x-ray microscopes, as well as imaging systems, super resolution microscopes, and stereo and zoom microscopes.
"We receive orders for our Electron Microscope systems from all over the world, exporting over 95 per cent of our output, in large numbers, to customers in Europe, the United States and China, the latter being particularly buoyant in recent years with our systems being adopted for use in academia and quality control dependent sectors," Bob continues. "With our microscopes also being used in a multitude of different industries it is vital that we deliver the correct level of service and product quality to our customers. For this reason, we retain close contact with these customers during the manufacturing process to ensure that what we produce suits their respective markets and applications, and that we deliver the utmost in terms of quality, resolution and output."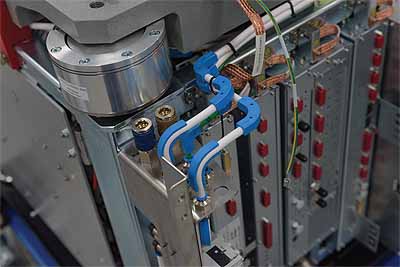 In order to create a production process that guarantees quality is maintained to the highest possible level at every stage, while at the same time allowing the company to market its products at a competitive price, Carl Zeiss Microscopy Ltd embarked on a Lean Manufacturing journey in 2008. "Central to our Lean efforts and our search for 'continuous improvement' was the decision to adopt a single piece flow approach to manufacturing," Bob explains. "Moving from batch building, we evolved our process to deliver material to line, just-in-time, with our suppliers supporting us with regular deliveries throughout the day to a central warehouse. From here key components and materials are sorted into kits and delivered to site several times a day. This has helped to significantly reduce labour costs and the end result has been the doubling of our annual turnover several times over since 2008."
Staying true to the Lean principle of 'continuous improvement', the company has also recently adopted what it calls a '3P's' approach to manufacturing; Production, Preparation and Process. This has led to it taking the bold decision to design its flow lines, and any changes to said lines, offline and before its systems hit the production stage. "What this essentially means is that we work to design and optimise the production process alongside the original product design phase," Bob states. "The result of this is that we are able to avoid any dips in productivity when introducing new products or optimisations to the process.
"This '3P's' approach has proven to be very successful and it is because of this that we have also introduced a new section of our facility to work solely on offline production design. All of the systems and solutions that originate from our product generation process are now put through the '3P's' process numerous times throughout their development, and we have a dedicated team of experts taking care of this, working alongside our production staff to really optimise the entire Lean flow, from design to production."
In terms of business performance, Carl Zeiss Microscopy Ltd and the wider ZEISS group are, according to Paul, busier than ever and this has created the need to further increase its productivity and service offering. "When it comes to high-tech industries such as ours, in order to continue being a market leader it is imperative that you have new products being continually developed," Paul summarises. "Not only have we been achieving this, but we have also taken big strides into other technological areas such as x-ray imaging. In the meantime, we remain committed to further optimising our production activities, introducing automation to certain key areas and training our valued employees so that they are best prepared for what are constantly evolving roles in a rapidly changing, but exciting, industry."
Carl Zeiss Microscopy Ltd
Products: Optics and optoelectronics