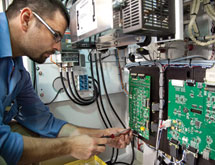 Many distributors to OEMs boast their own LEAN solutions for their clients. Carlton-Bates Company,  however, offers a unique combination of engineering, manufacturing and LEAN consulting, along with strategic relationships that include a network of more than 300 component suppliers, to help OEMs optimize the supply chain process.
Founded in 1957 as a supplier of electronic components and equipment to the growing industrial plants of Arkansas, Carlton-Bates has evolved into a provider of specialized services and a leading distributor of electromechanical, electronic,  automation and control products. It boasts OEM and MRO clients throughout the United States and operates more than 30 sales and distribution offices around the world.
"We're not only a multiple line distributor with strong supplier relationships, but we are equipped to take on portions of our clients' production process through our Assembled Solutions team," says Chris  Wadsworth, general manager of Carlton-Bates. "We offer OEMs the ability to outsource both engineering and manufacturing solutions so they can spend their time and resources operating their core business.
"We also help them manage the cost out of their builds by providing alternative design and component solutions from a diverse set of manufacturers to help improve or enhance their end-product, increase their efficiency, and reduce expenses."
When Carton-Bates was acquired by WESCO Distribution in 2005, its capabilities expanded, particularly in local markets. WESCO is a Fortune 500 company that provides electrical, industrial, and communications MRO and OEM product, construction materials, and supply chain management and logistic services. WESCO maintains relationships with more than 18,000 suppliers, and serves more than 65,000 active customers worldwide. With 475 locations and nine distribution centers located throughout the United States and internationally, WESCO's physical presence – including people, products, logistics and distribution – is never far from a client's key locations.
"Being a part of WESCO gives Carlton-Bates a distinct advantage over regional competitors," says Todd Farnsworth, vice president and general manager for the WESCO operating group that includes Carlton-Bates. "WESCO has infused significant capital into our business, allowing us to rapidly expand our  capabilities and solutions around LEAN and  Assembled Solutions. That gives us the ability to keep pace with new technologies and advance our solution set to a much broader scale to solve our clients' complex challenges."
LEAN Solutions
Although Carlton-Bates has offered its own version of assembly and manufacturing solutions for decades, Wadsworth says its services are in demand today more than ever in the wake of the recession when U.S. manufacturers were forced to reduce their engineering staffs and production capacity. Over the last five years, as manufacturing production began to rise, so too did the demand for Carlton-Bates' services. According to Wadsworth, manufacturing assembly, engineering and LEAN solutions have been Carlton-Bates' largest growth drivers in that time  span.
He attributes this to the manufacturing workforce shrinking significantly, which made it necessary for manufacturers to outsource more prototyping and design work than in the past. "We offer customers our expertise in component selection and prototyping to help them ultimately reduce costs, bring products to market more rapidly, while increasing the quality of their product," he says.
Carlton-Bates also offers LEAN consulting solutions with its clients in a hands-on manner that Wadsworth says is unparalleled in the industry. The company has streamlined its LEAN consulting process into four steps for its clients:
1.Assessment – The company takes the time to learn its clients' goals and needs with a site visit and discussion. During this visit, operations are monitored to understand customer needs and product value propositions. The company then compares its operations to ideal LEAN models developed for similar operations.
2.Report – The assessment reveals loopholes and identifies how to transform the organization. Carlton-Bates defines the vision for the operation by identifying cost savings and performance gains to establish a roadmap to achieve these goals quickly.
3.Boot camp – Carlton-Bates executes projects through three- to five-day operational improvement workshops. During this "boot camp," client teams learn principles, practices, tools, techniques and theories behind everything Carlton-Bates does.
4.Sustaining – Once future-state operations are in place, Carlton-Bates implements an effective LEAN daily management system based on the principles of jidoka. This ensures that  implemented improvements stick and provides a strong foundation for problem-solving and continuous improvement capabilities.
According to Joe Husman, LEAN programs manager for Carlton-Bates, these programs can apply to any OEM regardless of where they are on their LEAN journey or if they have not even begun. Carlton-Bates often works with the OEMs' in-house LEAN teams or other departments within a company to find breakthrough improvements to reduce costs and waste.
The four-step process allows the company to tailor its services based on every client's needs, whether that means running its supply chain management completely or implementing a LEAN system that transforms the entire business.
"We might have a customer whose business and manufacturing processes are vertically integrated," Husman says. "Our LEAN consulting enables them to spend more time in the areas where their business adds the most value. We can become that complete supply chain solution or simply provide the piece that makes sense for the  client. Our approach and LEAN thought process allow us to be a flexible and agile part of the clients'  business."