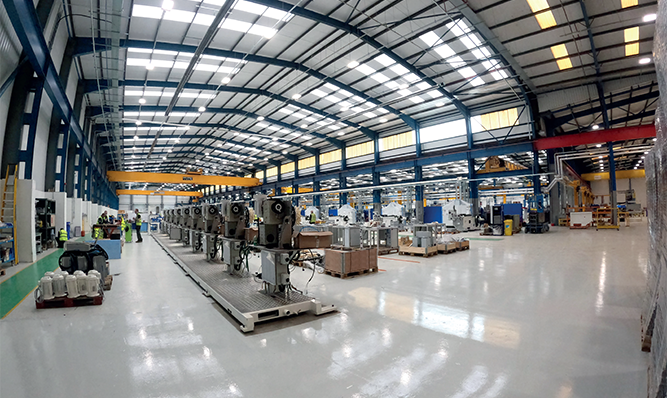 CarnaudMetalbox Engineering
A can-do attitude
As market trends continue to demand sustainable packaging alternatives, CarnaudMetalbox Engineering offers the ultimate solution in the form of expertly formed and finished metal cans
Since it's founding in 1930, CarnaudMetalbox Engineering (CMB Engineering) has been an industry leader in the can making machinery sector. Having made contributions to the design and construction of some of the industry's most cutting-edge machines, the company now looks to play a vital role in the renewability revolution, by offering a recyclable packaging alternative to its customers in the food, beverage and lifestyle sectors.
Based in West Yorkshire, England, CMB Engineering serves an international market, with innovations in the best metal forming machinery and products. The company is part of Crown Holdings Incorporated, one of the world's leading producers of metal packaging. The operation is an innovative, customer-driven company that is dedicated to efficiency, quality and sustainability every step of the way.
The company's first ever can making machine was built using the long tradition of manufacturing and engineering excellence that CMB Engineering is known for. The completed device was called the Bodymaker, and it was designed to be easy-to-use, whilst keeping safety at the forefront. The Bodymaker is capable of combining both the can making and trimming processes, and this hybrid approach has since offered a convenient alternative to manufacturers seeking a more streamlined operation. Despite being launched over 40 years ago, the Bodymaker design remains effective, and the machines continue to run like clockwork in each of its customers production plant facilities across the world.
CMB Engineering continues to be inspired by its long history of engineering excellence. The company is not only responsible for advanced can making machinery, as it also develops decorating systems and technologies; its latest designs harness the technical prowess and industrial knowledge with which the Bodymaker was conceived, and as a result the company continues to thrive, despite the challenges of recent years.
"Overall, our performance has remained strong over the last year. Growth has continued in the aluminum beverage can market, and this has been driven by the fact that, despite the pandemic, people are not demanding more plastic; in fact, they are demanding quite the opposite. Brands are listening to this change in consumer behavior, and choosing to respond. Food and beverage companies are looking to shift their packing materials away from plastic, and towards a more sustainable container: the can," asserts Marc Hoche, General Manager at CMB Engineering.
"Demand for cans has also increased because of newly emerging, widely popular products, such as hard seltzers, choosing cans from the outset. Similarly, energy drinks are usually contained in cans, and there is considerable demand for those. There is also an increased interest in developing new sizes and shapes for cans, which has come up as more companies are choosing to package their products in reusable metal. All of this means an increase in global demand for metal cans, and a corresponding increase in capacity that has resulted in different companies needing to use our machines," he continues.
Facility investments
It's clear that cans are playing an ever-increasing role in the food and beverage market; in response to this spike in demand, CMB Engineering has invested in a brand-new facility. "We have decided to act swiftly to position ourselves in the best way possible, in order to meet the demands of our customers, who we call 'the Canmakers'. This has resulted in us making significant new investments into a new facility in Leeds. Located in Wortley, the former Tata Steel Northern Headquarters is 160,000-square-feet, which allows us to double our manufacturing footprint. We had some financial assistance from the local government as well as a contribution from the landlord, which helped us breathe life into a factory that had been empty for five years.
"We are extremely excited about the new facility, as well as the many jobs that it will bring to the local area. We initially undertook a significant refurbishment program, and our first machines will be fully assembled on site in just over six months," says Marc.
The company will also be making further investments, in the hopes of facilitating organic growth, and increasing ease of production, as Marc details: "Bringing Wortley online has enabled us to reconfigure our site in Shipley, in order to create more space. We wanted the additional square footage to make further investments in various new machining centers, for the parts that we manufacture. Throughout the coming year, these investments will be deployed, and in turn they will increase both our capacity, which we need to meet growing demand, and our capability, as we add new machines to our product line."
Significant support
Providing an answer to the problem of sustainable packaging has sparked CMB Engineering's growth over recent years; however, the company's success is also supported by its dedication to quality, and team of hardworking experts, as Marc confirms: "We have benefitted from the fact that this is a fast-growing industry. Our product meets emerging demands for recyclable, durable packaging materials, and as a result the company has continued to grow steadily over the last few years. That being said, industry growth is just one factor; to turn that into success you need great products and a great team, both of which I believe we have here at CarnaudMetalbox Engineering.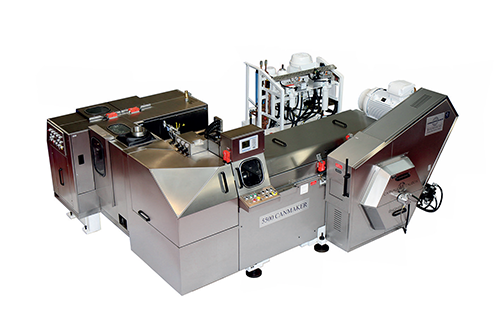 "Our products are known for outstanding quality, and for running continuously at high speeds in the most demanding of environments. This is backed up by global product support, and our ability to work closely with customers in order to provide solutions. Our people are, by far, our biggest asset; whenever I walk around the factory or talk to our people I get an immense sense of pride. Many organizations will say they are customer centric, but we truly are! In a world where our machines are measured in cans-per-minute, response is everything."
CMB Engineering also maintains strong relationships with its network of suppliers, as Marc discusses: "Working with our suppliers is key, as we need them to have the confidence to make the necessary commitments to support our growth. We have many projects underway, and we are working with our suppliers to streamline all of our various processes. For example, we have been putting effort into improving our supplier portal and sharing best practices.
Market opportunity
"Our relationships have been strengthened in many ways by the pandemic, as navigating those challenges together has helped us communicate more effectively. Keeping a steady flow of components available for our assembly teams is of paramount importance, seconded only by the safety of our people, and so we have a lot to thank our suppliers for."
The company's dedication to customer centric service, and engineering excellence, will no doubt continue to bring it success in 2022. "Above all, we will continue to support our customers," Marc affirms. "Whilst I do not believe that we are in the clear as far as Covid-19 is concerned, I do believe that we will eventually come out the other side with stronger relations, not only with our customers and suppliers, but with our people as well, who have gone through this with the company every step of the way. In the meantime, we will continue managing the situation, and responding to challenges as they occur," he adds.
In the long-term, there are even bigger things on the horizon for CMB Engineering, as the industry hopes to corner the filtered water market, and contribute to a more sustainable future for the manufacturing industry. "Should consumer demand continue to grow, then we will continue to make our investments as wisely as possible to support that growth. The real prize would be for bottled water to follow the current trend, and move from plastic to aluminum cans.
"According to Euro-monitor International's global packaging trends report, the number of plastic water bottles consumed in a year will have increased to 583.3 billion by the end of 2021. That's a lot of plastic to recycle, and unfortunately a significant percentage of that will inevitably end up in our countr yside, oceans and rivers; moving to a more sustainable container would have a huge environmental impact, and we are here, ready to support that movement," Marc concludes.
CarnaudMetalbox Engineering
www.carnaudmetalboxengineering.co.uk
Services: Metal forming and finishing machinery