Hallmark of distinction
With 40 years of industry experience, Carrs Silver represents a leading name in high-quality, British-made silverware and cutlery
Operating from the UK's fifth largest city, Sheffield-based Carrs Silver has a prestigious history that dates back to 1976 when the former production engineer Ron Carr established a business as a self-employed jeweller, producing hand crafting silver jewellery designs. Carrs of Sheffield Limited was incorporated soon after in 1977, during the same year as the Silver Jubilee of Her Majesty Queen Elizabeth II. The rapidly expanding business moved into its first industrial premises, where it continued to produce an increasingly large range of silver jewellery and commemorative products.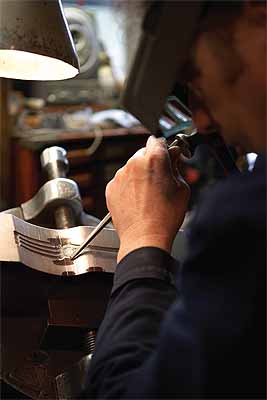 By 1992 Carrs was ready to move to its newly built 80,000 sq. ft. premises from where it immediately began planning for further product development and expansion. The company began manufacturing a comprehensive range of cutlery patterns and tradition silverware products throughout 1994, which rapidly became a much sought-after line with customers globally. Thefollowing year the company opened prestigious retail concessions in London's Harrods and Selfridges department stores and by 1996 Carrs silverware could be purchased from high-end retailers in over 50 countries around the world.
Throughout the opening decades of the 21st century the significance of Carrs, its silverware and cutlery brands has continued to grow.
"I am proud to be able to say that Carrs is now the largest silver giftware and cutlery manufacturer in the UK," reveals Managing Director, Richard Carr. "We have however grown from a humble beginning, expanding from a workshop rented for £2 per week to a purpose-built state-of-the-art factory of over 100,000 sq. ft., plus satellite units and a number of sub-contractors. This has been the result of almost four decades worth of effort, enterprise and lifetime dedicated to making top class products for a worldwide clientele."
In 2009 Carrs Silver purchased Osborne Tableware, one of Sheffield's oldest and most respected cutlery producers with a heritage of more than 300 years encompassing unique style and a comprehensive range of iconic patterns. The Osborne Collection has a soul and charm that is unlike anything else and offers clients seeking the finest quality in a wide choice of both traditional contemporary designs in electro plated nickel silver (EPNS) and sterling silver, some of which can also be further enhanced with fine gold. Today like other lines in the company's comprehensive collection of silverwares, The Osborne Collection is available through the Carrs concession within The Silver Room at London's prestigious Harrods department store, as well as through Selfridges and other key stockists throughout the UK.
"The acquisition of the assets of the Osborne Group, the largest cutlery-blanks manufacturing organisation in Britain, has given us access to what is believed to be the most comprehensive range of cutlery patterns to be found anywhere in the world, with an incredible archive of hundreds of cutlery patterns spanning over three centries," Richard elaborates. "Today our range embraces the most comprehensive variety of silverware manufactured in the United Kingdom, backed up by a young design team that ensures that we stay at the forefront of fashion whilst still reflecting the very best of British traditions and craftsmanship. One of the keys to our success has been that of self-sufficiency, so much so that silver is melted, cast and rolled at one end of the factory and emerges at the other as a finished product. Woodworking and cutlery manufacturing divisions, together with the first in-house hallmarking operation, provided by the Sheffield Assay Office complete a unique self-contained manufacturing facility."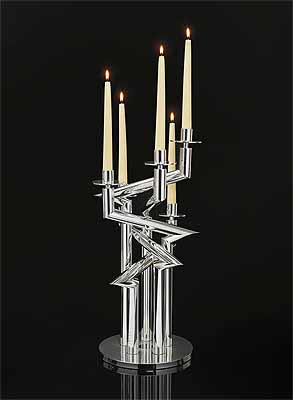 Presently Carrs exports to more than 80 countries globally, with export revenues representing over 50 per cent of the company's turnover. "We have a very varied client base that extends across the globe. In the UK, which is our strongest market, we supply silver giftware to over 800 top quality high street jewellers who promote the Carrs brand. We also have long standing relationships with many of the large multi-channel retailers in the UK. America is our biggest single export market where we supply many large well-established multi-channel retailers along with a selection of boutique tabletop stores in many of the major cities. Other important export markets for us include Asia, the Middle East and of course Europe," Richard says. "The highest revenue generating lines are from our sterling silver giftware collection. The product categories are focused around photograph frames, children's gifts, and barware and gents accessories."
With a unique manufacturing process that merges traditional techniques with the latest technology, Carrs operates from a self-sufficient 71foundation that allows the company to be in almost total control when it comes to managing deadlines and meeting the standards of its demanding client base. These strengths combined with its exemplary history in the manufacture of exquisite silverware will be defining factors for Carrs as the company seeks to continue its growth into new markets globally over the coming years. "The luxury hospitality market it currently a major target area for future growth, with a main focus on cutlery, in stainless steel, silver plated and even sterling silver. The luxury hospitality market is a much larger business segment than the silverware retail market that is currently our main business, so developing our brand within this new market is a very exciting prospect for Carrs," Richard concludes. "In terms of our vision for the next few years, obviously we hope for a larger share of the hospitality market and we would like to see the other aspects of the Carrs business continue to progress. We are committed to bringing younger people into the manufacturing side of the business and training them in the traditional and modern techniques we preach here at Carrs of Sheffield."
Carrs of Sheffield
Products: Designer and producer of hand crafted siverware and cutlery