Keeping a cool head
Recognised as one of the world's leading players in its field, Carter Retail Equipment provides its customers with a total turnkey solution for their refrigerated display equipment and cold storage needs
Having served with distinction as a wing commander in the Royal Air Force (RAF) bomber command during the early 1940s, it was in November 1945 that John Carter D.F.C. founded what today is known as the Carter Thermal Industries Group. Initially based in several small offices in Birmingham, it was established as a refrigeration and air conditioning business, and from the offset was involved in the design and installation of its own plant, cold rooms and display cabinets.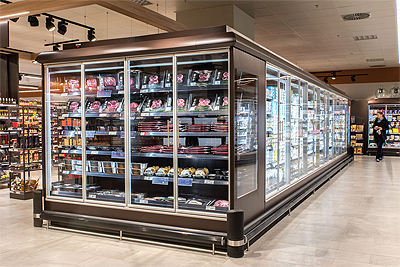 "From its original designs, using cork and bitumen as the primary insulation materials and timber for the frames, the company evolved through to the 1960s when it pioneered the use of glass reinforced fibre and blown polyurethane," begins Michael Hall, Operations Director of Carter Retail Equipment (CRE), a division of the group specialised in providing refrigerated display equipment, cold storage and door systems. "The designs continued to evolve rapidly thereafter, and in the 1970s the business was using more advanced materials, including steel, aluminium and glass, along with composites.
"The 1980s, 90s and into the 2000s saw the ongoing evolution of its cabinets, with industry leading innovation and energy efficiency being incorporated into every cabinet. Today, the range includes integral low charge hydrocarbon refrigerants with integrated heat exchangers for connecting to dry air or chilled loop systems. Additionally, a number of alternative options exist with low GWP HFC refrigerants and CO2 options."
In 2019, CRE produces its cabinets using state-of-the-art manufacturing technology and uses the most efficient materials to deliver a high-quality product that remains cost effective. "Carter cabinets are typically used by supermarkets and food retailers within not only the UK, but also across Europe, Australia and the Americas," Michael continues. "We have consistently provided our products and services, including cold storage solutions, to the world's largest and most prestigious retail organisations, while additional solutions are regularly designed and installed in food processing and storage facilities, factories, pharmaceutical bulk storage and distribution centres, hospitals, mortuaries and more."
As for what lies behind the secret to CRE's success, Michael puts this down in part to its innovative approach and its flexibility to actively support its clients on every project. "Much of this flexibility comes from our being a family-led business that keeps at its core a number of strong morals and values," he declares. "Our wider group offering also helps to set us apart in the marketplace. Through the Carter group, and its combination of skills and products, we are able to offer highly cost effective, truly innovative, multi-site solutions to retail, commercial and industrial customers."
CRE's manufacturing capabilities are focused upon maximising efficiencies by applying '80/20 methodology' to ensure that high volume production is fully optimised. From design through to production, standardisation and simplification are themes at the forefront of CRE's manufacturing applications, helping it to ensure that quality and repeatability are built into the process. "We have recently increased machining capacity by transferring additional laser and metal punch plant into the factory," Michael adds. "This will mean that future demand will be satisfied, whilst maintaining in-house controls that are continually evolving."
The aforementioned developments are far from the only investments made by the company in recent months, as Michael goes on to reveal. "We have made significant efforts to amalgamate all group engineering and manufacturing into our Lea Ford Road factory in Birmingham," he says. "This decision was undertaken to strengthen our core operations and bring about clear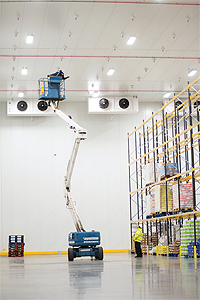 cost savings. Furthermore, by bringing together all of our teams into one office environment we have strengthened our management structure, and improved our communications and efficiency."
Given the nature of CRE's products, it is important to highlight the efforts the company, and the wider Carter business, makes in investing into technology that brings about energy efficient products and solutions. "We work to provide our clientele with solutions designed around refrigerants with the lowest global warming potential possible, including the use of hydrocarbon and CO2 systems," Michael states. "Our cabinet ranges use low energy compressor technologies, LED lighting solutions, and are designed with minimal refrigerant charges wherever possible. With a suite of testing laboratories and chambers, we can fully stress test any cabinet design in any environment by changing temperature, humidity, lighting, air conditioning impact and more. Also, by being a British manufacturer we reduce the impact of the delivery of finished cabinets to our UK client's sites."
Moving the discussion onto the future aims of the company, Michael first points out how the Carter group has long been focused on the development of new talent. To this end, it has a range of apprentices currently working across the business, and the careful training, preparation and investment in these 'engineers of tomorrow' is rightly seen as a key priority. "Recently," he adds, "we have worked closely with Kelvin College in Glasgow. Previously, there was no specific CO2 training available in Scotland, so, in combination with staff at Carter businesses KB Refrigeration and Carter Synergy, we took the college's most senior refrigeration lecturers and trained them at our facility in Birmingham. Since then, we have also gifted the college a trans-critical CO2 pack system, on which they can now deliver training to their students."
For CRE itself, 2019 is being seen as very much a year of amalgamation and key structuring within the business in order to ensure its continued success, and to improve its competitiveness in a tough, ever-changing market. Looking further ahead, the company's plan is to push on with the development of innovative solutions for the retail market and to build upon its core strengths in engineering and commercial services delivery. "The truly turnkey offering that we provide is now unrivalled in the (retail) refrigeration market, and we will use this to expand our horizons in the years to follow," Michael concludes.
Carter Retail Equipment
Products: Refrigerated display cabinets and cold-room solutions