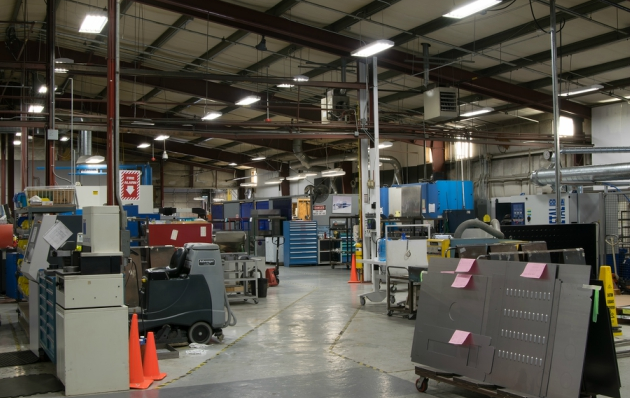 When Cascade TEK builds laboratory and vacuum ovens, it makes sure that it only uses the best components. This ensures the Cornelius, Ore.-based company helps its clients avoid the crushing costs of maintenance and downtime.
Cascade TEK's founder, Doug Barrett, instilled the company with these values when it started operations in 1992. "He wanted to have quality components and never have a customer support team answer why something didn't work," Sales Manager of Custom Solutions Jeremy McDonald explains.
This focus makes the brand particularly appealing to industrial clients. "They don't want to have to deal with downtime," he states, adding that Cascade TEK rarely has to provide customer support or honor a warranty.
Sheldon Manufacturing Inc. purchased the company in 2016, two years after the death of Barrett. The company, which previously provided manufacturing services to Cascade TEK, managed to make the transition without any issues.
"The customers didn't really know that had happened as far as the deliveries and impact on quality," McDonald recalls. "We had a seamless transition between the two."
Today, Cascade TEK operates as the custom arm of Sheldon Manufacturing, which also performs private label and white label work for clients. "We'll take anything that the customers request and customize it to [their] needs," McDonald says.
Sheldon Manufacturing's ownership gives Cascade TEK access to many resources, including laser, punch pressing, metal forming, welding and powder coating equipment. "We get to run our product through the parent company's full, complete ISO factory and pop it out for us through the custom side," he says.
Meeting Demand
Cascade TEK serves a broad base of markets that range from medical devices to aerospace to satellite manufacturers. This includes "anyone who is doing CubeSats," McDonald says. A CubeSat is a type of miniaturized satellite.
The company's end-users also include universities as well as clients in the pharmaceutical and automotive markets. "We sell into any industry that needs a dry, clean part," he says, noting that the ovens can aid with outgassing and solvent and water removal.
This makes Cascade TEK's products ideal for the space market. "Our vacuum ovens are designed to have those space-ready parts put in them and [make them] qualified for space flight," he says.
Problem Solvers
McDonald joined Sheldon Manufacturing in 2010. "I've been at Cascade TEK since we acquired them," he recalls, adding that the company has assembled a creative team.
"They're interesting guys to hang out with," he says. "They're always trying to solve a problem. Everyone's got a project."
Its employees also keep a focus on innovation. "It's a fun environment to be in, especially from the custom side of sales," McDonald says. "Those guys effortlessly solve customer problems due to their extensive experience."
Faster and Better
Cascade TEK's clients turn to it for the reliability and consistency that it provides, McDonald says. "They want to know that the values that they're going to read are accurate and repeatable," he says. "They have demands, which are our requirements."
The company's fully integrated structure also keeps clients coming back. Its engineers are capable of multiple tasks, including laser forming and punch bridging sheet metal. "Everything we build for the product is part of our normal flow of design," McDonald says.
"We can do everything from the top to the bottom as far as the product, design and controls go," he says, noting that this has helped Cascade TEK nurture a repeat business rate of 70 percent.
Many of the customers have been with the company since its start. "They have been buying, upgrading and replacing [equipment in] their facilities as they go so they can go faster and better," he says.
Cascade TEK also focuses on quality through extensive tests during the production process. "There's inspections at each manufacturing cell," he says, noting that the company also performs quality assurance testing of the product and performance verifications.
The firm also utilizes lean practices, which have been instilled through Sheldon Manufacturing. "They've had a lean initiative going on for more than 10 years," he says. "They have a whole team of people that are working on lean improvements on a regular basis."
On the Bench
Cascade TEK can offer more convenience to its customers through its bench top units. "Most people are used to the old school [units] where you can drive a bus into a vacuum chamber," he says.
Instead, Cascade TEK's bench top units occupy far less space and can be immediately plugged in and operated once they arrive, with no engineering by the customer required.
"That's our differentiation in the market," McDonald says, noting that there are few others providing this type of product. "We're one of the leaders."
Staying Current
Cascade TEK keeps its equipment up-to-date in its facility. "We [want] all of our equipment to be no less than 10 years on the floor," McDonald says, adding that the company also updates its software.
The company also makes sure it is compliant with the latest safety regulations. This helps ensure that its products are applicable to clients in Europe and other countries with similar safety regulations.
"We're tapping into all those countries that are trying to get their own satellites in space," McDonald says. "We're also trying to make sure we're picking the highest quality components with the best specifications and trying to make a product that can meet their demands."
An Evolving Market
Cascade TEK is keeping busy, thanks to market activity. The volume of CubeSats that are being sent up into space is increasing, "and the consumer space has increased the demand to clean and outgas smaller components," McDonald says.
"We didn't change, but the market changed to better suit us, which is interesting," he says, noting that the company also is seeing changes in what clients are asking for in their custom features.
These include features related to communication. "The ability to access data remotely has been a trend in the last 15 years," McDonald says. "As people get more accustomed to their phone, they want to apply the same desire to their work life.
"They want to see and monitor experiments remotely," he says, explaining that these features allow clients to monitor Cascade TEK's products when they are away from test rooms.
Clients also are asking for less complicated controls. "We try to make the product as easy to use for an operator who is not on the production floor to be able to see his results remotely," McDonald says.
Bridging the Gap
Cascade TEK has "intimate" relationships with its suppliers, McDonald says. "We rely on them to be able to give us information that their parts are going to be reliable and consistent to match our designs," he explains.
These include such products as valves, gages and pumps. Cascade TEK's suppliers have to ensure "we're choosing the most applicable product," he says, noting that the company also sources locally when it comes to sheet metal.
"We try to get American steel," McDonald says. "Those relationships are very key for us in the procurement world. We try to bridge the gap between procurement and delivery."
Growing Strong
This May, Cascade TEK will exhibit at Space Tech Expo USA in Pasadena, Calif. "That's a burgeoning market with the SmallSats and CubeSats that are going into space," McDonald says, adding that there are many new companies starting operations in the southern California market.
Those companies will be at Space Tech, "trying to see the new technologies and find new vendors and how their parts can be qualified," he says, adding that more experienced firms like Cascade TEK will benefit from the show as well. "We do a lot of learning there, meeting customers and [finding out about] evolving demand and specifications for that market."
McDonald sees more growth ahead for Cascade TEK, as it continues evolving its portfolio to fulfill customer orders. "We're able to translate those requests from customers into a standard portfolio," he says.
This will enable Cascade TEK to provide better products, McDonald says. "We're always looking for new requests," he says. "It's easy for us to expand and grow our product offering."
The thriving space, satellite and automotive markets also will keep Cascade TEK busy. "We don't see anything but growth in our future," McDonald concludes.
Sidebar — All Warmed Up
This January, Cascade TEK introduced its TFO forced air lab ovens, which not only have applications in scientific research, analytical and laboratory use, but also are "suitable for use on the production floor and beyond," it says.
"[Its] typical applications include aging, curling, drying, baking, pre-heating, conditioning and lifecycle testing," Cascade TEK says, noting that the oven can achieve temperatures of 306F with quick ramp-up and recovery times.
Sidebar — Across the Spectrum
Based in Cornelius, Ore., Sheldon Manufacturing Inc. specializes in constant temperature equipment. "[Our] major product lines include incubators, humidity test chambers, ovens, water and bead baths, and anaerobic chambers for the life-science, pharmaceutical, biomedical, environmental and industrial markets," the company says.
The firm started operations with the goal of being a world-leading manufacturer of constant temperature equipment. "For over 45 years, Sheldon Manufacturing has worked with industry leaders to design solutions for production and research needs across the entire constant temperature and environment spectrum," it says.
Sheldon Manufacturing's experience can be seen in all of its projects. "Over the years, our reputation has grown as an innovator of dependable and reliable equipment, designed [for] demanding environments," the company says.
"Our sophisticated and flexible manufacturing facility provides consumers the ability to quickly respond to market conditions while maintaining competitive minimum quantities and product costs," it says.
Sidebar — Impressive Work
Cascade TEK has won rave reviews for its work, including praise for its vacuum and laboratory ovens from Erik Shelstead, a principal engineering technician for Medtronic Ablation Frontiers LLC. "Cascade TEK makes a fantastic product; [we're] very impressed," he said in a statement.
Other engineers at Medtronic were as pleased as Shelstead. "I want to also thank [Cascade TEK] for the fast and super awesome service/turnaround," he added.