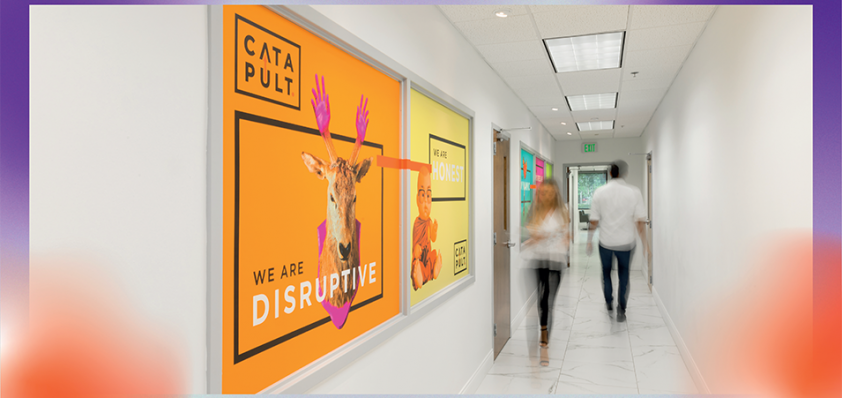 Recipe for success
When Mark Cook created Catapult Print he founded it on four key principles – game-changing quality, the lowest prices, the shortest lead-times and unbelievable customer service. He tells Manufacturing Today more about the key areas of focus that have upheld the firm's success
With his background in custom label converting and design, Mark Cook was ideally placed to form his own vision of what a state-of-the-ar t printing business could look like. Having worked in both the UK and US print and design sectors, he realized that many printers had poor quality, long lead-times and really didn't want to go the extra mile to deliver for the end customer. "Being on the other side of the fence was eye-opening, as you'd see the initial beautiful designs getting pared back and you were always disappointed when the printed samples came in from the first print run," he begins. "There would be poor color matching, bad registration and the images looked dark and dirty."
Confident that label printing services in America could be done a LOT better, Mark founded Catapult Print to be a disruptor in the US sector. He was determined to introduce technology, agility and innovation to offer an alternative to the stale and stagnant services to which American customers accepted as the norm, and show them what can actually be achieved if they work with a business that embraces modern thinking and state-of-the-art technology.
Indeed, it is technology that Mark highlights as playing a 'massive part' in Catapult's success. We came to a market that was already crowded, and so we knew we had to have something unique, something that set us apart from everybody else and technology is a major differentiator for us," he emphasizes.
The up-to-the-minute printing machinery and systems employed by Catapult set the business apart from the competition, and it never stops investing. When we last featured the organization in 2020 it had recently acquired a new printing press, and since that time it has had a further
one delivered and another is being installed in December 2021. Mark believes that it has the best available equipment, and this means it can offer unique services. He gave an example. "We have sort of digitalized flexo printing and we believe we are the only people doing this in the whole of the US. Enabled by our technology, working in combination with the best machines, the best plate making and the best skills, our ability to create fixed color pallet is unbelievable," he says. Describing its ability in this area as both a 'step change' and 'game changer', Mark wants to remove the stigma that might be associated with fixed color palettes, which has been caused by other companies doing them badly. "I am an ex printer and if someone told me what we can make, I wouldn't believe it," he admits. "I am such a fan of it now, the quality we can achieve is incredible.
Essential elements
"The fact that we have also digitalized this means that we can run multiple jobs together, which translates to three completely different jobs in different colors, done concurrently, and that is pretty amazing. To illustrate what I mean, we had a range of 75 jobs, which we could print as 28 jobs. It saved us 100,000 ft in material and 52 hours of make ready time. That sort of performance really does change the game."
These abilities place Catapult in a different league to its peers, and Mark notes that the coronavirus has gone some way to bringing the benefits of modern printing technology into sharp relief for clients. "Covid-19 has fast tracked the need to take costs out of your business, to save money for clients and to deliver your products more quickly, and that has changed the landscape of what print should be. If you want to stay in that lane of 'well, we want to do it how we always have done' then you are going to see people like us overtake you and that is what we are doing at the moment, which I think shows that our model is working for the future.
"To me it's obvious that everyone can buy the technology and I find it strange that the American marketplace has sat back and not really invested, but until now they haven't been pushed to do so."
Having already established its superiority in technology, another essential element that Mark has added is automation – not only does this reduce the number of staff needed, but also delivers consistency. "Automation has played a big part in keeping us slick, makes us cost effective, and helps us deliver to shorter lead times," he agrees. "It also means that instead of our customer service team being bogged down by admin every single day, they can focus on what matters, which is talking to the customer."
In fact, automation is utilized throughout the entire business, from the sales order to the print room, and Mark highlights that the agility this brings to Catapult means it can react very quickly to any changes in requirements, to the extent that new jobs can be onboarded and completed in amazing lead times. "Our actual record in terms of a brand new job is four hours from start to finish, during the pandemic!" Mark exclaims. "Our task management system reflects changes across all departments, giving us instant communication and extremely efficient turnaround times."
What the automation and technology systems implemented by Catapult also deliver is data – in Mark's words the company is 'creating data around our business all the time.' This helps Catapult to reduce costs and keep on top of the needs of the market. "Our systems meant that throughout Covid when everyone else was quoting eight week lead times we were still turning things round in a day," he says. Catapult's approach to holding material stocks was also pivotal to this continued levels of service during the pandemic.
Given that much of Catapult's work is performed for customers across the food industry, it is clear why short, reliable delivery times are such a priority. "If you are working in the food industry and your usual supplier alerts you that your labels are now going to be delivered in eight weeks instead of the usual two, then it's obviously going to be a problem – if you can't label your product then you can't stock it in the supermarket! We understand we are part of the value chain, we have to support our customers to ensure they can deliver for their customers, and that is done through adhering to lead times, as well as delivering on cost, quality and customer service."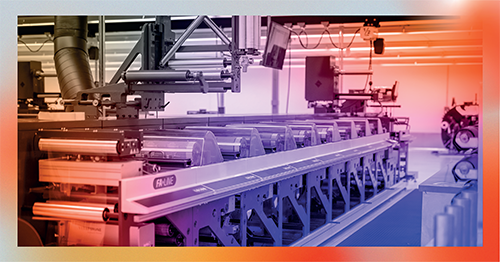 This latter point brings Mark onto the last unique ingredient that makes up the recipe for Catapult's success, and that is the culture of the business. "We have deliberately created this from top to bottom – and it's a thought process, we think differently to anybody else – when everyone else is saying 'no' we are saying 'yes'. When everyone else is saying we can't do it' we are saying 'we can'." Mark uses the phrase 'never say no culture' and he says it plays a massive part in what continues to make Catapult stand out from the crowd. "It's really what wraps around all of it, as if we hadn't decided to introduce state-of-the-art technology, embrace automation and analyze our data, and put those together with exemplary customer service, then we wouldn't have the business that we have today."
Company re-brand
Given the struggles that many businesses are having to find the right staff, it would be easy to believe that Catapult would also find this challenging. In fact, the opposite is true – Mark's approach to attitude and technology means that he looks for different attributes, and he says that makes filling roles much less of an issue. "I started out my career packing boxes and worked my way up through the business and we tried to create that model here," he adds. "We already have one team member who started in the plate room and is now a manager, so there is a fast track if you are a good person with the right attitude. If delivering on customer expectations is part of your DNA, then you are the sort of person we want. It's not necessarily skilled people – we want the right attitude and capabilities."
Clearly Mark's strategy has absolutely tapped into an unmet need in the market – in less than three years the business is turning over $20m a year, and his budget for 2022 is $33m. "We will continue to make our investments in technology, plus we have plans to extend to a 100,000 sq ft new purpose-built site next door," he says. He went on to describe how the next-generation systems it is building in 2022, will be based on the 'Amazon model'.
"With Amazon, you order it, and it arrives the next day, and it is exactly what you expect," he says. "So, we want repeat orders to come straight into our system, they will be visible wherever they are in the business, whether that is plate making or dispatch, and clients can check in on their progress. If we say they are coming tomorrow, they will come tomorrow. We want to remain slick and quick, and give visibility to everybody internally and externally. That's why we are excited about our systems and how we can build it even further for better customer service."
Mark's future plans also include a complete re-brand of the business including the website: "We are reestablishing our values so we can continue to communicate with all of our people," Mark revealed. "Being a young, modern business means we share our numbers and our vision with all our staff. We want to give them a sense of what is going on in the marketplace, tell them about the business we have won and why we have to work so hard at what we do so we can be unique."
The rebrand is going to encompass Catapult's direct approach to its messaging – Mark and his team never want to tell people 'what they want to hear'. "It's basically upholding an honesty around who we are as a business, saying where we are now, and what we want to achieve in the future – that is particularly relevant around sustainability at the moment, where we are trying hard to get where we want to be."
Proper partnerships
Sharing information isn't only a process undertaken within the walls of the Catapult facility either; Mark firmly believes in creating close working partnerships with suppliers, sharing plans and ideas and understanding each other's needs. "I think an increase in supplier partnerships is something that will come out of the pandemic – people will see who have supported them, or on the other side, those who have not been up to the mark. I think there will be a lot of fall out once it all settles back down and the supply chain mends. We have had no supply issues at all, and I am very proud of what we have achieved with our suppliers, with everyone working together. Maybe it's a fresh approach or maybe not – but we have done that from day one and we continue to do so."
Another bonus of forming these close supplier relationships is that Catapult can work with them to continually look to the future and see what technology or solutions are coming next. "We always want to know if there is something we are missing out on, to help us achieve the vision of the business we are trying to be. That means we have to always be better, if we stand still then we will be the old-fashioned ones in ten years' time! We are also happy to trial new solutions if our suppliers suggest something that might work for us. Again, that is where it's a proper partnership, where there is give and take. It's about everyone getting benefit from it."
If you look at the overall picture of Catapult and it reveals a company that harmonizes technology, automation, data and culture delivering for customers, it is our mission every single day. We work hard every day to improve our technology, automation, data and culture, and we look continually at how to make the business better and better. We always want to keep pushing out of our comfort zone, and be bold – it might sound a bit clichéd, but if you are the best at what you do then it's easy to sell your products – and that is why we are so successful."
Catapult Print
www.wearecatapultprint.com
Services: Print solutions company specializing in labels