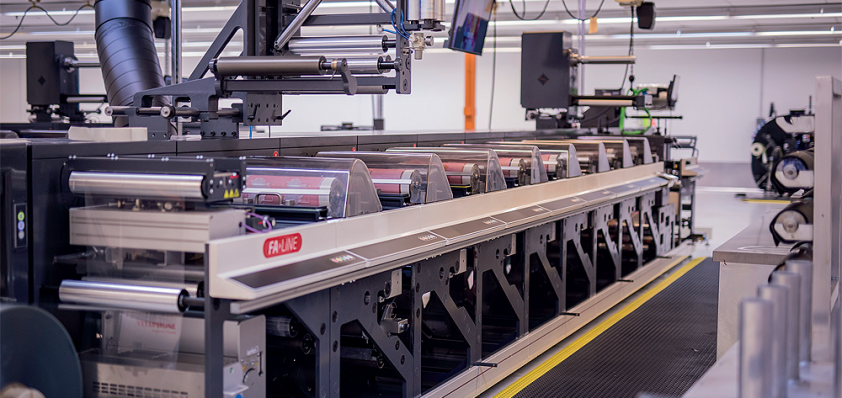 Launching a revolution
A customer-focused print solutions firm with a 'never say no' attitude to service, Catapult Print is harnessing the power of technology to redefine the US market
As Catapult Print prepares to celebrate two years in business, there is a lot for CEO Mark Cook to be excited about. An ambitious start-up founded less than 24 months ago, Catapult is already turning over $15 million a year and recently acquired its fourth new printing press. Such rapid success is rarely achieved by maintaining the status quo, and Mark is very open about the firm's mission to defy convention.
"From the moment the company opened its doors, we wanted to be a disruptor," Mark declares. "If you are going to be a disruptor in this marketplace, you can't be the same as everyone else, you have to be different. As a result, everything we do at Catapult revolves around five key pillars. We promise to deliver higher quality, lower prices, shorter lead times, unbelievable service, and innovation that makes a difference. This is the foundation upon which we have built our success."
Mark's formula for business was devised after years spent working his way up through the print industry. A former professional footballer, Mark retired early due to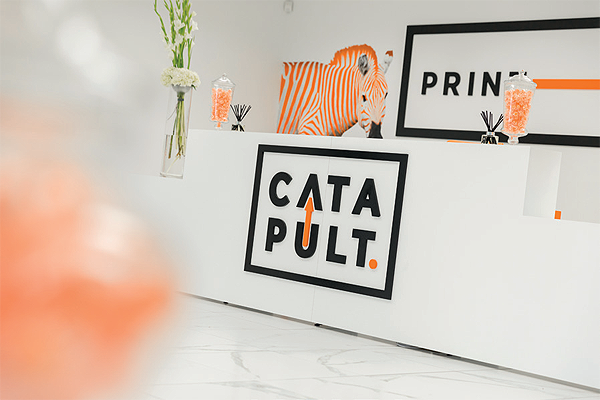 injury and took a job packing boxes at British printing firm, Paragon Print and Packaging. As he climbed the company ladder, Mark operated printing presses and worked in the sales department before becoming a shareholder. In the year Mark left Paragon, the once small business recorded a turnover of £180 million, an achievement Mark believes was down to the way the company treated its customers.
"My early years in the print industry were so important because they helped me understand the importance of focusing on customers," Mark reveals. "Everyone at that company knew about, and appreciated, its 'never say no' attitude to business. As a workforce, we were all pointing in the same direction and aware of what we needed to do. The momentum it generated was phenomenal.
"Later on, when different people came into the business, I got disillusioned and frustrated because the company I knew, and the values I'd learnt and believed in, were beginning to disappear. I had seen how successful a customer focused business could be and so when things moved in a more EBITDA, profit-driven direction, and you were forced to chase customers for money, it just didn't work. It was a key part of my journey and I feel my time at the business gave me true grounding in terms of what works in this industry and what doesn't."
After successfully applying his philosophy during a four-year spell with Equator Design, Mark decided to act on a burning desire to use his considerable expertise to revolutionize and rejuvenate what he saw as an ailing US print sector.
"I'd worked with a lot of printers in the US during my time at Equator and it was clear to me that so many of the beautiful designs we did were completely falling apart at the print stage of the process," Mark recalls. "We were getting some horrendous print samples back from the US and it didn't take us long to realize that there was not only a lot of poor quality out there but very long lead times too It was so alien to the UK market and that's what encouraged me to start Catapult.
"In many ways, the plan was simple," he adds. "All I wanted to do was take the values and principles I'd learnt in my early days – do more, do more for nothing, just do it better than everybody else – and apply them in a new market. Companies like Virgin often go into a crowded marketplace and just do things better; that's what my philosophy has always been – it doesn't matter what industry you're in, just do it better."
Following a careful assessment of the market, Mark concluded that investment in the latest technology would give Catapult a significant advantage over competition that was predominantly using outdated equipment. As a result, cutting-edge technology has, and always will be, a cornerstone of the business.
"If you are competing with a company that's got 20 or 30-year-old printing presses and you have the latest equipment, it's not hard to see the huge advantages that lends you," Mark says. "With the way technology has moved on in terms of the benefits it can offer, I was shocked when I found out that many companies weren't reinvesting in their equipment. We all know the technology is out there, but how many people are using it? We wanted to come into the marketplace and truly disrupt it by saying, if you're not doing quality like us, and if you're not doing lead times or price like us, then you're going to fizzle away."
Catapult's technological revolution began when the company entered into partnerships with some of the industry's leading technology firms. MacDermid Graphics Solutions supplies the company's photopolymer printing plates, and with the help of Nilpeter's advanced clean down systems, Catapult has only had to make ten new plates since production began. Nilpeter has also provided Catapult with four of what Mark describes as 'the Rolls Royce of printing presses', and INX ink technology means that the company is proud to have logged zero downtime for color matching. UPM Raflatac supply Catapult with innovative materials for its self-adhesive and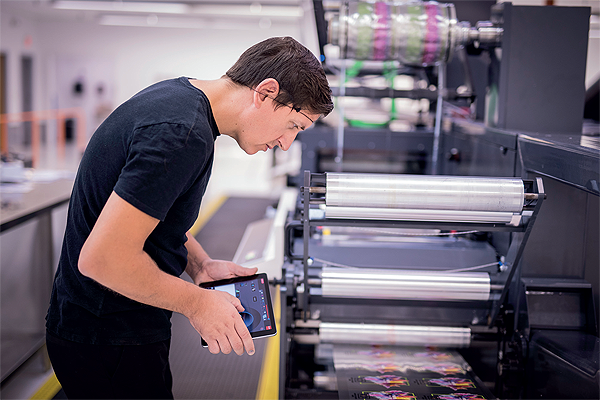 linerless label products, and finally, Hamilroad's Bellissima screening technology is considered a jewel in the crown of the company's state-of-the-art studio.
"We've always believed in technology," Mark proclaims. "Automation processes play a massive role in what we do, especially in terms of speed. If we get a file in today, it will go out today. Thanks to automation, we can turn things around on a knife edge.
"We're lucky," Mark adds, "because our partners have supported us from day one. Technology like Bellissima has been a game changer for us. We are the only print business in the USA that has Bellissima screening technology. It's out there, but no one else is using it. The reality is that the US marketplace would want to sell it at a higher price because of the superior quality it offers, but we're not doing that. Actually, if you order from us, it costs less. It's like having a choice between buying an HD TV and a non-HD TV, but the HD TV is cheaper. That's what we're offering the print world. A lot of the business we've won is the result of unbelievably good quality and low prices."
Always innovating, in the coming months Mark will be working with AVT on further developing Catapult's internal system. An intelligent task management tool, the system will provide the company with real-time data and enable Mark and his team to track every order as it makes its way through each facet of the organization. It is all part of Catapult's aim to become a total solutions provider, from design through to completion.
"Our system will provide us with live information that gives us the ability to keep improving," Mark claims. "We will constantly receive data in terms of make ready times, material waste, and run speed. We can pinpoint the areas we need to focus on to get better, while still investing in technology.
"Similarly, it will offer an unprecedented level of transparency and visibility to our customers. In the world we live in today, if you pay for a service, you want to know how much progress has been made, or when it's going to be delivered. With the same simplicity as websites belonging to companies like Amazon, the system will help us inform our customers about whether their order is on the panel, in print, or on its way to their doorstep."
Though pressure-sensitive labels remain Catapult's core business, the company also produces narrow web film and linerless labels, and by the end of the year, the firm aims to expand its design capabilities and add shrink sleeve technology to its portfolio. No matter what the future holds for Catapult, Mark and his team will continue to say yes, when other businesses say no.
"The culture of this business has been deliberate since day one," Mark asserts. "From the janitor through to myself, it's all about how we can get things done for the customer. The customer is king.
"As a company, we've come into the labelling market, which is a crowded sector to say the least, and we've disrupted it through high quality, low prices, short lead times, and great service. The goal for us now is to continue to disrupt. We have the ability to be a $60 million firm, if not bigger. In the near future, we may even be able to start looking at starting up new locations with the same sort of model.
"We've been one of this industry's best kept secrets over the last two years and we're just starting to breakthrough and breakout. We're nowhere near the business we want to be yet, we're still working hard every day to get better at what we do, but it just shows that with technology and a culture that is so customer focused, you can win new business and be highly successful."
Catapult Print
Services: Print solutions company specializing in labels
www.wearecatapultprint.com