Best of British
Selling more than 600 cars in 2016, a 20-year high for the company, Caterham Cars continues to drive demand with upgraded models, niche variants and a large dealer network
Celebrating 60 years of the Seven in 2017, Caterham Cars continues to adhere to the philosophy of Colin Chapman, the inventor of the lively two-seater sports car that has become a British icon, who wanted owners to be able to experience the joy and pride of building their own car and taking it on track. More than a decade on from that major milestone in 1957, in which the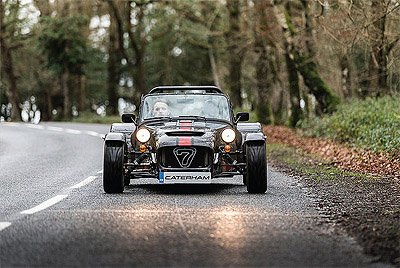 mantra 'simplify, then add lightness' was born, Caterham acquired the rights to build and develop the Seven from Chapman. Since then, the company has turned out a number of variants of the Seven that not only exemplify fun, but also quality and iconic style.
"Caterham Cars was founded in 1973 and was originally a Lotus dealership, however when Colin Chapman decided after 16 years that he didn't want to build the Seven any more and wanted to move on to the new style Lotuses, the Nearn family, the owners of Caterham Cars acquired the rights to build the Seven and renamed it the Caterham Seven," says Graham Macdonald, CEO at Caterham Cars. "In those days, the Caterham Seven was predominantly kit built so they would be prepped in the factory and sent to customers to build at home. This was a means to get around a very expensive purchase tax and was very popular in those days to the point we quickly ran out of space at our facilities and had to move to a larger showroom and production facility in Caterham. By 1987, we had run out of space again because we were building around 800 kits per year during the 1980s; these days around 20 per cent of our sales volume is kit."
He continues: "This option to customers has become more of a thing of the past, which is maybe because engineering was simpler in those days. Back then you could tinker under the bonnet and upgrade and change things but nowadays these options have gone and the desire from our customers has diminished. However, the classic Seven car has remained through different variants, suspension changes and so on; this is how we have kept it alive, by continually developing it for the modern world."
Caterham's six Seven variants, which include the relatively sedate Seven 160 and the incredibly fast Seven 620R, feature something for every taste and level of driving experience and range in power from 80 bhp to 310 bhp, with each car weighing just over 500 kg. Much like Chapman, the company always puts the driver experience at the heart of its operations and focuses on reducing weight, increasing power and delivering a thrilling experience to customers, whether they are on the road, racetrack or part of its acclaimed series of one-make motor racing championships.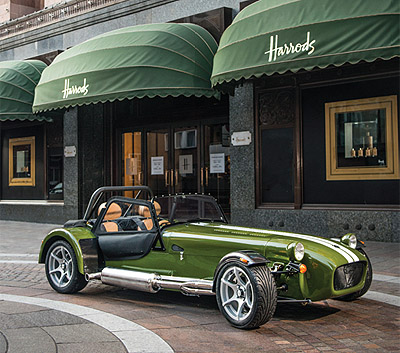 This commitment to driver satisfaction and quality has resulted in ongoing growth and success for Caterham Cars, with 60 units of the limited edition, retro-styled, race-inspired Seven SuperSprint selling out in seven hours at the Goodwood Revival in 2017. Viewed as the ultimate gentleman's racer and for those who prefer the unbridled thrill of the race track, the Seven SuperSprint boasts 95bhp from its race-tuned, three-pot engine, superb styling, and immaculate handling characteristics. Available in six different 1960s inspired paint schemes, all of which are named after iconic, historic race tracks, the Seven SuperSprint is available as either a twin seater or single seater, the latter of which ensures optimum aerodynamic impact. These record sales follow the company's success at the Goodwood Revival in 2016, when all 60 units of the Caterham Seven Sprint, a retro-themed version of the sports car, sold out within a single week.
"The SuperSprint is a real throwback to the 1960s and a quality, finished product that has beat our previous record of selling 60 cars in a week in 2016 with 60 cars sold in a day in 2017. It shows that what we are doing with our products still has a place in people's hearts and minds and that there is a great demand out there," says Graham.
Another recent example of the Seven's versatility is The Signature Series, which was launched in 2016 as part of a partnership with Harrods and offers buyers a wealth of customisation options such as a number of different interior leather selections as well as dashboard trims and varied nose cone choices. Highlighting the customisation options to customers is the Harrods Caterham, which is based around a 420S and costs £59,995, for which customers get a gold painted chassis, Harrods green paint with gold pin striping, embroidered logos on the seats and butterscotch leather.
With product launches going from strength-to-strength for Caterham Cars, the company is focusing on training and apprenticeships in response to a loyal, yet aging number of personnel who are soon to retire. "Although we are ensuring Caterham Cars is prepared for the future, one of our biggest strengths is that we have a talented and long-serving workforce that has stayed with us for many years. Alongside a focus on apprenticeships, we are also looking at potentially relocating over the coming years, however it is key for us to stay local as we have an experienced skill base here and want the move to be as easy as possible," Graham concludes. "For now we are still at the Dartford factory, where we are bursting at the seams with an order book nearly 12 months long; we can't build cars fast enough!"
Caterham Cars
Products: Manufacturer of specialist lightweight sports cars
To find out more visit Caterham