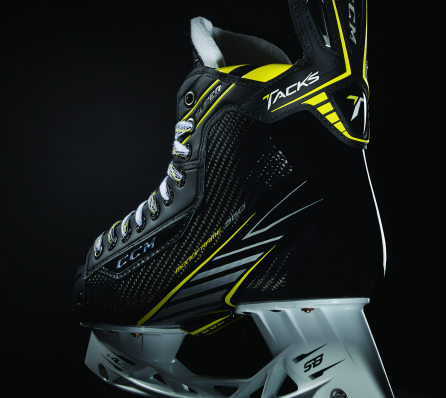 CCM Hockey is a company and a brand completely dedicated to hockey. Not only is it one of the largest hockey equipment manufacturers in the world, but all the employees – no matter what their position in the company – live and breathe hockey every day. "Everyone plays or just enjoys being a fan of hockey," President Philippe Dube says. "I started a bit too late in my life to be a good hockey player, but I play in a league in Montreal every Wednesday night. I'm not going to be pro anytime soon."
Up until five years ago, the company's sales were dominated by the Reebok brand. But, according to Dube, it's now almost 100 percent CCM. CCM was founded in 1899 and originally known as Canada Cycle & Motor Company. But the market for bicycles in Canada began to rapidly decline in 1905 thanks to market saturation and seasonal issues. At the same time, ice hockey was growing rapidly in popularity. CCM decided to dedicate its business to the sport, launching CCM Automobile Skate and dominating the hockey skate business for 30 years.
Since the split from the Reebok brand, Dube has tripled CCM's profits in three-and-a-half years. Now, the company is investing in a new enterprise resource planning (ERP) system to link all CCM businesses globally. Because everyone has different product codes, it won't go live until January 2017 to ensure complete success. The new system will generate efficiency gains, consolidate procurements and allow for easier vendor management.
"I'm looking forward to that because we have a dealer-first strategy that we implemented three years ago," Dube explains. "How do we better serve our customers? How do we ensure their product is on time? We're really focusing on those questions."
Innovative Technology
CCM researches, develops, tests and prototypes its products at its Montreal headquarters. Then, the company has the products manufactured in Asia, and from there, they are distributed to retailers in North America and Europe. "The best thing we've done is transform the company by investing in R&D," Dube says. "We were considering ourselves as a product company, but you need to invest in R&D to do that. This is what we've done and we did it in three years.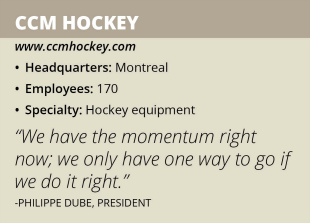 "We've created a strong team in the various product categories," he continues. "Our industry is a small industry but with very different products: protective gear, skates, hockey sticks – it's all different. We have engineers that are very particular to those skills."
One of the main reasons CCM invested so heavily into research and development is to keep up with safety regulations in the National Hockey League. That mainly comes down to players' helmets and skates. "We have some technology that will help with safety," Dube explains.
CCM is also unlocking new technologies for hockey skates. It begins with a 3-D prototype, starting from the bottom of the foot and going around the ankle to the foot to fit the skate – as opposed to the former way of making skates, which was more closely related to shoe-making technology, Dube notes. "It becomes more challenging to use new technology," he adds. "But we introduced this new skate into the marketplace later on July 22."
CCM may outsource its manufacturing, but the technology it uses is state-of-the-art to create the highest-quality and safest hockey equipment in the industry. "We are strongly involved in engineering, quality, design, traveling back and forth from here to Asia," Dube says. "We build relationships, grow with them and in some cases invest in them so they can manufacture what we need in terms of quality and technology."
Growing Momentum
After 26 years in the sports equipment industry, Dube has noticed that many companies in the hockey industry in particular are consolidating. Therefore, CCM has fewer players to contend with, but also bigger players in the market.
"We have to rely on our retailers for our business because there are so many doors," Dube says. "Our competitors are investing in director-to-consumer, but it's not very successful right now. We're a small industry and, to do it yourself, it's hard to have a profitable hockey-only store year-round. It's easier to rely on retailers that don't sell only hockey equipment."
In the United States and Europe, countless independent retailers sell CCM's hockey equipment, while it works with a buying group in Canada that owns about 60 percent of the market. "In all industries I've been in before, there were so many players to compete, but now it's more of a two-horse race," Dube says. "We have gained marketshare and crushed the competition. It's not a huge growing market – about 2 percent growth annually. So it's like starting a world championship every year to try to capture more marketshare than the other guy. But we have the momentum right now; we only have one way to go if we do it right."