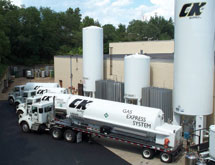 Founded in 1948, Cee Kay Supply Inc. is a gas and welding distributor that works with clients at its technology center to improve their manufacturing processes. "We help small to mid-sized companies, often acting as their welding engineering arm," President Ned Lane says.
There are seven companies in Cee Kay Supply's St. Louis market that supply welding and gas equipment, so Cee Kay Supply differentiates itself with its expertise and educational offerings. The company can recommend the right machine, test it and then write welding procedures. The company "provides more than just machinery," Lane explains.
Cee Kay Supply's training and education center provides demonstrations for customers, as well. It shows the capabilities of its machinery on its tech center floor with equipment such as a full-size Koike cutting table, Lincoln Electric's welding robot and its virtual welder, the VRTEX 360 Virtual Welding Trainer – an ideal system for basic to advanced welding training. Its individual training sessions explain processes and procedures for specific machines. Cee Kay Supply is working on the cutting-edge of technology, Lane says, and helps firms automate with the latest in robotic welding.
Cee Kay Supply works in a multibillion-dollar industry, Lane notes, but few people know what it does despite the fact that the industry touches most of the products they sell. Cee Kay Supply offers welding supplies, industrial gases, training, equipment rentals and repair. It has seven locations throughout Missouri and Illinois.
Typical clients might be a laser manufacturer requiring oxygen or nitrogen or a welding company that needs shielding gas and filler metals, Lane says. It also provides research institutions such as Washington University and St. Louis University with nitrogen and oxygen for research freezers and other purposes.
One growing need is CO2 for craft breweries, which is currently a popular trend in the area. In the St. Louis market, more than a dozen new craft breweries have opened in the past three years, presenting Cee Kay Supply the opportunity to provide needed gas.
Its CryoGas division offers tank installation and gas delivery for industrial customers. This includes the smaller bulk installation servicing beverage carbonation to large industrial installations.
Hil Bax Technical Center
Typical Cee Kay customers might be small fabrication facilities with limited technical expertise for welding applications, explains Tim Schaaf, senior welding specialist.
For these, technical assistance can be offered on well cracking issues, determining which filler metal to use and procedural help for welding codes and standards.
Manufacturers working with Cee Kay identify their needs and a hands-on classroom welding training program is then created, Schaaf says, featuring its new equipment and advanced technology.
"It is not a welding school," Schaaf says. "We can't make an expert welder in a day or a week but we do provide a good foundation. This includes basic principles to operate the equipment and understanding of the process as well as the basics of solid welding technique."
Home hobbyists and metal artists buying welding equipment are frequent customers at the Cee Kay Hil Bax Technical Center, for example.
Continuous Improvement
Lane has noticed the technological sophistication of his products increase over the years. Equipment designs have been improved and have transformed welding, allowing people to weld effectively with less training. In the past, welding may have required someone with several years' experience, but today's equipment delivers more precise results for less experienced operators.
Cee Kay Supply practices lean manufacturing, evaluating all of its operations for continuous improvement. These improvements include increased productivity and cleaner, safer work environments. It identifies future products to align with and target for sales. Lane says barcoding for safety and traceability ensures no steps are skipped in the manufacturing process.
Safety First
The possibility of incidents and accidents looms large for Cee Kay Supply, which handles flammable materials such as oxygen, propane and hydrogen.
"Safety is a big part of taking care of our employees," Lane says. Cee Kay Supply conducts quarterly training sessions with drivers and ensures plant personnel are following proper procedures. The company follows National Fire Protection Association guidelines to ensure everything it's doing is in compliance with safety standards.
Welding Winner
Cee Kay Supply was recently presented with the Image of Welding Award at FABTECH, North America's largest metal forming, fabricating, welding and finishing event of the year.
"Cee Kay Supply is honored to receive the Image of Welding Award in the distributor category," Lane says. "We have always prided ourselves on being a strong supporter of the American Welding Society [AWS] and the advancement of welding education and certification."
This award is presented in eight categories, including individual, educator, education facility, small business, large business, distributor and AWS chapter categories. Winners are recognized for their exceptional commitment to promoting the image of welding throughout their communities. All nominees in each category are judged by the Welding Equipment Manufacturers Committee (WEMCO), which is comprised of welding industry executives.
Cee Kay Supply was recognized for its extraordinary support of the welding industry throughout Missouri and Illinois. Cee Kay Supply has hosted and helped sponsor the American Welding Society – St. Louis Section's Mini Weld Show for more than a decade. This event gives local high school, technical and community college students the opportunity to see the latest safety and welding technologies in the industry.
Cee Kay Supply has also partnered with the AWS – St. Louis Section and Lincoln Electric to provide welding merit badge testing for local Boy Scouts. In addition to hosting educational events, Cee Kay Supply donated $8,000 to help initiate the Annual Hil Bax Memorial Scholarship, which is given to one student studying in a welding-related field.
Not only does Cee Kay Supply partner with and support the American Welding Society, but it also is the only distributor in its market that provides specialized one- and two-day welding classes geared to welders and companies looking to increase welding expertise.
"We place a lot of importance on supporting welding and manufacturing related activities. Not only does it present a positive image of Cee Kay Supply, but it also makes us feel good knowing we are doing our part to help the industry," says Andrew Swyers, marketing coordinator.