Central London to around the globe: the story of Scott Bader  
What do the UK, France, Ireland, Middle East, Germany, North America, South Africa, Scandinavia, Croatia, Japan, Australia, Italy, India, and Turkey have in common? Scott Bader. 
The renowned global manufacturer of adhesives, composites, resins, gel coats, and functional polymers is known the world over. But that wasn't always the case. In fact, Scott Bader's beginnings are rather humble. 
Its story dates back to 1921. In the same year that Dr Banting and Dr Best announced their discovery of insulin at the University of Toronto, a young Ernest Bader had started developing and selling celluloids in Finsbury Square, London.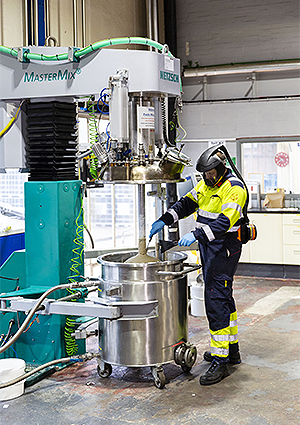 Ernest sold all kinds, shapes, and forms, including the small windmills that smiling children would use to top off their sandcastles – much to the joy of the parents looking on through tinted glasses. 
It would turn out to be the start of an incredible legacy and career. Indeed, not long after, Ernest was hard at work pioneering the UK's first low viscosity nitrocellulose. For those unaware, this was a huge leap forward for the automotive industry. 
Low viscosity nitrocellulose vastly reduced the time it took to paint a car – we're talking from days to a few hours. It also offered new benefits such as a harder, glossier, and more scratch-resistant finish. 
Employee ownership 
In 1923, Ernest turned the small business into a growing private limited company. He called it Scott Bader & Co Ltd (Scott Bader). A few decades later, it became one of the first companies in the UK to become employee-owned. 
The year was 1951, and the Bader family had decided to do something radical: gift their shares to the workforce through the formation of the Scott Bader Commonwealth, a charitable trust that holds the shares of the company. 
In short, this means Scott Bader colleagues own and are both individually and collectively responsible for the success and overall wellbeing of the company. According to Scott Bader, benefits include the fact that the business is totally independent and cannot be taken over or sold, which promotes a more sustainable relationship model. 
Colleagues, moreover, have an instrumental role in running the business, which empowers them to learn and grow. The charitable status brings a sense of responsibility to the wider community, too, which the company considers a central value in its ethical code of conduct. 
It was a remarkable move, especially for the time. Since then, Scott Bader has continued to employ a robust strategic management and chemical manufacturing model.  
It has innovated the global chemical industry and disrupted the market. It now operates in each continent, with 800 employees spread across 18 offices and seven manufacturing sites. 
The business is now headquartered in Wollaston, Northamptonshire. It was moved from London to a rural and idyllic alternative in 1940 as the threat of heavy bombing amid World War II became an increasingly likely prospect.  
The site houses Wollaston Hall, a Grade II listed building that the Bader family once lived in, as well as new offices for global functions – human resources, finance, research and development, quality control, customer service, logistics, and sales and marketing. 
That's not all. Scott Bader's main site is also home to the Ernest Bader Technical Center and partner laboratories, which utilize state-of-the-art kit and a team of leading chemists to ensure innovation is at the fore throughout the process of new product development. 
Ambitious vision
Also at the front of Scott Bader's agenda is its ambitious '2036 vision,' which was created to continue Ernest Bader's founding mission and inspired by the company's core values. 
These values include commitment and delivery, which incorporates working safely and promoting ethical activity; fairness and compassion, so respecting and embracing differences while ensuring equal opportunities for all; team working and innovation, as evidenced by the technical center; and finally, responsibility and empowerment, which stretches as far as caring for the environment.  
Scott Bader's 2036 vision, in its own words, is rightly ambitious and absolutely possible. The company says it is acting now to make a better, more sustainable future.  
It intends to harness the power of chemicals as a force for good. Eventually, the company says it will have a net positive impact on the environment across all its operations. 
The vision is underpinned by three main pillars: business, ecology, and humanity. Scott Bader claims, by upholding these, it will achieve its seven strategic goals: pioneering the circular economy, acting beyond compliance, delivering value to society, striving for excellence, unleashing colleagues' potential, partnering for success, and protecting the environment. 
At Manufacturing Today, we can't wait to catch up with Scott Bader once more in years to come to find out how it's getting on with achieving that ambitious 2036 vision.