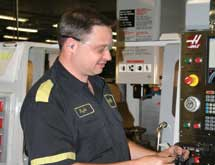 Peter Fink, president, founder and owner of Certified Transmission, explains his company's warranty policy is simple: "If you have a problem, it's our problem. If it quits a few thousand miles out of warranty, we'll fix it. That's just the way we are." Further, the firm guarantees that if customers come in once a year for transmission service, they may never have to replace their transmissions. It can make these guarantees, Fink says, because of his confidence in the operation's quality, employees' skills and product reliability.
Of course, it's not just Fink who has faith in his company's products and service. About 30 years ago, Certified Transmission opened in an abandoned two-bay gas station, and since then it has expanded to have three manufacturing plants, 15 retail locations and 20 distributors who bring the company's products to customers in 14 states. In fact, there is a long waiting list of distributors who want to provide Certified Transmission's goods, Fink says.
It, however, will not add distributors until it has the infrastructure in place to support more business. Speaking with Manufacturing Today, Fink said his hesitancy to fast growth stems from his desire to maintain a consistent level of quality, a focus on treating customers well and a promise to promote good business ethics.
Manufacturing Today: How did Certified Transmission get started?
Peter Fink: When I was 16 years old, I bought a Hot Rod Firebird and ended up blowing a lot of transmissions. I went to trade school and worked at a Chrysler dealership for awhile, and at 19 years old I opened Certified Transmission. That was in 1979 and it was just a small shop at first – we were in an abandoned gas station, and I never thought it would get to the size it is now.
We started to grow more in 1984. I wanted to open more locations, but I soon realized that I needed one main production plant to keep the same standards in place and be able to do crosstraining. Now we have two manufacturing plants for transmissions and one plant for torque converters. We also have 15 retail locations in Nebraska, Iowa, Kansas and Missouri, and 20 distributors across the country. Distribution has become a huge market for us – it takes up 75 percent of our business now. People are waiting to come online to become our distributors, which is great.
MT: What do you attribute the success of the distribution business to?
PF: Our quality – we have very high quality standards. We aren't the cheapest, but we provide the highest quality at a fair price. Our customers get a job done right at a fair price.
MT: How do you maintain a quality culture within the company?
PF: When someone starts at our company, they go through a 13 to 26-week training program, depending on the type of transmission they are being trained on. They start out as an apprentice and after a few years, they might be able to go up to journeyman status. They learn to be responsible for a transmission from start to finish. They have to disassemble it, find the problem, order the parts, fix it and put it back together.
There is a high pride factor with this level of responsibility. A customer comes in to get a repair, and the person who worked on it originally will say, "What did they do to my transmission?" They are joking, but the pride is there. We have open books on everyone's success rate, and so everyone motivates themselves to be a little better – no one wants to be at the bottom. There's a little bit of peer pressure, but mostly it's personal pride in doing the job right. We have a system of checks and balances with extensive quality inspections, and everyone is focused on learning from their mistakes. We do a lot of documentation, which helps us learn from others' mistakes, too.
MT: Do you offer training after the first program?
PF: Training is continuous here. They start by going through the 13 to 26-week program, but after that they are continually trained on new transmissions. As a result, training is going on all the time. We also require that our builders have ASE certification for transmission rebuilding and encourage them to obtain other ASE certifications by providing wage increases for each additional certification obtained. Once a month, we all look at how we can streamline production and im­prove our products.
MT: What have you done to improve your facilities and products recently?
PF: We originally set up our plants to be streamlined, but there's always room to improve, and we follow the principles of lean manufacturing. Our goal right now is to streamline the operation so we are limiting the amount we touch a product. For example, before, we would have to run all over the parts department to get what we needed to fix a transmission. Now, we've grouped all of the parts according to what type of transmission they're used in.
It may not seem like a big change, but it's made a huge difference. On average, we have to pull about 12,000 parts per week. It used to take three people to do that job, but this new system is so efficient that we only need one person to do it. With lean, you have to look at your unique situation to see where you can improve.
MT: With all of the training you offer, do you have a low level of turnover?
PF: We have almost no turnover. We pay well and keep high standards. People know they get to keep training and they become proud of their success rate. There are always opportunities to grow – there are many examples of promotion from within.
Of course, we have high standards for our products and operations, but we also have high standards for the people who work here, and we have some strict policies. If someone is tardy four times within the first 90 days that they're here, we don't keep them. After their initial 90 days, if they are tardy four times, they lose a dollar an hour for the next 13 weeks. We want to have people who want to be here. As a result, we have people who enjoy what they are doing, and know that they have many opportunities to grow and better themselves.
MT: I noticed on your website that Certified Transmission has won awards for ethics. That definitely shows the quality of your work force and management.
PF: We have won awards for ethics in the marketplace from the National Better Business Bureau and Regional Bureaus in 1995, 1996 and 2010. This is because we have a culture of people who want to take care of the customer. We want to make sure we solve their problem and that they have good, dependable transportation.
We might not be the lowest price, but customers know the low price is only attractive if you don't have any problems. Most of the time, cheap costs more in the long run, and we are dedicated to helping our customers and working to make sure they trust in our business.
MT: Have you noticed any trends among customers recently?
PF: Usually the service industry gets better when times get harder, and that seems to be true now. We are living in a throwaway society – if something breaks, people just buy a new one. Three years ago, this is exactly what our customers would do. Now, however, the economy is down, so people are holding on to their cars and repairing them. As a result, we've seen an uptick in our business.
Some companies like ours have closed up their doors because they couldn't compete in this market, and that helps our business, too.
MT: What are your plans for growth?
PF: We will grow through our distributors, and we plan to bring on four to five new distributors each year in different markets. The only thing holding us back is manufacturing – we have to take time to train people and make sure we are building a consistent quality product before we expand. We have about 375 people right now in all four states, and 35 of them have come on since January. We are growing, so we have to hire.
We will continue to restructure our plant to be more efficient – we want to produce more products in the same amount of space. We're working on the layout of the plant to help employees work faster, and so far we've been able to double the amount of stations in one facility.
The future looks very positive for us. I will continue to limit growth to 10 percent a year – that is what I've done since the company started. You have to have infrastructure in place to grow, and we will continue to do well by building up the best work force.