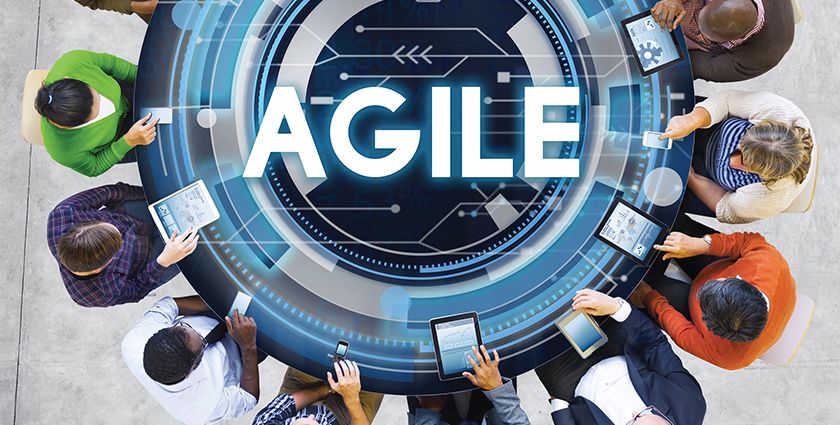 Challenge or opportunity?
The concept of Agile, its systems and project management methodologies, is widely recognized across the manufacturing industry and so are its benefits. Since Japanese industrial engineer and businessman Ohno Taiichi introduced the 'Kanban' system in Toyota in the 1950s, the industry has kept an open mind to lean manufacturing processes that can help identify waste areas, improve output and yield higher profits. Even though Agile has been around for a while and has infiltrated other industries evolving along the way, the manufacturing industry often still associates it with tech processes and improvements, focusing only on the operational side of things.
Agile teams over Agile systems
It's true that Agile processes and transformation can help companies develop a competitive advantage in today's fast-moving marketplace. After all, it was Toyota's Production System that laid the foundation for modern management techniques and transformed the company, which at the time was operating at a loss, into the global competitor it is today. However, these historical benefits are perhaps what can hold the industry back from looking at how far Agile has come and how it's embedded itself as a philosophy in many successful organizations. One of the biggest breakthroughs for Agile has come from the software industry, which as part of its Agile Manifesto states that individuals and interactions are prioritized over processes and tools.
Having systems in place which ensure the ongoing efficient and smooth running of the overall operation is great, but Agile is much more than that. Agile is the overarching mindset which can become the backbone of the entire organization. It builds a culture where your teams can find it easier to pivot and try different approaches when it's needed. It's about getting rid of the 'this is how we've always done it' mentality and empowering employees to become true system thinkers who can visualize both the individual areas of the operation and the bigger picture. Knowing that it's OK to shift towards a new way of doing things when they don't get the key results and quality they want, is what can help your teams to create fluid work systems to get the maximum value out of the minimum steps possible.
Top-down and bottom-up innovation for success
Innovation has always played a vital role in manufacturing but for it to be truly transformative it requires the right organizational environment and culture. That's where Agile comes in, as its values support having a well-defined innovation process.
Adopting Agile is about being innovative right across the organization, not only in the areas traditionally associated with new ideas. This means that your innovation department isn't siloed and that adopting new ways of thinking and experimenting becomes the new norm across the organization. The Agile systems ensure that everything is within one stream, so the strategic objectives and vision is set at the top and any ideas and opportunities that originate from teams across the organization feed into those. Freeing up innovation and letting it flow increases the likelihood of new ideas being implemented and increases the chances of them adding value to the business.
An opportunity for leadership
For Agile to deliver results, senior leadership cannot simply set the vision then walk away from it. There needs to be continuous dialogue between people on the ground and middle management and making sure that there is that alignment at the top. A common blocker for developing a truly Agile culture is the fear which comes from change. Employees with a deep knowledge of their department may feel threatened because of Agile's philosophy to assess everything on an ongoing basis. An Agile culture is laid upon transparency and flexibility and it's up to the leadership to help teams feel at ease with this new way of working by building trust, developing clear boundaries, and encouraging teams to work together to deliver the best possible value. By doing this you can help your people to work collaboratively without letting fear get in their way.
As in every sector, the manufacturing industry is faced with increasing pressure to accommodate changes in customer behavior and embrace new technologies and ways of doing things while operating under turbulent global economics. It's up to leaders to look at Agile either as a challenge or as an opportunity that can be seized to shape the future of the manufacturing industry.

Steve Martin
www.agilistic.co.uk/what-we-do/
Steve Martin is the CEO of Agilistic, which simplifies transformation for businesses. He has worked with organizations including BT, Vodafone, HM Revenue & Customs, William Hill and The Department for Environment, Food and Rural Affairs.