Challenges and victories: how Onboard Corrugated has succeeded in the last two years
CAREFULLY CRAFTED
Onboard Corrugated Ltd (Onboard Corrugated) began its journey in 2010, with one employee. Over the last 12 years, the business has challenged its capabilities to be one of the leading corrugated board manufacturers. It has been growing steadily over the past few years by virtue of competitive prices, a wide range of board grades and short lead times, which have been supported by strong strategic partnerships. By 2014, the company achieved a turnover of £13.6 million. This was almost doubled to £25.5 million by 2017. Today, Onboard Corrugated boasts nearly £50 million, with 80 employees.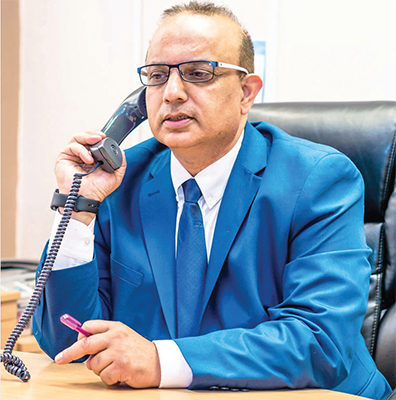 Strong commercial links
The Wolverhampton-based manufacturer of corrugated sheet board for the UK and Irish markets supplies raw materials for box-making and packaging manufacturing companies. In March of 2019, the Klingele Group acquired a 50 percent share in Onboard Corrugated. The family-owned company is an international supplier of paper, and has enabled Onboard Corrugated to expand its product line to include board grades, flute profiles and volumes (from just 200 meter-squared to lorry loads).
"We serve the UK and Ireland from our 144,000-square-foot facility in Wolverhampton. We have two corrugating machines, which gives our clients security of supply," shares Paul Jundu, Onboard Corrugated Director & Managing Partner. Part of the company's success comes down to the close collaborative partnerships that bolster its supply chain. Furthermore, how it fosters its strong commercial links with external parties is as a result of two strategies, according to Paul. "We are a part of the Klingele Paper and Packaging business, which has three paper mills, 13 corrugated board plants, eight processing plants and one sheet feeder. These plants employ a total of 3200 people and achieved a turnover of over one billion euros in 2021."
In addition to the company's expansive infrastructure, the business is also tuning in to digitalization and its benefits for a more efficient operation. "We use the Abaca and Dr. Corr planning systems, which allows us to integrate directly with our clients for ordering and invoicing," Paul highlights for Manufacturing Today.
Invest and upgrade
Investments into digitalization and automation proved to be of vital importance for businesses during the pandemic. For Onboard Corrugated, when it came to how the company navigated the challenges of Covid-19, the impact was minimal. "Whilst sales initially dropped during lockdown, we did not furlough any staff or go into hibernation. Instead, we used the opportunity to invest and upgrade our manufacturing capabilities, which left us better prepared for the future. We have invested £50,000 in board testing facilities, which helped us build combinations of papers that offer optimal performance in our board grades."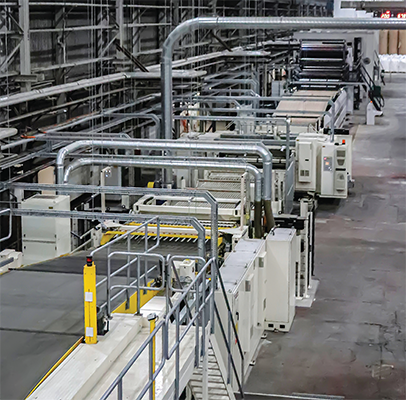 This isn't to say that the business did not encounter difficulties over the last two years. It comes as no surprise that the manufacturing industry has struggled with supply chain challenges and labor shortages, and Onboard Corrugated has endeavored to work through the subsequent impact. "We have also faced surging inflation in our supply chain, which has seen paper prices nearly double over the last two years. We are also an energy-intensive business, which has added £1 million to our annual cost base. To best mitigate these issues, we are investing in productivity-enhancing capabilities, which will help to improve our unit costs."
Paul adds that corrugated packaging is a volume-sensitive business, which means the currently subdued economy makes for a difficult trading environment. "We are investing in added value product capability and are actively working to diversify our sectors. This also helps us as we begin to see competing paper companies and sheet feeders increase their level of vertical integration and manufacturing capability, thus reducing the available free market. Our fourth quarter is usually accompanied by a seasonal peak in corrugated demand, which is typically 25 percent higher than the trough of the first quarter. First and foremost, given where the economy is heading, I think we want to survive and hopefully thrive with the decisions we take as these challenges begin to iron out," he says.
Supreme flexibility On that note, the future for the business looks promising, and Paul's perspective is an optimistic one. He believes that the next few years will bring prosperity for Onboard Corrugated, as it strives to remain a leader within the industry. "We are now considered as one of the mainstream sheet feeders in the UK. When people think of sheet board, we want them to think of us without any doubts about our ability to supply them with quality products and value for money, and I think we are there already and now we must strengthen that hard-earned position."
In Paul's words, he wants the company to be seen as 'reliable to the point of being boring,' in the best possible sense, and remain supremely flexible for its clients when opportunities or problems arise. As perhaps the only independent sheet-feeder in the UK, he looks forward to ensuring excellent service for its customers so that Onboard Corrugated remains their first port of call.
www.onboardcorrugated.com