Creature comforts
Recently named Ireland's Pharma Industry Company of the Year, Chanelle Pharma ranks amongst the best generic pharmaceutical companies in the pharma sector in Europe
Remaining privately owned and still run by its founder and managing director Michael Burke, Chanelle Pharma began life in 1985 as Chanelle Pharmaceuticals Manufacturing Ltd (CPML).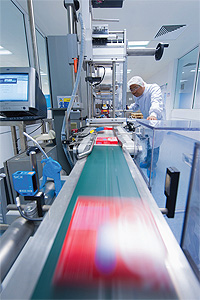 This business was established in the pursuit of developing and manufacturing a range of quality veterinary products that were no longer under patent.
Chanelle may have begun with just two staff, but the business was built on an adherence to strong ethical principles and core values, a strategy that still remains true today. Thanks to this approach, Chanelle was extremely successful and just seven years after its launch, in 1992, Chanelle Animal Health UK was set up to market veterinary pharmaceuticals to the UK market. The establishment of Chanelle Medical and Chanelle Vet UK followed, and today Chanelle Pharma is Ireland's largest manufacturer of genetic medicines for human and animal health, achieving sales of over €111 million in 2017 and forecasting sales of €130 million in 2018.
Its staff number has grown to 500, and as the employee count grows, so too does Chanelle's dedication to its people, and it ensures that both time and money are invested into their development and training (each of them receives a minimum of four hours training a month for example). Chanelle is also very proud of its employment ratio of almost 50-50 female to male employees, even at senior management and director level.
Headquartered in Loughrea, Co Galway, Ireland, on a 17.5-acre site, Chanelle Pharma provides a spectrum of services to its customers including research and development, registration and production of generic pharmaceuticals for both human and veterinary applications. The Loughrea site includes three manufacturing plants, four research and development centres, warehousing and offices, plus Chanelle has sales offices in the UK and India, and a fifth research and development laboratory in Amman, Jordan, which employs 50 people.
The most recent addition to Chanelle's facilities occurred in September 2018, with the official opening of its new Spot On factory at Loughrea. The new €10 million, 30,000 sq. ft. plant is Europe's first dedicated Spot On manufacturing facility built to European and US quality standards. This location will enable Chanelle Pharma to grow its share of the global market in anti-parasitic health products for small animals, a market which is expected to reach a value of $2.28 billion by 2026. Chanelle has agreed Spot On manufacturing contracts in excess of €20 million, with animal health companies in the EU, Asia, the Middle East and the United States.
At the launch of the new factory, Michael Burke also shared details of the next phase of the company's capital investment programme. Speaking at the event, he said: "Since 2016 we have invested over €55 million and created 175 new jobs in our global headquarters in Loughrea. Over the next five years we will increase the pace of our investment programme, investing €86 million in our operations and creating 350 new jobs, bringing total employment to over 850 people.
"As part of this programme we will invest €11 million in a new facility for the manufacture of liquid products, which will also be designed and built to European and US quality standards. Construction will begin in October 2019 and the products manufactured will be for the US market."
He added: "Research and development is critical to our success. We've doubled turnover in the last five years, and expect to double turnover again within the next five years. This growth has been driven by our focus on R&D and I remain firmly committed to innovation. We will invest more than €45 million in R&D over the next five years in our five research laboratories operating in Ireland and the Middle East. We develop 15 to 20 new products every year; this level of innovation is unheard of in many larger multinational companies."
The results of Chanelle's dedication to R&D mean that it now has over 2000 animal health licenses registered in the EU – the largest number of registered veterinary licenses of any company in the EU; with 500 licences outside the EU, as well as over 2020 product licences for human health products worldwide. Overall, Chanelle supplies ten of the top 12 multinationals in the world with both human and veterinary products.
Production wise, it manufactures three billion tablets and 1.6 billion capsules a year, alongside 50 tons of powder and granules, two billion coatings and millions of aqueous litres. In terms of packaging, it creates 13 million strip packs, 300 automatic liquid filling packs, and ten million containers (among others).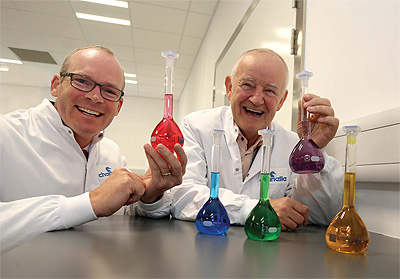 These statistics speak for themselves, but this level of accomplishment has not gone unnoticed by a variety of Award judging panels, with recent years seeing Michael Burke crowned Visionary CEO of the Year by Animal Pharm, and the group named as Ireland's Exporter of the Year 2016 by the Irish Exporters Association. Even more recently, in November 2018, Chanelle Pharma was named Ireland's Pharma Industry Company of the Year at an awards ceremony in Dublin. The Pharma Industry Awards recognise and celebrate the most original and innovative individuals and companies that demonstrate excellence in the Irish Pharma sector.
Chanelle was the only Irish indigenous Pharma company shortlisted for the prestigious award and was selected ahead of multinational companies including AbbVie, GE Healthcare, MSD and Perrigo Company. It is the first Irish company to win the overall award, which has previously been awarded to global companies. Chanelle also won the Pharma Company of the Year (Large) category at the awards.
Over the course of its long and fruitful history, Chanelle has grown organically through numerous strategic marketing shifts, to achieve its position among the industry leaders. Having risen to the position of the largest Irish-owned manufacturer of generic pharmaceutical products in Ireland, Chanelle has no intention of resting on its laurels. Set on a course of continuous improvement, and with ambitious investment plans already in place, and further expansion on the agenda, Chanelle is on a journey towards operational excellence. Given its past performance, it will create many more ground-breaking products that will continue to change the lives of both humans and animals for the better.
Chanelle Pharma
Product/Services: Chanelle Pharma provides a spectrum of services to its customers including research and product development, registration and production of generic pharmaceuticals for both Human and Veterinary Pharmaceuticals