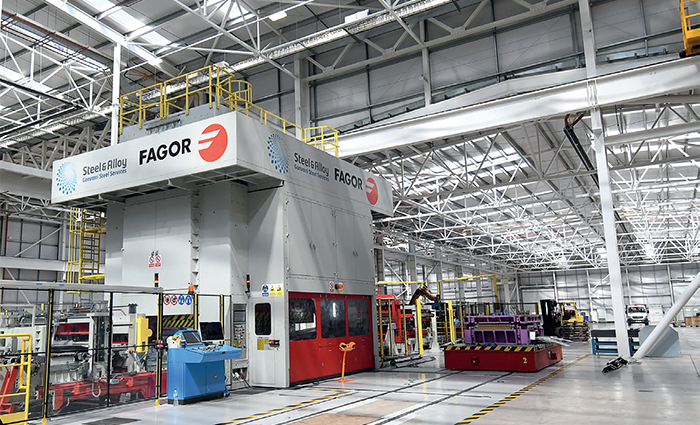 Change, sustainability, and diversity are in the making for the future of Steel & Alloy Processing – Gonvarri Industries
Steel & Alloy Processing – Gonvarri Industries (S&A) is a well-known flat-steel and aluminum processor that offers a range of products and services across its three business lines: service centers, material handling, precision tubes. We last spoke to S&A in 2018, when the company was celebrating its 50th birthday and the finalization of its state-of-the-art facility in Oldbury, UK. The plant, which is now referred to as S&A Popes Lane (SAPL), has been guided by the experienced hand of Paul Whitehouse, Managing Director, since 2021, however Paul's journey with the company started back in 2011 as Finance Director.
"I was brought onboard to complete the sale of the business in 2012 to Gonvarri Industries; I have a classic finance CV, big four trained, with a background in acquisitions, disposals and business transformation, Paul opens. "Gonvarri Industries acquired us in 2012, I stayed on to temporarily help manage an existing project in Turkey and refinancing that business, before it was also sold. Shortly after that, I was approached with the proposal for developing the financial investment of SAPL, along with the responsibilities of finding the land, developers, and project managers. A few years later I was given the role of MD and have been so ever since."
Pivoting production
The Pope Lanes site was resultant of a £27 million investment and built to facilitate the business' continuation into the future of automotive supply, through new hot sheet stamping technology. As Paul details: "The automotive industry is moving along the path of light weighting to electrification and finally autonomous vehicles. Reducing the weight of vehicles, and therefore the energy or fuel required to move them, is a natural first step for manufacturers to work towards carbon neutrality. This has been an ongoing battle for years. Some designers have opted for high-strength steels, others aluminum or composites and others hot sheet stamping in their endeavors.
"The idea with Popes Lane was to consolidate our operations and costs with the recovery in the automotive market, which had unfortunately dipped. The number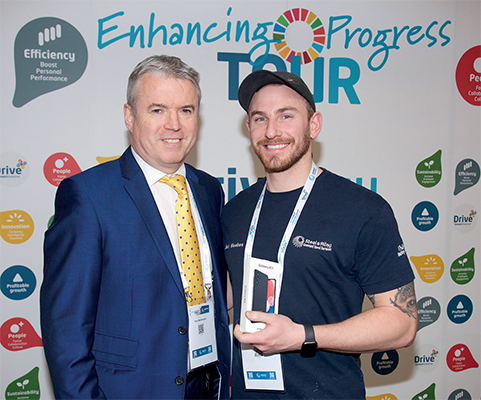 of vehicles built in 2017 was circa 1.9 million, whereas in 2022 it was closer to one million, a unit reduction in excess of 900,000 across the country. To counter this, we have moved into a sector that we refer to as general industries, which covers a large portfolio but for us currently means construction products. In developing this new business, we have managed to de-risk the reduction in automotive volume and maintain similar volumes of production to those we had in 2017, securing jobs for our workforce."
In 2018, the company modified some of its existing steel production lines to be capable of processing aluminum as well, regardless of being a company with zero sales in aluminum products. Aluminum costs around three times that of steel, meaning that within the automotive industry it is typically only used to remove weight in luxury vehicles, from specific areas such as the bonnet. As an entirely new material to the S&A team, all members of staff had to be educated in its differing characteristics, grades, and shelf-life, along with the requisite processes to accommodate the material's softer nature, while still maintaining superb quality and service. This was a large transformation for the business.
"We have had to significantly upgrade our equipment, cleaning processes, routine maintenance and quality inspections to allow for the excess dust aluminum creates, and the far greater risk of scratching or scoring the material," Paul continues. "Collectively, we have had to learn everything from the ground up and employ a team of aluminum specialists to help us do so. We have also reorganized the business internally into the following business sectors: steel automotive, steel general industry and Aluminum. The operations, quality, technical and commercial departments have all been reorganized to meet the differing needs of the new business sectors and everyone has been trained.
Sustainability strategy
"Petrol and diesel cars are generally becoming a thing of the past for OEMs, the majority of them are now focusing on either hybrid or fully Electric Vehicles (EV) going forward. As we mostly produce internal body parts, "body and white," these changes to the dynamics of future vehicles have been challenging for us. Besides safety, the heavier parts of the car that we usually produce are designed to accommodate the heavy petrol or diesel engine at the front end of a vehicle, but with EVs this is not the case. Electric motors are a lot lighter and are usually placed alongside the wheels, which has led to the chassis being redesigned, meaning that we are selling a much lower volume of material and ultimately making less money."
Indirectly, all of these changes have been to facilitate a move towards a more environmentally-sound future for the automotive industry, however they also directly feed into the business' sustainability strategy, as Paul concludes: "The overall Gonvarri Group has a carbon neutral policy with clearly established targets: to be scope one and two compliant, and to have reduced our scope three emissions by 50 percent, by 2030, and to be scope three compliant by 2050. Currently we purchase all of our energy from renewable sources, besides our gas heating, which we are looking to replace with either ground or air source heat exchange systems. The Popes Lane facility already features solar panels and, throughout 2022, we have installed EV charge points to allow for our internal fleets to be upgraded to hybrid and electric alternatives.
"In conjunction with developments from our steel supply partners this will enable us to offer 'green steel' to the marketplace, meaning that it requires zero fossil fuels in its production and processing, a move that is becoming a requirement of the industry to meet the standards of the OEM's ideal of a carbon-neutral vehicle.
Commitment to community
On the topic of ESG, I would like to draw attention to the people-side of the business, and more specifically, our "Women of Steel" program. We actively promote engagement on an educational level and training, to try and work towards increasing the current 13 percent of female employees within the industry. S&A has currently 25 percent female employees. We have also started a charity club at the company, to raise funds for local charities and to support local community projects nominated by our employees.
"The future for S&A is a bright one! We have a number of approved investment opportunities running well into the future, which will allow us to continue to diversify, and add more materials, products, and processes. This will help us fulfil our strategy of becoming the market leader in the processing of steel and aluminum for years to come."
www.gonvarri.com/en