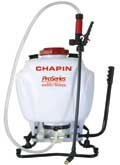 Chapin International Inc.
Experience plays a vital role in success, but it is equally important to remain up-to-date and not allow competitors to pass you by. Becoming too comfortable can cause companies to miss improvements in technology or new market interests. Chapin International began in 1884, but while the company has more than 125 years of success in manufacturing sprayers for several markets and applications, it does not rest on its achievements.
"To stay successful, you have to invest in the company, and through the years we have invested heavily in capital improvements, automation and our R&D group," Vice President of Operations Lori Anderson says.
Chapin patented the first U.S. pump sprayer in 1902, and manufacturers sprayers for the home, yard and garden; turf, agriculture and farm; deck, fence and patio; and concrete and industrial sectors.
The company attributes its success to its people. "We have dedicated, hard working individuals," Anderson says, noting that the average length of tenure at Chapin for the employees is 16 years. "We hire people who are experts in their field and every em­ployee makes a contribution."
However, she points out that it was also the company's innovative design, research and implementation of new products that has allowed it to maintain success during the economic downturn.
"We saw some difficult situations with the economy, but we were able to overcome a lot through innovation, research and new applications," Anderson says.
Tom Wilkinson, senior vice president of business development, echoes Anderson. "In general, we are very data-driven here," he says. "We're used to looking out at thefuture and looking at the numbers, and making adjustments to business as necessary. We use data day-in and day-out to make decisions, both internal and external."
Focused R&D
Chapin invests heavily in its R&D, working to stay up-to-date with its products. "We are continually looking at developing new products in the scope of our current business and outside the scope for potential op­portunities," she explains.
The company invests in ways to produce and improve products, while also attending and exhibiting at trade shows. In addition, Anderson says the company pays attention to what its customers have to say.
"We try to put those [customer recommendations] into action, which leads us to continued growth and opportunities," she states.
One new product that has made a splash in the market, Anderson notes, is Chapin's line of backpack sprayers. Primarily used on large jobs in the turf, agriculture and farm sector, backpacks are manufactured with a large pump for quick pressurization with little pumping. A four-position valve allows for pressure control from 15 to 60 psi, and the spray handle is capable of continuous spraying.
Backpacks are manufactured in­side Chapin's 700,000-square-foot plant in Batavia, N.Y., which Anderson say proves the company's manufacturing talent and creates competitive pricing for customers.
Unlike Any Other
Chapin's safety program has recently been evaluated for inclusion in the New York State Safety and Health Achievement Recognition Program (SHARP), which recognizes employers who operate an exemplary safety and health management system. And, through its quality management system, the company will soon become ISO certified.
Anderson notes that after 125 years, the company is still family-owned and still in Batavia,  which she says the organization is proud of.
"The team here is unlike any other," she states. "It is the most cohesive environment I have ever been a part of."