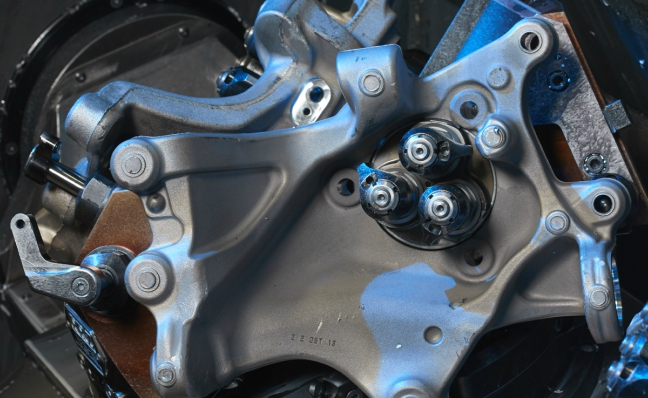 Chassix is a vertically integrated supplier for the automotive industry, specializing in high-quality precision chassis casting and machining solutions. Its niche is in aluminum and ductile iron casting with six foundries and 17 machining plants around the world to support its customers' needs.
Leveraging regional production in North America, South America, Europe and China, the Southfield, Mich.-based company is able to respond quickly and cost-effectively to automakers' safety critical casting and machining needs around the world. "Our focus on our global capabilities is a competitive advantage and we plan on maintaining that and taking it even further," says Eric Rouchy, vice president of engineering and launch. "Our major OEM customers are looking for vertically integrated suppliers. There are more and more global platforms and to remain competitive, it's key to have those capabilities worldwide."
Chassix's OEM customer requirements are stringent when it comes the quality of the product and process robustness. Many of the company's products are safety critical, so during development, quality is a key aspect as well as robustness of the product design all while maintaining a keen focus on weight targets. Automotive lightweighting has been a major initiative with the OEMs and continues to be a major emphasis in the product design.
"In the automotive industry there has been an ongoing trend towards lightweighting, and we have been well positioned with a strong foundation in aluminum casting and machining capabilities," Vice President of Program Management and Manufacturing Engineering Len Bogus says. "Design, casting and machining of aluminum and iron structural parts is a core competency for us and we've been doing it for many years. Our biggest advantage is that we have an experienced and talented global workforce that allows us to compete using innovative product and manufacturing process designs."
The company is one of the only chassis casting and machining suppliers to offer in-house, full-service solutions including 24-hour design through its globally integrated design and engineering centers, black-box design capabilities and in-house testing and analysis. "One more aspect of lightweighting is that the design needs to be advanced and that's something we consider our strength – pushing the limits in terms of design and using software to achieve that," Rouchy adds. "Our customers give us performance targets for the parts and we design the
parts to meet that criteria with the lightest possible material that can be manufactured at a good cost."
Chassix in October signed an agreement to acquire Benteler Automotive Farsund's lightweight aluminum low-pressure automotive casting business. The transaction is targeted to close in first quarter 2018. The highly automated Farsund, Norway-based foundry designs and produces safety critical components such as sub frames, swing arms, steering knuckles and rear hubs for luxury brand automotive customers.
"The acquisition of Benteler Automotive Farsund's casting business accelerates our vertical integration in Europe, provides customer and product diversification and further enhances our technical capabilities in our core business," President and CEO Doug DelGrosso said. "The Farsund business is strategically aligned with the Chassix growth plan and provides a strong team to further develop our core competencies of casting and machining chassis, powertrain and sub-frame solutions for global customers."
Expanded Footprint
Chassix is expanding its manufacturing footprint into Eastern Europe by building a new plant in Ostrava, Czech Republic. The plant is expected to be operation at the end of 2018 and will cast aluminum chassis and powertrain components for passenger cars.
"We are opening the plant in the Czech Republic to be in the best spot logistically to serve our customers," says Sergi Barbero, vice president and general manager – Europe. "A lot of OEMs are based there, so we will be close to our suppliers and our other Europe-based facilities."
The $50 million 140,000-square-foot Chassix Ostrava facility will be filled with the highest-rated machinery and equipment. It will be the company's first greenfield foundry in Europe and its third plant in the region, further vertically integrating the Chassix manufacturing footprint in each of the key automotive regions.
Chassix Ostrava is expected to employ 150 to 200 people when it opens next year and scale up to generate about 350 skilled jobs in the region. To ensure it is finding and retaining skilled employees, Chassix positions itself as an attractive place to work.
"We establish contacts with local representatives to get people familiar with Chassix, work with local universities to recruit and create a positive image," Barbero says. "Chassix is seen as a powerful company to work for and we are seeing some good interest from skilled laborers. That's the goal. Working in close cooperation with the city of Ostrava and our strategic partners on site, we anticipate flawless completion of the foundry and expect to attract a talented, innovative and collaborative workforce."
To set itself apart from its competitors, Chassix Ostrava will be up-to-date on the latest processes and built to world-class manufacturing standards. Although initially built to provide aluminum castings, the plant has been designed to support future growth in the lightweighting automotive market. "Chassix Ostrava is aligned with Chassix's global strategy of partnering with our customers to provide tailor-made engineering and manufacturing solutions for safety-critical chassis and powertrain components where our customers need us most," DelGrosso said.
Moving forward, Chassix will focus on staying consistent while focusing on growth. "The goal is to create opportunities and not wait for things to happen," Barbero says. "We are going where there are some growth opportunities. It makes the group and the regions where we are located stronger and puts us in a better position to receive contracts and be a global preference."