Welcoming new opportunities
Chassix Norway has worked hard in recent years to upgrade its production technologies, which will allow the business to pursue an ambitious growth target of 40 per cent in the next five years
Looking at the list of clients Chassix Norway has compiled over the years, it becomes clear that the manufacturer of complex hollow and solid aluminium castings is a special company with some extraordinary capabilities. Having served the likes of Ferrari, Bentley, Porsche, Jaguar, Daimler, and BMW among others, the company, earlier part of BENTELER Automotive, underwent a change of ownership recently, when it was acquired by Chassix – an American, vertically-integrated manufacturer of aluminium, and iron cast and machined chassis,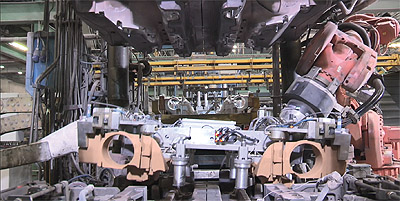 powertrain, and sub-frame automotive components. Already well-positioned in its domestic market, as well as in Asia, Chassix was eager to establish a stronger presence in Europe and increase its casting capacity. "We specialise in producing larger and more complex castings, which is kind of a niche we operate in, and this is where we add value to Chassix," Chassix Norway's Managing Director, Jon Ola Ystgaard states.
Jon Ola firmly believes that the key thing in the automotive industry is to do the basics right and remain a reliable provider."We also need to listen to our customers and try to adapt to what they want in a quick and efficient manner, and in this respect, I would say, we have a lean way of operating. Being able to demonstrate that is one of our core strengths. Another is managing our costs wisely. We work in a competitive industry and we operate from a Western country, which means that costs are higher, but we counter that by pressing the limits of our casting technology. We can cast very quickly, because almost all of our processes are fully automated. It is also possible for us to benefit from manufacturing in Norway, where we use 100 per cent renewable and low cost energy, which is important when working with melted aluminium.This being said, it is worth mentioning that we source our metals in liquid form with extraordinary virgin quality, having them delivered from the factory next door, and this is a specialty of ours that gives us an extra advantage against competitors," Jon Ola singles out some of the key features that have continuously driven the business forward.
Defining itself as a company of 'traditional heritage engineers using space-age technology', Chassix Norway has intelligibly directed its efforts to optimise its machinery and equipment in line with the ubiquitous technological advancement that dominates the industry. Over the course of 2017, the company invested a reported amount of five million euros in new robotised equipment, in order to improve the capabilities of its production line."We introduced a new degating technology, which is more efficient and has given us extra flexibility. We also upgraded our casting machines, by improving the control systems, and also optimised the cooling technology in these machines.We will shortly be installing a new energy-efficient heat treatment capacity, too," Jon Ola reviews the latest updates in manufacturing technology at Chassix Norway.
He continues: "Another novelty for us, was the adoption of additive manufacturing.This means that we have started using 3D printing to improve the quality of our tools and reduce maintenance costs.We would like to continue investing in new technology and streamlining our processes, some of which are now completely linked with each other and 100 per cent automated – including sand core making, casting, core removal, degating, machining, and X-raying. For 2018, we are planning to implement a new technology that will automate the packaging process, too." The company's R&D activities and several projects are driven by close co-operation with universities and research institutes.
At the beginning of 2017, Chassix Norway set itself an ambitious five-year objective to increase production by 40 per cent, together with developing a wide range of new products Jon Ola assures us that regardless of the recent takeover, the plan is still on, and he is confident that the market conditions are more than favourable for the business. "The reigning trend in the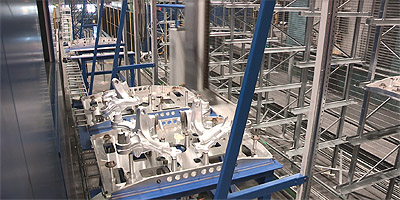 market is towards making it greener and more energy efficient, and now is the time for us to reap the fruits of the improvements we have put in place in the past couple of years. We have the capacity to serve our customer base better, so it is a matter of matching what we can do with what clients need. We can see that there is a need for lighter components in the automotive sector, as well as a shift to electric vehicles, and that works well for us. I would say that the combination of improved internal capabilities; a supportive new owner, who looks in the same direction as us, and strong customer relationships will enable us to achieve our goals."
It appears that Chassix Norway has prepared itself well in the last few years to target considerable growth by 2022 that is guaranteed to take the business to the next level. Given that the automotive industry is confidently going in for the adoption of more and more lightweight solutions, there seems to be untapped potential for the company to demonstrate its skills on a greater scale, and cement its position as a competent and trusted manufacturer in the sector.
Chassix Norway AS
Products: Safety critical components for the high end automotive industry, such as sub-frames, swing arms, steering knuckles, and rear hubs