Smarter ways of working
By gradually automating its production process, Chassix Norway is getting ready to capitalise on the wide range of emerging opportunities in the automotive industry
The continued integration of Chassix Norway with its American parent organisation of the same name guaranteed a busy and exciting 2018 for the Norwegian producer of complex aluminium castings for the automotive industry. "When we last spoke a year ago, we had just been acquired by Chassix and, since then, we have spent some time aligning our strategies for the future. I am proud to observe that this has been the most successful integration I have been part of," enthuses Jon Ola Ystgaard, General Manager of Chassix Norway.
Simultaneously with the internal restructure of the business, the company also took important steps to advance its five-year objective of growing production by 40 per cent by 2022. A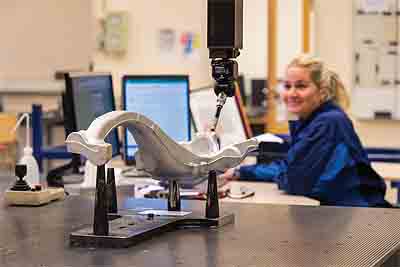 combination of new launches, the introduction of new technologies, and the purchase of new equipment meant that Chassix Norway enjoyed a 35 per cent year-on-year growth, keeping ahead of track in the second year of the aforementioned five-year strategy.
"We have placed a number of important investments over the past 12 months," Jon Ola comments. "For example, we bought a new heat treat furnace that enables us to automatically load the parts. In addition, we also automated the packaging of the parts at the beginning of this year. Together with this, we are also working on improving the casting process itself and we are currently developing a new software that will make us faster and more accurate in how we simulate new parts."
In Jon Ola's opinion, Chassix Norway's investment in automation contributes positively to the value created by each of the company's employees. He explains: "The addition of new machines has a number of implications for our workforce. A lot of the work previously done manually has now been automated, which has resulted in a change of the nature of the operations our people have to execute. They are now getting increasingly involved in jobs that require the controlling of the machines and this is the principal reason why we are also investing heavily in training them and, therefore, helping them expand their capabilities."
Svein Lervik, Production Director of Chassix Norway, adds: "In a way, we are trying to replace muscles with brains. It is no longer the case of our employees having to physically lift certain parts and handle them manually. A robot can do that for them and so they need to learn how this robot operates. It is an area that requires our full attention, because the shift in how people work is very clearly noticeable and we need to make sure we stay ahead of the curve. Finally, we should not forget or underestimate the fact that the robots work faster, as well, and this will be a key advantage for us as we try to win more business in the years to come."
Known for its applying of traditional engineering methods mixed with the utilisation of space-age technology, Chassix Norway has grown an impressive portfolio of clients where the names of Bentley, Daimler, BMW, Porsche, Mercedes, Ferrari, and Jaguar Land Rover shine bright. It is the partnership with the latter that promises particularly buoyant future for Chassix Norway, with the company producing parts for the JLR D8 and the new Range Rover Evoque.
"JLR is one of the automotive companies that are really pushing for the increased use of lighter parts in vehicles," says Jon Ola. "For instance, Range Rover is the car that is made with the highest content of aluminium nowadays. As a supplier, we provide them with subframe-related components – either separate parts or complete subframes, and we excel in delivering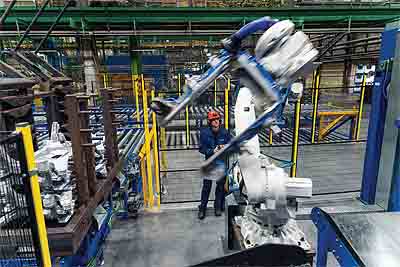 complex products that match JLR's high standards and quality requirements."
Whilst keeping the particulars to himself, Jon Ola reveals that Chassix Norway is being involved in a major project that is allowing the company to harness a lot of the new technologies it has introduced as of late, thus driving costs down for its customers. "We are looking to present what we are working on by the end of 2019 and we certainly feel that we are moving in the right direction. By automating some of the key production steps, we can take full advantage of the opportunities that exist within our industry, as customers are becoming more and more interested in reducing their costs wherever possible," he reasons.
As well as being cost-effective in the way it takes care of its customers' projects, Chassix Norway focuses on its own operational efficiency, too, placing strong emphasis on energy conservation. Jon Ola states: "The heat treatment facility we installed a few months ago is extremely energy-efficient and so is our adjustable LED lighting. What is more, we are in the process of being certified for our energy management. As far as the wider industry is concerned, we see that the growing popularity of lighter parts is also driven by environmental considerations, just the way the electrification of the automotive industry is being motivated by the need to reduce harmful emissions sent into the atmosphere."
Prioritising the successful completion of the big project the company is working on at the moment, Chassix Norway enters Q2 of 2019 in high spirits, due to the numerous possibilities opening up before it, as a result of its recent investments. Jon Ola concludes: "Having expanded our capacity and made our operations a lot more cost-effective, we have good reasons to be optimistic about our ability to take on more work in the future. By all means, increasing the volume of the castings that we produce is one of our biggest objectives. In the meantime, we will continue to build upon our technological expertise and invest in new competences. AI is an area we are especially interested in and we hope to bring the right kinds of technology that will help us get on the next level of our development as a company."
Chassix Norway
Products: Complex aluminium castings for the automotive industry