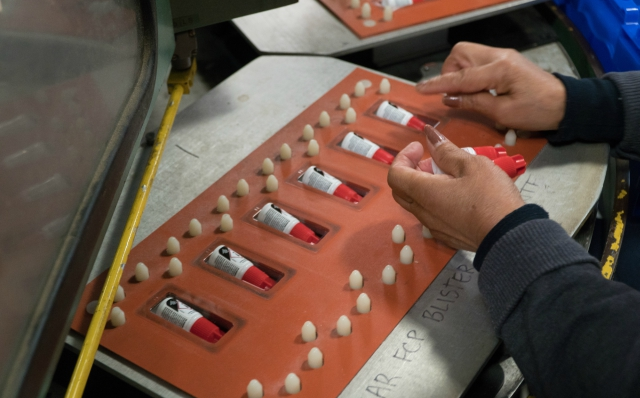 Chemence doesn't hire just one kind of chemist. The company is involved in a variety of fields and its researchers and chemical engineers need to mirror that in their backgrounds.
Having a staff filled with people from different disciplines helps in product development. When trying to get the chemical makeup of a product just right, Chemence can approach it not only from an acrylate perspective, but also bring in people specializing in all forms of polymer and light curing science. "One of our biggest strengths is we're very diversified," CEO James Cooke says. "What that means from an R&D standpoint is we have all these Ph.D.s from different disciplines and we come up with creative ways to solve customers' problems."
Cooke's father, Hugh, founded Chemence in 1983 in the United Kingdom. Six years later, the industrial adhesives and sealants company branched out to the United States. Today, the company operates three facilities in Georgia: two in Alpharetta, an Atlanta suburb, and one in Dalton, a town in the northwest part of the state.
From those facilities, the company touches a range of industries. It manufactures products used in engineering, electronics and medical devices, liquid skin bandages and cosmetics.
Industrial Market
Chemence is becoming even more innovative with the launch of Krylex, a brand of products aimed at industrial manufacturers.  Although the industrial market is a new area for Chemence, the company does have past experience. Several years ago, the company sold its previous line of industrial products, RITE-LOK, to 3M. As part of that sale, the company signed a non-compete agreement, signaling that it would not introduce similar products for a set amount of time.
However, that non-compete period recently expired, opening the door for Chemence to reenter the industrial adhesives market with reactive polyurethanes, anaerobics, silicones, light cure adhesives and cyanoacrylates suitable for high-tech industrial manufacturing.
"Over the last two years we've been working on creating a totally game-changing product line to readdress this market," Cooke says. "We've come up with what we think is version two of cyanoacrylates that address some of the shortcomings in the market today."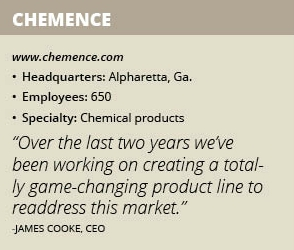 Krylex is only the first step of a larger strategy. The reintroduction of industrial products is serving as a platform for Chemence to move into the 3-D manufacturing realm. The company has developed a new 3-D resin that can be used in medical devices, apparel manufacturing, audio equipment and aerospace fabrication. "It's an area that has been grossly underserved by the market," Cooke says. "Because we know the resins so well, we can produce produce once though unachievable in stereolithography."
To better serve that market, Chemence needed to understand its needs and applications. The company purchased several 3-D resin printers, enabling it to test and develop materials that can closely mimic traditional plastics. "3-D printing can really go in any direction," Cooke says. "It's changing the paradigm of manufacturing."
Strong Vendors
"Internally, as we enter these new markets, we keep emphasizing that better is more and more is better," Cooke says. Being able to offer a number of products within a narrow category enables Chemence to better support those customers. For the industrial market, Chemence is focusing on its core products and then augmenting them with strategic items clients can't easily obtain. "If we remain focused, we can provide these niche solutions that nobody else can," he adds.
Vendors play a key role in enabling Chemence to offer those niche products. In some cases, Chemence even shares sales data with suppliers to help them prepare their own manufacturing lines for anticipated orders.
"We have a few key suppliers we provide an updated forecast on a weekly basis so they have an idea of what's coming," Vice President of Operations Frederick Johnson says. Suppliers are challenged to deliver 95 percent of orders on time, ensuring that Chemence has enough material to keep a steady production flow. "In some respects, we're only as good as our vendors," Johnson explains. "So if they're deficient, it can cause a ripple effect."
Speed is not the only consideration – suppliers must also ensure the materials they deliver are of the best quality. Chemence has a 99 percent defect-free mandate. Vendors that fail to meet those standards are subject to a root cause investigation analysis to determine why the product failed and are given an opportunity to take corrective action.
Most of Chemence's suppliers have served the company for more than 10 years, creating productive working relationships that have a firm grasp of expectations. "It gives us some level of predictability, but it also allows us to partner with our vendors," Johnson says. "If you go with the lowest-cost vendor, they may not know your business as well, and may not be willing to offer the level of service when it is really needed."
Established partners such as Lintech International, a specialty chemical distributor, are more likely to jump in and help out when a problem arises. Johnson shares a recent example where Chemence had issues with non-conforming bottles for its packaging purchased from a vendor abroad. The company engaged its domestic supplier to diagnose the problem with the foreign vendor and developed a solution. "Although they didn't get more business out of it, the [domestic supplier] got to keep the business they had and the ability to grow as we grow," Johnson says.
That growth could accelerate in the coming year. The launch of Krylex and other product innovations have Chemence thinking about hiring more manufacturing and customer-facing staff and expanding its facilities to increase capacity. "We're planning on growing significantly over the next five years," Cooke says.