Chemical Industries Association
A hidden gem
With the chemical industry making so much of today's technical innovation possible, it is up to the Chemical Industries Association to ensure the UK can remain competitive on a global stage
In 2015, the UK's chemical industry saw remarkable production volume growth of 5.5 per cent thanks to a competitive oil price and strong demand from around the world. As an export intensive industry, 51 per cent of its export production was shipped to continental Europe, helping it post a trade surplus of around five billion sterling. A year on, and whilst challenging demand conditions in China and Europe have seen a drop in projected growth levels to two per cent, the industry was still one of the UK's only manufacturing sectors to report a positive trade balance in the first quarter of FY2016. It would be no understatement then, to suggest that representing the needs of such an industry is a vital role in the UK's wider economic interests.
Having done just that for the past half-century, the Chemical Industries Association (CIA) is engaged on all levels to help create a business climate in the country that is as attractive as
possible to trade from and invest in when it comes to chemicals. Today, 51 years after its inception, the weight of its membership only serves to prove how successful its efforts have been, with major multinational plcs all the way down to niche fine and speciality chemical manufacturers all signing up for the Association's support. Big names such as INEOS, SABIC, GSK, Dow, Croda, Johnson Matthey and Synthomer, amongst many others, all feature on the list.
"So, what do we do?" answers CIA's current CEO, Steve Elliott. "Firstly, and this is really the bread and butter, we lobby on the collective concerns of our industry opposite the UK government and reflect them in a European context through our membership of Cefic – the continental body – and on an international platform through the ICCA (International Council of Chemical Associations). Alongside this, we are increasingly active in providing practical support, guidance and advice to members through benchmarking, best practice sharing and general networking opportunities."
Practical support comes in many forms, from the establishment of subsidiaries like CIABATA (CIA Broking and Trading Agency), which helps businesses collectively respond and benefit from the requirements of the Climate Change Levy, and REACHReady, a similar initiative for the recently introduced REACH legislation, to financial and practical support for companies to exhibit at trade shows around the world. "We have 26 members of staff here at CIA, many of whom are sector experts on either a national or international level right across the spectrum of things that impact our sector, be they operational concerns, legislation, workforce issues, health, safety and environment factors, and so on," Steve continues. "Furthermore, our industry's biggest customer is itself, with many members buying from and supplying each other, so, whilst being ever-mindful of Competition Law responsibilities, we also provide a really key network to help facilitate and stimulate these trade relationships."
One of the central driving forces fuelling CIA's activity is its need to develop and maintain the UK's competitiveness in a highly active global industry. In a sector that is energy intensive and heavily regulated, constant challenges need to be overcome in order to do so. "One of our member companies uses as much electricity as the City of Liverpool," Steve outlines. "This takes the form of both energy and as feedstock in production processes, and it highlights just how intensive the industry's energy usage is. Whilst energy in the UK has been cheaper in recent years, it is still expensive compared to other parts of the world, who we are competing with. Therefore it is important that we can help members become more efficient and competitive."
Part of this is informed by the Association's Responsible Care Guiding Principles, compliance to which is a condition of CIA membership. This outlines the industry's commitment to continuous improvement in HSE performance – a key performance feature of which has been the sector's 35 per cent improvement in energy efficiency over the past 20 years and a 70 per cent reduction in greenhouse gas emissions over the same period.
"Supporting our members to respond to the Climate Change Levy, is a part of this, as is our Responsible Care programme, which ranges from seminars and workshops to an annual awards ceremony where environmental leadership is one category we recognise," explains Steve. "We are also very proactive and positive on the merits of responsible shale gas exploitation in the UK, giving evidence to support its benefits and addressing any public concerns, as we see it as a necessary transitional solution over the next five to ten years to achieve a low carbon economy."
Further helping to stimulate growth and competitive advantage in the global marketplace, CIA is one part of an industry CEO-led Chemistry Growth Partnership alongside the UK government, trade unions and other key industry bodies. With a primary objective to grow the chemical sector's value added contribution by 50 per cent before 2030, Steve highlights the core focal points of the long-term commitment. "It is ambitious, but to make it happen we're focusing on energy, innovation and the supply chain," he says. "In terms of the supply chain we need to be engaging with our customer industries, like the automotive industry, to understand their current and future needs, such as hybrid or electric technologies and lightweight materials, and then ensure that they understand the strengths of the UK's chemical manufacturers to help them achieve these goals.
"When it comes to innovation it's all about understanding where the UK's strengths lay. In such a globally competitive market, the US benefits increasingly from natural resources, like shale gas, the Middle East still has oil, China has cheaper labour and strong government backing, and the UK has world-class universities and knowledge base. This is where we need to maintain our focus and build on in order to secure continued competitiveness around the world."
Formulation science is one such area where Steve believes the UK's chemical players occupy a particularly leading position, and CIA is currently supporting the process of securing financial support to set up a National Formulation Centre to cement this. "Complex formulated products are abundant in both everyday domestic and industrial life – take for example medicines, cosmetics and washing powders – and the formulation science and chemistry behind these is supporting ever-changing design and application mechanisms from powders through to liquids,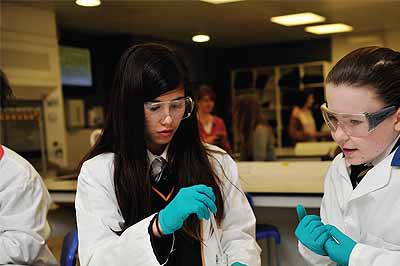 gels and tablets. I believe the UK is already world-class in formulation science in many respects, but this new nationally focused centre – which has already gained interest from companies such as GSK, Unilever, P&G and Croda – will help to solidify this and enable the UK to better access this estimated $1000 billion/annum global market."
True to its belief that the UK's strength lays in the talent and expertise of its people and universities, CIA has established the Future Forum – a networking opportunity for young and aspiring chemical industry employees to band together. With competition in the jobs market increasing all the time, Steve notes that it is a particular challenge not only attracting younger people to study chemistry or chemical engineering through school and university, but also convincing them to stay after completing a very technical degree, the skills of which are equally sought after in the legal and financial sectors.
"People leave university with very marketable skills, so the Future Forum provides them with a great opportunity to engage with the industry and meet with other young people in the industry to discuss their experiences and prospects," he explains. "It's not an exclusive forum either in that we encourage people from all backgrounds and qualification levels to get involved and regularly engage them with projects that can inform the future, and opportunities to sit on some of the bodies we work with. When we're trying to influence something with a long-term outcome, it is going to impact the younger people in the Future Forum more than the current generation so this participation can prove significant."
CIA also annually awards a Young Ambassador, which not only supports the career development of the winning candidate, but also helps the organisation's outreach efforts to encourage and attract more talented young people to follow a path in science and chemistry fields.
As CIA and its industry members look ahead, a number of challenges will define the coming months, not least in the uncertain run up to and outcome of the UK's EU referendum. Continuing its efforts in encouraging the responsible exploitation of shale gas in the UK will play a big role over the course of 2016, as too will its participation with European bodies to redress the balance between risk and hazard when it comes to governments imposing restrictive legislation. "Over recent years, Europe has somewhat stifled innovation and research surrounding the key development of chemical based applications," Steve points out. "GMO is a good example of how general hostility can prevent something from growing to its full potential – this is only just starting to turn around following the publishing of some positive reports. Nanotechnology is another area that has massive potential for our society and we need to make sure we don't tie ourselves in regulatory knots without sufficient proof to act on concerns."
Of course, the everyday running of the Association will also continue to address its responsibilities to the industry in terms of energy usage, innovation and supply chain optimisation. "In the longer term I think the greatest thing we can do is reconnect the genuine value that our industry brings to improving the everyday quality of life of the public," expresses Steve. "People understand tangible things like planes and cars, and the automotive and aerospace industries are often spoken about when it comes to the UK's manufacturing 'crown jewels', but I would personally like to see the chemicals industry – which is slightly less tangible but no less important – added to this list when we look at the UK's economic performance and exporting excellence."
Chemical Industries Association (CIA)
Services: The UK's trade body for the chemicals and pharmaceutical sector