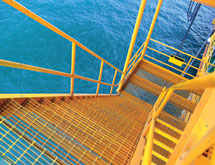 Although thousands of companies fabricate steel, only hundreds are certified by the American Institute of Steel Construction. That certification sets Cherokee Steel Fabricators apart from many of its competitors.
"We specialize in structural steel for the heavy industrial market, which is composed of pulp and paper, refineries, petrochemical and gas plants," Vice President of Operations and co-owner Jerry Osborne explains. "That's our core business. But when my dad set the business up, he designed it in such a manner that we could be flexible. We do a lot of other things besides structural steel.
"The structural steel business is a very competitive business, and when it is down, we'll switch over and do ductwork if it's available and also do round stuff like stacks and combustors," Osborne continues. The company fabricates flares and flare tips and heavy industrial ductwork in thicknesses from a 1/2 to 3/8 of an inch. Among the uses of this duct work is moving flue gases in refineries or collecting dust in steel or paper mills.
"We switch over and do environmental jobs, which are driven by environmental issues," Osborne adds. "You get more for them because the plants have to do them. They're mandated by the Environmental Protection Agency."
Cherokee Steel also fabricates sub-structures for drilling rigs along with ladders, platforms, pump skids and skid bases for high- and low-pressure separators. "It's not a big business for us," Osborne points out. "It's very competitive and a specialty market for us."
The company can perform more than 300 American Welding Society procedures and work with stainless steel and other alloys. Osborne estimates approximately 95 percent of the company's welding is flux-cored arc welding.
Not Subsidizing Customers
Cherokee Steel is certified to fabricate steel for high-rises, hospitals, processing plants and other commercial or industrial projects. The company's best year was 2007, when it received nearly $2.75 per pound of galvanized steel it fabricated. The price now has slipped to $1.60 a pound because of the current competitiveness in the industry.
"Structural steel is very subject to the market conditions of the petrochemical and energy business," Osborne reports. "When they're doing well, we do well. It's kind of, we take advantage of them when business is good, and they take advantage of us when business is bad."
A Little Automation
Most of Cherokee Steel's jobs are fabricated in quantities too small to benefit from extensive automation. Nevertheless, in 2004, after purchasing the company from his deceased parents with his twin brother and co-owner, Larry, Osborne was able to buy automated welders for the company's single 55,000-square-foot shop. In 2006, the company purchased a computer numerically controlled, three-spindle drill line, plasma cutter and miter saw that Osborne estimates lowered production costs by approximately 30 to 40 percent. All that equipment cost the company approximately $450,000.
"If you don't invest in this equipment, you won't be in business," Osborne maintains. "All our competitors are doing the same thing. Basically, it's a labor-intensive business, and you have to figure out ways to save man-hours on the job."
The company also plans to purchase a coping machine in the future that will cost $400,000 and pay for itself on a large project because it saves approximately one-fourth of the man-hours required to fabricate a beam. "We don't buy anything we can't pay for," Osborne emphasizes. "We don't work for the banks."
Made in America
When it comes to domestic content, Cherokee Steel Fabricators walks the walk. "Everything we supply is American-made," Osborne maintains. "Most of our clients require steel made here."
For more than three decades, Cherokee Steel Fabricators has been in the custom steel fabrication business providing customers with excellent service and quality products to help them with all of their structural steel needs. What sets the company apart from other steel fabricators is its commitment towards quality, value and customer service regardless of a project's size.
The company's engineering department prepares shop-working drawings from customers' designs or specifications. Shop drawings are prepared on premises or by subcontractors, as required, using Stru CAD v.14 or Auto CAD as needed.
Cherokee Steel has invested and equipped its 46,000-square-foot facility with state-of-the-art fabrication equipment that allows it to produce high quality work with exact precision. The company understands the importance of precision steel once it reaches the jobsite.
Proper lengths and heights, along with plates and holes created to exact specifications, result in steel erection flows with minimal interruptions. Speed is of the essence on the jobsite and Cherokee Steel's precision steel keeps that time to a minimum. Bottom-line results are lower erection costs, shorter crane rental times, fewer delays and better coordination with other trades on the jobsite, the company says.
"We have completed numerous custom steel fabrication projects for a wide variety of happy customers," the company states.