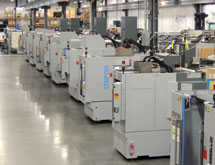 The next time you get on a plane, ride in a car or have surgery, you probably won't give much thought to the various complex components that allow the pilot, driver or surgeon to do their jobs. Fortunately, Chiron America is a company that thinks about those components constantly.
Based in Charlotte, N.C., Chiron America is a subsidiary of Chiron Werke, Germany, which was founded in 1921 as a machine shop and today builds some of the world's leading computer numerical control (CNC) vertical machining centers and provides full turnkey solutions to its clients. In addition to its operations in Germany and the United States, Chiron has locations in France, Italy, Turkey, Australia, China, India and Poland.
"Chiron entered the U.S. market in 1982 and started the Chiron America subsidiary in 1994," CEO Cris Taylor says. "Our core competencies are the technology that goes into the machining centers and our engineering capabilities. We sell complete solutions, as we can offer machining centers and turnkey solutions thanks to our engineering background."
Customer Focus
Chiron's machining solutions are useful to its clients for the machining of complex components and devices, whether in small- or large-production batches. Chiron America's primary markets are the aerospace, automotive and medical industries. Its machining centers and services help clients to remain competitive on machining technologies. Chiron's experience with developing machining center products is second to none.
"About 60 percent of our business is automotive, 20 percent is medical, 15 percent is in aerospace and consumer products make up the rest," Taylor says. "Strategically, we have been pushing to expand our business with the medical and aerospace industries. The core of our business will remain the automotive industry, but expanding in medical and aerospace helps us handle the ups and downs of the automotive industry's cycles."
Chiron America doesn't build machining centers domestically. Those are brought in from Germany. Once the products are in Charlotte, Chiron America then customizes the products based on customer needs. To help the company better understand market conditions, it has invested in bringing people in who are familiar with the industries Chiron serves.
"Having these experts in-house allows us to show the customers what we can do for them and helps them understand our engineering capabilities," Taylor says.
Among the company's strengths are attention to detail, speed to market and its production, service and maintenance capabilities. The company has a vast array of product offerings, producing machining centers that can be readily modified for client needs thanks to their modular design and a significant selection of options.
Doubling Capacity
Here in the United States, the company has recently doubled its manufacturing capability, adding 20,000 square feet to its existing 55,000-square-foot facility in Charlotte. The expansion helped the company handle increased sales volume, which it has seen continuously since the fourth quarter of 2009. It has helped Chiron America operate more efficiently on a day-to-day basis, provided new floor space to increase assembly and turnkey capabilities and allowed to company to add more jobs to the Charlotte facility and increase U.S. content in its products.
In fact, the company has expanded its workforce by about 25 percent in the last 12 months. Chiron America favors a healthy balance between external recruitment and internal promotion and training. Taylor says nearly all the top and middle managers throughout the entire Chiron family are internal people who have risen through the ranks. That doesn't mean the company is shy about bringing expertise in from the outside to help the company expand its horizons.
For now, the new facility should suit Chiron America's needs just fine. In the short term, the added capacity should be enough to keep up with demand. Part of the added space is being used for storage, but it could be converted for use in manufacturing if the company needs more floor space sooner rather than later. Taylor says the company is seeing bigger projects coming in, however, so it is conceivable that it could look to expand in Charlotte again four or five years down the road.
Through regular web meetings, teleconferences and video conferences, as well as regular trips to Germany to meet with research and development teams, Chiron America will continue to inform its parent company on better ways to serve the U.S. market. This will help refine machining center offerings that come in from Germany, while Chiron America also looks for ways to put more U.S. content into the machines once they arrive.
Taylor sees personnel as a major challenge for Chiron America because the U.S. has effectively lost a generation of potential workers. Most of its people are 35 or older, and younger workers tend to lack the training and manufacturing capabilities of their predecessors.
"This is a major problem facing manufacturing, which we can see is growing and coming back in the U.S.," Taylor says. "There aren't as many skilled people, but we are starting an apprenticeship program here that will provide young people with a four-year paid track toward earning a degree and a job at the end of the program. We have to reinvest in younger people and make manufacturing and engineering attractive again."
On the business side, Taylor thinks Chiron America will continue to be successful thanks to the fact that it is a family run business that is flexible and free of debt. Although there is uncertainty about the speed of the economic recovery in the United States, Chiron America is confident in its future because the company is financially strong and is committed to looking after customer needs by thinking long term.
"There are still a lot of question marks surrounding the business climate in the U.S.," Taylor says. "But inquires are up, so I think the next few years are going to be positive for us."