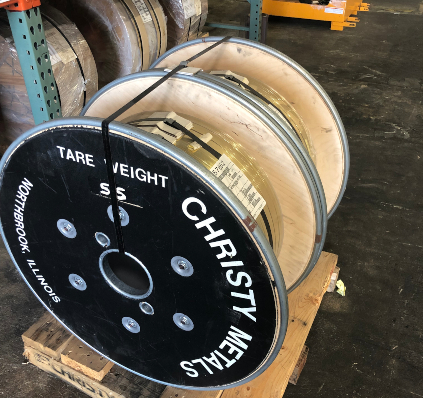 Christy Metals shines when it comes to producing the highest-quality products and meeting its customers' demands for shorter lead times. A master distributor of metal products and services, the company continues to enjoy record growth and is investing back into its properties as it expects that momentum to continue well into the future.
Based in Northbrook, Ill., the company manufactures standard and custom non-ferrous sheet metal products such as strips, sheets, wires, tubes, coils and bars. Christy Metals' products reach a variety of clients in industries that range from the medical field to aeronautics. Its largest chunk of business comes from automotive followed by electrical and ammunition.
To reduce lead time and keep up with its customers' demands, Christy Metals is expanding its manufacturing capabilities this year at its facility in El Paso, Texas. "We added slitting and cut to length in El Paso in addition to our warehousing and trucking services," Vice President Lance Shelton says. "We have trucks down there in the Juarez, [Mexico], market. We have a lot of customers that go back and forth over the border, so we are keeping up with demand and shortening lead time. That's a major growth area on the border for Christy Metals."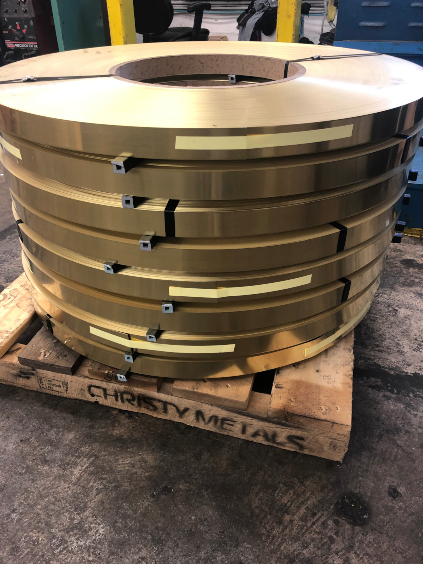 By adding a slitting machine and cut to length capabilities, Christy Metals reduced its lead time from two weeks to three days. The company added two people to its staff in El Paso. This is Christy Metals' third upgrade to its El Paso facility that offers plenty of space for continued growth.
Solid Ground
Founder Creighton Helms started Christy Metals 54 years ago and has built a solid reputation for its wide range of inventory and dedication to quality and service. Christy Metals has won several awards for its work, including the Silver Supplier of the Year for a Fortune 500 Company Award from a client in 2013. At the time, it was the only metals supplier to receive that award. The company is also ISO 9001:2015 and ISO 14001:2015 certified.
Shelton was recently named president of the Copper & Brass Servicenter Association, which is committed to strengthening and improving the future of the association and the copper and brass industry. He has been with Christy Metals for 11 years and previously worked with the company when he served as the director of sales for PMX Industries. But Shelton did not join the company until after he worked as the vice president of Guardian Metals in Morton Grove, ill. When that operation shut its doors, "Everybody in the business came to Christy Metals, "he recalls. "They've watched a lot of people come and go, but they have stayed strong."
Today, Christy Metals operates under the umbrella of Helms Performance Group and under the ownership of Helms' son, President Christy Helms. Christy Metals has two sister companies: Chris Industries Inc., which provides metal sheeting, gutters and hangers in Wheeling, Ill., and Chris Plating, which offers hot-dip tin. "Helms Performance Group consists of three drastically different markets intertwined," Shelton notes.
Tinned to Perfection
Since 1973, Chris Plating has been exceeding the industries needs and expectations for the highest-quality hot tindip strip and solder coat strip. Located just down the street from Christy Metals in Northbrook, Chris Plating offers commercial, intermediate and heavy tin coat. Tin commercial coating ranges from .00002 inches to .00008 inches, intermediate coats range from .00005 inches to .00015 inches and the heavy coatings ranges from .0001 inches to .0003 inches.
The company invested in new hot tindip plating technology over the past year. "We can now hot tindip coil at 14.625 inches wide, compared to 10 inches and we can hold 10,000-pound coils as opposed to 7,000 pounds," Shelton says. "That allows our customers to send us much larger coils. So then in turn, it allows their machines to run longer because they don't have to change the coils as often."
Chris Plating also installed six cameras in May to keep track of imperfections in the base metal and better see the finished product. "We can pull each coil and receive all the data on the base metal before and after it was tinned," Shelton explains. "We can see the imperfections in the base metal prior to tinning and have proof of what it looked like before to show the customer."
As Chris Plating continues to grow, the company is now running six days per week and 24 hours per day. This is up from five days a week and 14 hours per day. "We have seen a major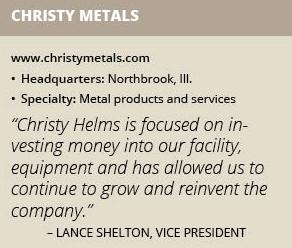 increase in hot tindip demand across the board," Shelton notes.
For more information on Chris Plating, visit www.chrisplating.com.
Kings of Copper
Chris Industries is a unique company in the construction industry. As copper specialists, the company's niche is in architectural metals, custom fabrication and roll forming services. "Our experience allows us to help many customers with installation suggestions or help them understand the necessity, function or superiority of our products," the company says. "We are even approved the The American Institute of Architects to teach a seminar on the benefits of using copper in construction for Continuing Education Units."
The company was founded in 1974 in Northbrook, but recently relocated to a new 40,000-square-foot facility in Wheeling, Ill., where it can continue to expand. Chris Industries owns its own fleet of trucks, downspout and panel machines to make panel roofs, downspouts and gutters out of copper on-site.
Chris Industries manufactures 50 hours per week and five days per week, is a master distributor and operates its own retail store. For more information on Chris Industries, visit www.chrisind.com.
Moving forward, Chris Industries, Chris Plating and Christy Metals will continue to focus on expanding each of its capabilities and prospering under the Helms Performance Group. "Christy Helms is focused on investing money into our facility, equipment and has allowed us to continue to grow and reinvent the company," Shelton says. "In the last 10 years, we've really grown where others have not."