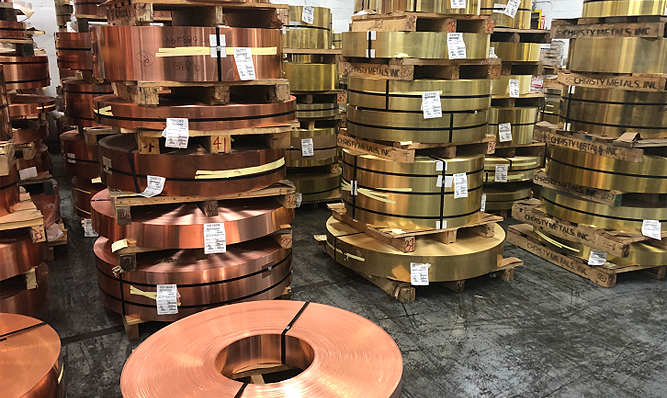 Christy Metals invests in new technology, equipment and celebrates a record year.
It's been a lustrous year for Christy Metals. A master distributor of metal products and services, the company is experiencing fast growth and predicting a lucrative future.
"2018 will be record year us," Vice President Lance Shelton says. "It will be a record for the pounds of metal we distributed and we see continued growth in 2019 and 2020."
The company has seen a steady growth for the past 10 years and it attributes that to a number of reasons. One of them is the growing demand for electric vehicles.
According to the International Energy Agency, the world's fleet of electric vehicles grew 54 percent to roughly 3.1 million in 2017. The agency forecasts that the number will hit 125 million by 2030.
"And with more smart cars, there's a lot more need for copper and brass," says Shelton, who is also the vice president of the Copper and Brass Servicenter Association (CBSA).
Since automotive connectors are one of Christy Metals' fastest growing markets, that's great news for the company. In addition to the electric car growth rate, the Northbrook, Ill.-based master distributor attributes its own growth to investments into new technology and improvements to its facilities – both of which have allowed the company to expand its capabilities.
New Technology
Christy Metals' products reach a variety of clients in industries that range from the medical field to aeronautics. But its largest chunk of business comes from automotive followed by electrical and ammunition.
Its products include a full line of non-ferrous metals in a variety of tempers, gauges, coils, sheets and bars. They comprise of brass alloys, copper, nickel alloys, phosphor bronze and stainless steel. The company also has a number of capabilities such as X-ray thickness testing, traverse winding, slitting, cut-to-length, electro-plating, silver plating and tinning/solder coating.
To support and further its growth and expand its capabilities, Christy Metals has invested into new hot tindip plating technology in the past year.
"We can now hot tindip coil at 14.625 inches wide, compared to 10 inches and we can hold 10,000-pound coils as opposed 7,000-pound," Shelton says. "That allows our customers to send us much larger coils. So then in turn, it allows their machines to run longer because they don't have to change the coils as often."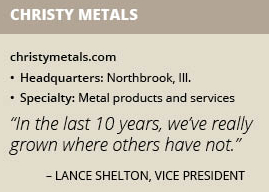 For example, depending on the application, a customer would have to change the coils maybe five times in an eight-hour shift. With the wider coil, that number could decrease to as low as two times per the same shift.
More Capacity
In addition to the new plating technology, Christy Metals is investing in new slitting and tinning lines. The company currently has seven slitting lines and two hot tinning lines.
"We are currently in the process of putting in one new slitting line as well as another tinning line," Shelton says. "They will give us more capacity."
A slitting line is used to break master coils down into smaller coils of a specific width and or weight. Its new slitting line is expected to be operational by the first quarter of 2019.
A tinning line is used for thinly coating sheets of wrought iron or steel with tin and the resulting product is known as tinplate. It should be operational by the end of this year.
Investing In The Future
Founded in 1964, Christy Metals will be celebrating its 55th anniversary next year. Founder Creighton Helms started Christy Metals as a distributor of copper and brass.
Today, the company operates under the umbrella of Helms Performance Group Inc., and under the ownership of Helms' son, President Christy Helms.
"Christy Helms is focused on investing money into our facility, equipment and has allowed us to continue to grow and reinvest in the company," Shelton says. "In the last 10 years, we've really grown where others have not."
Christy Metals has grown into a top provider for fine metal products and services. While based in the Chicago area, it also has a facility in El Paso, Texas, and ships all over the United States. The company prides itself on its ability to respond to its customers' needs quickly and for keeping its lead times to less than a week.
"We are flexible and we can get things out sometimes in one to two days when needed," Shelton adds. "We've kept our lead time very short and our customers happy."
Christy Metals has two sister companies also based in Northbrook: Chris Industries Inc., which provides metal sheeting, gutters and hangers, and Chris Plating Inc., which offers hot-dip tin.
Aside from automotive and electrical, Christy Metals services markets that include aeronautics, architectural, aviation, building, dental, electronic, fabricators, forging, heavy truck, machinery, manufacturing, marine, medical, shipbuilding, spring and coil and manufacturing.
With a large year-round inventory, its own truck fleets and custom stocking programs, it can handle jobs of virtually all sizes and timetables.
The company is ISO 9001:2015 and ISO 14001:2015 certified to distribute and service both ferrous and non-ferrous metals.