Long live your engine
Known for maintaining excellent customer relationships, Chromalloy Holland supports the aviation, energy, and military industries with the provision of ingenious manufacturing and repairing solutions for gas turbine engines
Operating from one of Chromalloy's six European manufacture and repair facilities, the Dutch branch of the global integrated solutions provider for the extension of gas turbine engines' lifetime, specialises in shrouds repair, OEM repairs for rotating parts, as well as the manufacturing of new parts. Driven by innovation and the utilisation of the latest technology, the wider
group serves OEMs, commercial airlines, the military, oil and gas companies, and power companies; and Chromalloy Holland, in particular, has within its customer base some of the largest airlines and MRO shops worldwide.
Today, after more than six decades of technological advancements and dexterity in the market, Chromalloy is approximately a $1 billion company with locations in 11 countries around the world, rightfully bearing the label of one of the largest providers of advanced coatings and authorised repairs and parts for gas turbine engines.
The 120,000-square foot Dutch facility was established in 1975, in the southern city of Tilburg, and has since produced and repaired components for GE, CFMI, Siemens, Solar Turbines, and Rolls Royce engines. Where smaller components are concerned, Chromalloy Holland has customers all over the world, but when it comes to larger and heavier parts, the business' portfolio consists mainly of clients based in Europe and Asia. "We have done a lot of work in the past year to accommodate the needs of a long-standing customer of ours that opened a new facility in the Czech Republic. It manufactures engines used in electric power generation, gas compression, and pumping systems; serving this customer with new repair solutions, installed a brand new semi-automated coating line, together with a new parts manufacturing line to support that facility," explains Chromalloy Holland's Site Leader, John Voncken.
"Furthermore, we recently invested in a new Makino grinder that will also be used to support our service to the aforementioned client in the Czech Republic, whilst helping us ensure continued growth in the shroud repairs and new parts manufacturing side of the business," John discusses the recent investments the company has made. "In the short term, we will install a new vacuum furnace and subject our waterjet stripping system to a full mechanical and software retrofit, too. Both pieces of equipment are instrumental in delivering outstanding quality to our customers within the requested turnaround times."
John identifies the business' OEM repair services as a core capability of Chromalloy Holland and he puts this down to the company applying all the necessary associated processes across its Tilburg site. "We can perform waterjet stripping, plasma spraying, various furnace treatments, coatings, high-speed grinding, and NDT inspection techniques. Owing to the end-to-end solutions we provide, we have established a number of valuable, long-term business relationships with our customers. We have achieved a very high level of customer satisfaction, because we place our clients at the heart of all we do. The combination of exactly matching their requirements and our very competitive pricing structure has contributed immensely to our success over the years," he states.
The launch of the Chromalloy LifeX brand is a clear demonstration of the company's dedication to devising niche solutions, thus strengthening its own proposition and enriching the opportunities for its clients. A brand of custom aftermarket solutions that reduce the total cost of ownership of gas turbine engines, LifeX repairs worn and damaged parts to a 'like new' condition to help customers meet their financial targets and improve the residual value of gas turbine engines.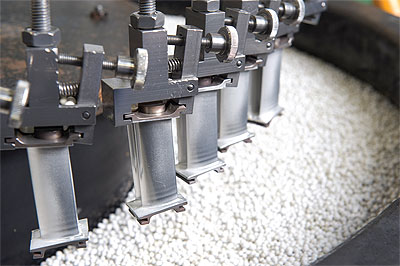 Lean manufacturing has also been a key focus area for Chromalloy Holland as of late, and the business has decidedly taken major steps towards the introduction of certain technical processes that would streamline its manufacturing capabilities. The drive towards the integration of lean manufacturing techniques has been motivated by the overarching Chromalloy Performance Excellence (CPEx) scheme, which stimulates the pursuit of the most efficient operational and business processes at every level of the company.
Visibly, Chromalloy Holland is on the right path and there is not much that needs to be changed, in order for the company to remain successful in the years to come. "We will, by and large, continue to do what we have been doing until now," John says. "Our immediate focus is to stay closer to our customers, support their growth, and cultivate our business relationships by providing them with on-time delivery of our world-class services, at a reasonable price," he sums up.
Backed by the powerful organisation it is part of, Chromalloy Holland seems to have entered a mode of constant proposition development through minor but accurate tweaks of its operations that will allow it to occupy an even stronger position in the marketplace.
With innovation in its DNA and customer focus an indispensable part of its business approach, the company has all the reasons to believe that the future holds only promising prospects in store.
Chromalloy Holland
Services: Manufacturing and repairing of gas turbine engine components