Advanced thermal technologies
Incorporated in Pittsburgh, Pennsylvania during 1917, Chromalox has grown as a leading manufacturer of advanced thermal technologies with a network of production plants located across the world
The roots of the business date back to 1915 and the introduction of a groundbreaking patent of a resistanceheating element embedded in an insulating refractory and enclosed within a metal sheath, developed by the company's founder Edwin L. Wiegand. Using this technology, Chromalox began producing its strip heater for what would eventually become the modern electric
clothes iron. The following decades represented a boom period for the business, as electricity became increasingly present in homes and manufacturing plants. As heat controls were further integrated into electrical systems, Edwin Wiegand developed several new patents that found many applications within both the residential and commercial markets.
Over close to a century in operation, the everchanging and dynamic energy sector has opened up several areas of growth for Chromalox. Indeed, the company was the first supplier of pressurised heaters used in nuclear power stations and submarines, while also keeping up with the demands of the energy market with an expansive portfolio of products as the world increasingly moves from fossil fuels to electric solutions. Today, Chromalox continues to develop thermal technologies for some of the world's toughest industrial heating applications and excels in market sectors that traditionally have high expectations. The company's clients include businesses operating in challenging environments such as the alternative fuel, biopharmaceutical, chemical processing, commercial food, rail, energy and power generation, laboratory and analytical, marine, medical equipment, nuclear energy, petrochemical, oil and gas, solar energy, transport and wastewater treatment markets.
Although Chromalox continues to be headquartered at its Pittsburgh, PA location, the company has grown to maintain a presence on six continents that enable it to provide rapid service and support solutions whenever and wherever they are needed. Furthermore, Chromalox operates a comprehensive network of factory offices, stocking representatives and over 2000 authorised distributors worldwide, as well as engineering, warehousing and sales locations throughout the Americas, Europe and Asia. In terms of its fabrication capabilities, Chromalox operates six state-of-the-art manufacturing plants throughout the world that incorporate a total of more than 634,000 ft2 of production space. The company's plants utilise automated machinery to ensure tightly controlled, repeatable quality standards and are vertically integrated to provide final assembly and functional testing. To guarantee peace of mind for its customers through the highest levels of quality, Chromalox maintains numerous global product and plant certifications, including ISO 9001:2008, ATEX/IECEx, ASME, PED, ABS, EAC, National Board, KOSHA, and SELO.
As the business has grown into a leader inadvanced thermal technologies, Chromalox has continued to develop new products and solutions across several applications. During May 2016 for example, the company announced the award of a US patent for its mediumvoltage, DirectConnect heating products. While conventional electric resistance, metal-sheathed heating has been limited to operating at 1000V,Chromalox has created a breakthrough in heating technology that allows voltages of up to 7200V to be used in multiple heating products. The DirectConnect heating system was developed through a combination of material science, design engineering and proprietary manufacturing techniques. When compared to a traditional low-voltage design, DirectConnect products can slash installation costs up to 90 per cent and also improve operational efficiency. By harnessing the power of higher voltage, end users can gain the benefit of zero on-site emissions, while enhancing effective and scalable power control. "Customers have instantly recognised the financial savings DirectConnect provides for their heating project," says Global Product Director of Packaged Systems and Service, Mark Wheeler. "Chromalox has several sites already operating with DirectConnect products and our customers are pleased with the heater operation and appreciate the immediate payback."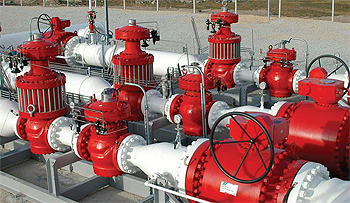 In addition to the development of its patentedDirectConnect thermal technology, Chromaloxalso announced the new availability of wireless temperature sensing for heat trace applications in both ordinary and hazardous areas. This new capability provides enhanced application flexibility, improved safety and measured installation cost savings while maintaining system integrity. Wireless can be an ideal temperature sensing solution for both new and expanding heat trace systems, as the portability of wireless transmitters permits temperature profile optimisation throughout plant piping systems. Indeed, process safety and integrity can be significantly improved throughthe inclusion of redundant wireless temperature sensors to a system's heater circuits. Installation costs such as wire, conduit and associated labour for typical hard-wired sensing solutions are also significantly reduced when wireless components are employed.
The Chromalox Wireless Temperature Sensing system includes the IntelliTrace ITAS or ITLS Series Heat Trace Control Panel and specificindustrial wireless transmitters, which are pairedwith appropriate temperature sensors. TheIntelliTrace system is the only fully integrated Wireless Temperature Sensing Heat Tracesystem available, with a panel that seamlesslyfacilitates both wired and wireless temperature sensor inputs and the touch-screen computerHMI distinguishes wireless circuits from wired ones. "Wireless temperature sensing of heat trace circuits addresses critical customer pain points such as cost, safety and flexibility," reveals Global Director of Control & Panel Development at Chromalox, Scott Treser. "Our seamlessly integrated IntelliTrace solution ensures comprehensive system integrity that other systems simply cannot provide."
Across the company, Chromalox takes a principled approach to its business objectives through its mission to pioneer new thermal technologies and shape the future of industrial heating. Its core values dictate the way in which the company treats its associates and enables it to become true a strategic partner with its customers. Chromalox is dedicated to offering an innovative solutions, rapid delivery with careful attention to detail and maintaining honest, ethical and transparent approach with its clients. This combined with its history of developing revolutionary thermal products across various applications will enable Chromalox to continue to serve its clients as a leader in advanced thermal technologies.
Chromalox
Products: Manufacturer of advanced thermal technologies