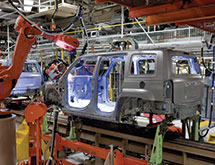 Chrysler Group – Belvidere Assembly Plant
Located in north-central Illinois, about 75 miles from Chicago, the city of Belvidere has a population of about 25,000 residents. It was first settled in 1835 and was given its name because Belvidere means "beautiful to view." Chrysler Group LLC became a major part of the community's history when it opened an assembly plant there in 1965. But fast-forward to 2009 when Chrysler filed for bankruptcy, and the town's outlook was not as beautiful as when it was founded.
"This city has about 25,000 residents, and the Chrysler plant is surrounded by corn," Plant Manager Dominic Ventola says. "We employ 4,500 people directly, but there also are satellite manufacturing facilities that support us and are 100 percent dedicated to Chrysler. Everyone that lives here either works here, has a family member who works here or at the very least, knows someone who works here. Our responsibility to this community is immense."
Understandably, the bankruptcy filing was scary for the company and the community, but Ventola stresses how much pride he takes in the major role the Belvidere employees have played in turning the company around. In 2009, after filing for bankruptcy, the company restructured and formed the Chrysler Group, which then formed a global strategic alliance with Fiat Group. Today, the company is the seventh-largest automaker in the world by production, but it took a lot of work to get there, and the Belvidere employees continue to drive the operation forward.
One of the major changes in the company that has been embraced by the Belvidere plant is the implementation of World Class Manufacturing (WCM). Ventola explains Fiat brought WCM to the company as its new operating system, and it is now the way Chrysler does business.
"WCM outlines all of our methods and standards, and it focuses on the elimination of waste and losses," he explains. "Every aspect of the business is impacted. Our slogan for WCM is 'zero is a beautiful number,' because we strive for zero defects and zero waste. WCM really drives the company and this plant."
Every Aspect
WCM involves 10 technology pillars – such as safety, quality and cost management – and 10 managerial pillars, which focus on soft skills, Ventola explains. He says WCM has been impressive because it involves everyone in the workforce to work on improvement projects, and the results are quite apparent.
"Every aspect of the operation is affected under WCM," Ventola says. "We focus on the biggest priorities, but you can't ignore any aspect of the business."
He cites an example of Val, who works in the paint shop. She is an hourly worker, he says, and she saw an opportunity to reduce costs in some of the materials the plant uses. Chrysler was using lint-free wipes and rags in the paint shop, and Val saw that the company had to buy the wipes, use them and then pay someone to dispose of them. Val found a way to dramatically cut those costs, Ventola says.
"WCM gave Val the tools to attack that waste," he says. "It gave her a forum to be heard, and she did it all herself – there was no management involvement in her project. She has cut those costs by 62 percent, and she's still not done."
There also is Dan, who is addressing breakdowns and minor stoppages in the Belvidere line. Ventola explains Dan is in the maintenance department and is an electrician by trade, and has made many little improvements that, combined, have yielded major savings for the operation. "Dan won an award for being the hourly person who found the greatest savings in the entire company," he says. "WCM not only spreads the spirit of continuous improvement, but our people understand that it helps to secure their future employment."
Ventola notes that WCM is different from standard lean and continuous improvement programs because of how structured WCM is. Under WCM, each plant is audited twice each year and scored. The score is "tremendously important" to the plant, he says, because it is the biggest indicator of how competitive the operation is and how likely it is to secure future product.
"WCM is very focused," Ventola says. "It forces you to work on the most urgent issues first and it keeps you from doing meaningless activities. Since we started WCM in 2009, our safety incident rate is down by 51 percent. Additionally, people are energized and the spirit of continuous improvement really fuels itself."
Long-Term Security
With WCM, investments from Chrysler and the efforts of its workforce, the Belvidere plant has been able to hire 1,800 people since Chrysler filed for bankruptcy. The plant produces the Dodge Dart, Jeep Compass and Jeep Patriot, and it was the first of Chrysler's operations to launch the compact architecture based on the combined engineering of Chrysler and Fiat, which resulted in the Dodge Dart. Ventola explains the plant runs three full crews and works six days a week and 75 percent of Sundays because sales are going so well.
In late 2010, Chrysler invested more than $700 million in the Belvidere plant with the construction of a 638,000-square-foot body shop, and installation of new machinery, tooling and material-handling equipment. This investment prepared the Belvidere plant to produce the Dodge Dart, which is based on Fiat-derived architecture adapted from the award-winning Alfa Romeo Giulietta. But the plant also was chosen to produce the Dodge Dart because of how it has embraced WCM. From 2009 to April 2012, the Belvidere employees had submitted more than 20,000 suggestions and implemented more than 3,400 projects, which equaled an annual savings of $32 million.
One of the plant's projects was to rearrange the operation last July, Ventola says. The Belvidere operation rearranged about 100 workstations to improve ergonomics, quality and eliminate non-value-added activities. "We shut the plant down for a week to rearrange things, and since then we've seen that the quality is better, our safety is better and we've eliminated waste," he explains. "Additionally, it helped our people to be more productive, and we were able to bring some work back in-house."
Ventola admits that some of Belvidere's employees were cautious about WCM at first, but everyone understood that something had to change to ensure the plant had a future. "We spent a lot of time training at the beginning, and the training doesn't stop," he says. "'World class' doesn't stay stagnant because the pursuit of excellence never ends. We produce the Dodge Dart, Jeep Compass and Jeep Patriot, and the process of building the Dart and Jeep products is entirely different. It drives complexity and drives decision-making, but we are building cars for 100 different countries in the world."
In fact, the Belvidere operation is excited about its future, continued improvement and ongoing growth. Ventola stresses that the plant takes pride in Chrysler's place in the Belvidere community, understanding how the plant and the city benefit from each other.
"We can't be satisfied with the status quo and we have set ourselves up for long-term security," he says. "The bankruptcy sent a message home: If we're not always striving to be the best and striving to eliminate waste, things can turn on a dime. Fiat gave us a second chance and we understand there won't be a third chance. We don't want to stop the momentum that is here, so we involve everyone in decision-making because they are the experts and with them, we will be truly world-class. We are all about our future because we want to secure our future."