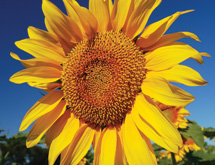 Not all sunflower seeds are created equal; some are actually engineered to be bigger, meatier and tastier. In the case of CHS Sunflower, the North Dakota company has created a variety of hybrid sunflower seeds to meet the expectations of customers in the United States and abroad.
Bruce Fjelde, sales manager for CHS, notes that its hybrid seeds have solidified the company's position in the market. "Our new hybrids are a larger type of inshell seed that is preferred in almost all the export markets," he says, "so they have helped us gain some markets and maintain some markets; for example, in the Middle East, Spain, Israel  and Greece."
The two newest hybrid seeds – the Royal Hybrid 400 CL and the Royal Hybrid  1121– answer different customer needs. The first one is a very long, large seed with an improved yield potential for the Middle East and Mediterranean markets. The Royal Hybrid 1121 produces a high percentage of large, traditional heart-shaped inshell for the U.S. market and certain export markets.
Quality Control
To ensure its sunflower seeds are consistently of the highest quality, CHS has been investing in technology for years. "With regard to innovation, we've made some capital investments and process improvements in our facilities, in particular with color sorting," Operations Manager Robert Deraas notes.
Although color-sorting technology has been in place for years, recent significant improvements have made the machines more accurate and more efficient. "The new color sorters provide improved recognition of variations in color and shape," Deraas explains. "The seeds pass in front of a camera and the machine rejects the ones that are defined as poor or undesirable material. This has enabled us to consistently provide the highest quality finished product and it has also helped us to have a higher yield of the product we process."
Besides ensuring quality, the color sorters are important safety tools. "From a food safety standpoint, the sorters recognize certain impurities that might be harmful," Deraas says.
CHS has 12 color sorters in its three processing facilities in Grandin and Fargo, N.D., and in Hazel, Minn. "The innovation and the addition of this type of equipment has helped our company establish the quality standards for the industry," Fjelde maintains. "We have a strong reputation in the industry, both abroad and in the United States, and that is important to us."
Cooperating with Growers
Aside from its embrace of cutting-edge technology, another unique aspect of CHS is its integrated supply chain. "CHS is the United States' largest farmer-owned cooperative," CHS Sunflower President and general manager James Krogh notes. "Most of our growers have been producing sunflowers for us for many years. It's a very integrated business model; we provide the seed to our growers and part of the proceeds that CHS earns is distributed back to the growers."
The integration extends not only to its growers, but to its employees, as well. "There is a tremendous amount of experience in this operation," Deraas says. "We have many employees who have more than 30 years of experience in the sunflower industry, so the operation of our equipment is being overseen by people with decades of experience in the industry."
CHS's tight relationships with its employees and growers can be also seen in the company's many charitable endeavors. "We have several annual events scheduled throughout the year. One is CHS Harvest for Hunger campaign," Deraas explains. "Employees, vendors, our cooperative growers and members of the community participate in giving some of their goods for the food banks in different communities. CHS then gives matching funds to each local community to feed the hungry in their respective areas."
The company also matches contributions made by its employees to United Way by 150 percent, and sponsors a community day where its workforce provides a day of service to the community in churches, schools and other areas of need.
Continued Expansion
Krogh expects to see continued growth for CHS, both in the United States and internationally. "Some of the seed we provide is in very high demand in the Mediterranean and the Middle East, in Spain, Greece and Israel," he says. "We also have hybrids that we provide exclusively to our domestic markets. The ultimate market for the seed is specific for where it's going." Different markets demand different variations of the seed the company produces.
The international scope of the company soon will encompass production as well as distribution when its new plant in South America begins production. "Our processing plant in Argentina will come live in 2014," Krogh says. "This new plant will give us a chance to increase or decrease our production in the United States, depending on our yield of products in Argentina."
The CHS team attends at least three tradeshows around the world each year to explore new areas of market expansion and attract new customers, although Fjelde insists that the quality of CHS seeds is the best marketing tool for the company. "Most of our customers have been with us for many years," he says. "Our broker network and the word-of-mouth spread who we are."