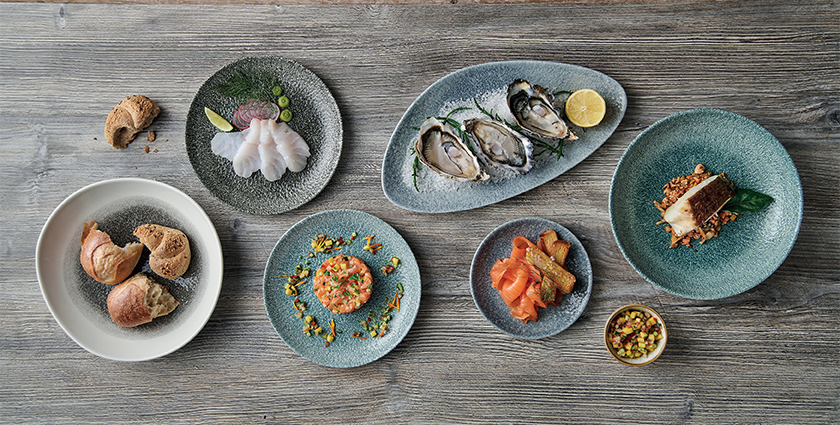 No cracking under the pressure
With over 225 years of innovation in the ceramics industry, Churchill China (Churchill) is passionate about providing tableware products that withstand the toughest environments in the hospitality sector
At Churchill, the principal purpose is to serve the growing international hospitality market, and provide high performance tableware to a number of sectors. With customers in restaurant and hotel chains, sports and conference venues, health and education establishments and contract caterers, the company has become the UK's market leader in ceramic tableware manufacturing.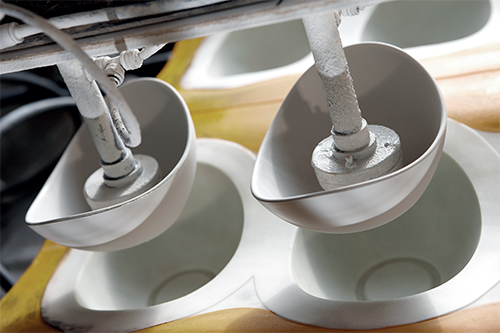 We speak with James Roper, the company's Sales Director and a member of the family that has been part of the business for over 100 years, about the steady investment in new product development happening at Churchill. James is on a mission to modernize the ceramic industry, and he shares with us how his company has been able to maintain its manufacturing and technical excellence through a consistent investment in improved capability process development and new manufacturing technology.
"Owing to the customers we serve, their tableware has to meet very high standards of presentation, quality and performance. The ceramic body we use is one of the strongest in the world. It's built to deliver presentation that lasts, which is very important for products that get used in professional kitchens. We then test our products to meet a total of 11 European & UK Standards, including a dishwasher test up to 5,000 cycles, compared to most retail sectors, where the consumer tests are only between 200 and 500 cycles. This is why our selection is much more durable than something one might buy in the supermarket," he says.
As James shares, Churchill's products are designed specifically for those working in high-intensity environments within the hospitality sector. The company offers solutions for chefs who work in fast-moving, disciplined back-of-house environments. "This is why you will often hear us talking about the relationship between performance and purpose," he explains.
The tableware must also look pleasing, and a carefully crafted design is equally important.This is why the business invests extensively in collating customer research, which is then used to inspire the aesthetic of Churchill's products. "We cover the entire range of designs, whether our clients are after a traditional floral pattern, or the more contemporary layouts, we create them all. One of our favorite and latest designs is drawn from the ancient Japanese art of mending broken pottery, known as 'kintsugi'. This layout replicates the unique golden cracks that glue two pieces together, but the materials used to create those colors are no different to what we use for the more vintage prints."
One of the main reasons as to why Churchill is a leader in the ceramic industry is owed to the way in which it operates, which differs significantly from its competitors. "Firstly, our ceramic is a unique blend of clay and other raw materials that are specifically designed for strength and durability. One of the raw materials used in the body is alumina. We use it to help soften the body to make it more shock absorbent. This eliminates any brittleness so that when the product is knocked on its side, it is less likely to chip or break.
"Secondly, our production process is also quite interesting. The way we make ceramics is different to the way it's made elsewhere, because we adopted the methods used by one of the industry legends: Josiah Wedgwood, who moved away from the processes being used in places like China. As a general practice, ceramics are twice fired. However, at Churchill, our first fire is hotter than the second, whereas everyone else does that in reverse. By increasing the temperature in the first fire, we make the product stronger, and, in addition, we are able to decorate the product with brighter colors as the second firing temperature is lower, allowing brighter colors to survive," James elaborates.
Transforming the traditional
We then direct the conversation to the ways in which Churchill is able to make its investments into these various processes possible. The company prides itself in maintaining a strong, ungeared balance sheet, and strives to improve performance steadily on a long-term basis. Through this strategy, it is able to generate cash each year to reinvest within the business, and provide an attractive return to shareholders."We have no debt, there's high cash in the bank, and because we've looked after the business and our different stakeholders, we have been able to establish great financial disciplines so that when times are difficult, we have greater flexibility," James expresses.
This approach has served the company particularly well over the last two years when the manufacturing industry has experienced one of the most turbulent times in its history. "During lockdown, we completed three extensions to the factory, and finished what we call 'the biscuit warehouse'. That is where we store the products made after the first firing, and being able to keep them in one place has allowed us to be more efficient with our second stage gloss firing process. However, the biggest move the company made during Covid-19 was additional investments in our manufacturing processes."
According to James, Churchill has worked hard over the years to transform what used to be a traditional craft-based industrial process into a more engineering-driven, automated and modern facility. "Recently, we installed a new robotic pressure cast machine, which is similar to an injection molding machine, but geared towards ceramics. It helps improve efficiency, reduce waste, and use less energy than the traditional ceramic processes."
Further to this, in 2020, Churchill purchased its raw material supplier, in order to integrate itself within its supply chain, and mitigate the challenges currently facing material delivery across the industry. "It has enabled us to have total transparency on what raw materials we're buying and how much stock is available.We have been able to talk directly to our source suppliers about what's happening with their costs and supplies," James highlights.
Further modernizations
Although these investments in machinery are indeed impressive, James recognizes that the key to the company's success is its people. As a result, he shares how Churchill works tirelessly to support and strengthen its team. "We invest heavily in the continuous improvement of our staff, and we host training programs at all levels. One in particular is called our Master Class, which specializes in educating staff on how to use problem solving techniques, such as pareto or diagnostic analysis, to empower colleagues to solve their own problems. We've been running that for about seven years now. Last year, we ran 11 Master Classes, engaging and empowering more than 100 people."
On the note of continual growth, we then steer the conversation towards the future. With a focus on improving its sustainability efforts, as well as pushing the team to its full potential, Churchill's journey ahead looks promising. When asked about where he would like to see the company in about five years' time, James's response rests firmly in how he wants to change the current perception of the ceramics industry. "Whenever we make an investment, the purpose is always to modernize, and it will be something that we continue to do for many more years."
Taking these plans into consideration, it is clear that Churchill is determined to refine all aspects of its business. In conclusion, James is excited for his company's potential, and with its graduate scheme moving on leaps and bounds, and manufacturing processes making fantastic advancements, his goal to modernize the traditional operations of the ceramic sector is on the horizon.
Churchill China
www.churchill1795.com
Services: Ceramic manufacturer