In manufacturing, how the pieces fit together means as much as the strength of each individual piece. That principle also can be seen at work in how the various components of Cinetic Landis Corp. fit together to make the company one of the leaders in manufacturing grinding machinery and superabrasive tooling for the automotive industry. Mike Sweeney, director of operations for subsidiary CITCO, says the company has operated as a well-oiled machine for generations, and the acquisition of the company six years ago by French firm Fives Group has only bolstered its manufacturing capabilities.
The company is the combination of two industry innovators. F.F. Landis invented modern cylindrical grinding in the 1870s, and his brother Abraham pioneered the use of water as a cool­ant and lubricant. In 1890, Fred­rick Gard­ner invented the disc grinder, which led to the creation of his own company, Gardner Machine Co. A third company, Cleveland Industrial Tool Company (CITCO), was founded in 1939 by the Loecy family. In 1950, Landis purchased Gardner Machine and became the industry's most comprehensive supplier of precision grind­ing technology. In 1968, the company was purchased by Litton Indus­tries, which operated Landis and Gard­ner as separate entities. Litton also purchased CITCO in 1983.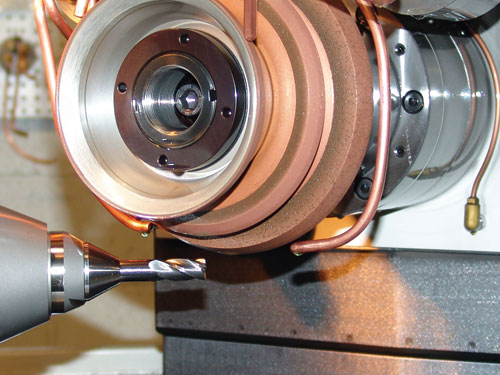 Later, Landis and Gardner were united again under the banner of UNOVA's Industrial Auto­mation Sys­tems Group, where CITCO also had been rolled into the consolidated company, known as Landis Gardner CITCO. The company was sold to Fives Group in 2005, which consolidated it under Cinetic Industries.
As part of Fives Group, Cinetic Landis Corp. – CITCO manufactures diamond and polycrystalline cubic boron nitride (PCBN) cutting tools; diamond and cubic boron nitride (CBN) grinding wheels; and diamond dressing tools. Although these are primarily used in the automotive industry, the company provides equip­ment for customers in the aerospace, medical, energy and steel industries, as well.
"In the 1940s and 1950s, most automotive parts were ground with conventional abrasive grinding wheels which were formed with natural diamond tools," Sweeney says. "With the development of man-made diamond and CBN crystal for super-abrasive grinding wheels and polycrystalline diamond and CBN for cutting tools, the machinery and the processes for machining or grinding those components changed completely. This industry change has been extremely exciting."
Changing Needs
Given the company's roots in many of the innovators of the industry, it's not surprising that Sweeney says Cinetic Landis' greatest strength is its ability to develop products for customers' specific needs.
"Our differentiator is our ability to offer a customized solution for each customer's application via our engineering expertise," he says. "We are not tied to any single material supplier, which further enhances our capabilities of supplying a customized solution to meet the individual needs of the customer.
"We have four product lines, each with a number of manufacturing pro­cesses," Sweeney continues.
"While each of these processes is rather straightforward, the variables introduced for each customer during the manufacturing process must be properly managed. We utilize our business system, SAP, to its fullest to maintain control."
Always Adapting
Although Sweeney says the company's processes are among the best in the business, that doesn't mean the company rests on its laurels. With the level of competition the company faces, Sweeney says, it can't afford to become complacent.
"We are a relatively small company with many regional competitors as well as many large, world-class behemoths," he says. "Both present different threats to our business strategy, but the solution common to being successful against each is to strive to drive down internal costs and provide the highest level of customer service possible, in the broad sense of the term. This can only be done through investment in equipment, employees and our supply chain partners."
For example, the company strives to keep up with management styles that emphasize efficiency. "We em­brace the fundamentals of 5S and lean manufacturing, and could not have survived for 70 years without them," Sweeney says.
Working with supply chain partners is another part of the equation, and Sweeney says Cinetic Landis emphasizes honesty with them.
"Key suppliers are more partners than suppliers," he says. "We meet fre­quently, we have open lines of communication and we invite them to educate our employees concerning their products. We do our best to forecast re­quire­ments and, in return, we expect few supply delays."
Caring for employees means a strong focus on education, Sweeney says. "We use a number of methods to train employees [including] OJT, struc­tured internal training, seminars, supplier training and the utilization of local colleges and career centers," he says. "Our employees are our single-largest resource, and probably the resource most underutilized [in the industry]. Companies that survive this recession must close that gap in order to flourish in the future."
Don't Fear the Unknown
Thanks to its unwavering adherence to these principles, the future looks bright for Cinetic Landis Corp. – CITCO. Sweeney says the company is moving to a new, more modern facility in Concord, Ohio, which is expected to enhance the company's operations in numerous ways. "This will give us the opportunity to re-engineer our production pro­cess­es and take ad­vantage of the clear, open architecture of the new facility," he says.
Overall, Sweeney says the aspect of the company he is most proud of is "our ability to change with the ever-evolving marketplace, whether it is product, required certifications, marketing or distribution methodologies." As such, he advises others to always be on their toes.
"Do not say, 'We have always done it this way' and fail to look at new ideas," Sweeney says. "Search for new avenues of information and see how you can adapt that knowledge to your organization. Embrace the un­known, don't fear it."